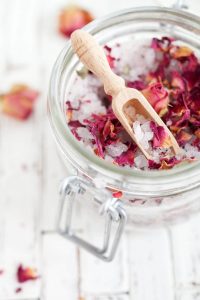 Hormone-Balance Rose Bath Salts
This rose-scented DIY is a luxurious way to reduce symptoms of PMS and improve sexual satisfaction in women. 
Ingredients
4 cups epsom salts
2 cups magnesium bath flakes
20 drops rose essential oil  
1 cup baking soda (baking soda neutralizes the pH of your soak and relieves skin irritation) 
1 cup melted coconut oil 
5 tbs dried rose petals  
Instructions
Mix all the ingredients well in a large bowel and transfer mixture to a large glass container (this works perfectly). Use 1 cup of salts in a hot bath as needed to relieve symptoms of PMS and enhance arousal.
Recipe by This Doctors Kitchen at https://www.thisdoctorskitchen.com/diy-rose-bath-salts/