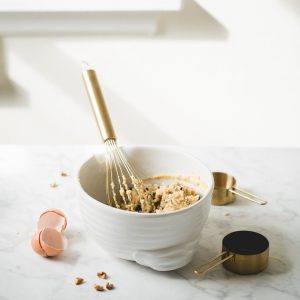 Flax Paleo Cookie Dough
This tasty seed-cycling treat contains a super dose of flax seeds which can help support healthy estrogen production in the first half of your cycle. Dairy-free, gluten-free, grain-free & refined sugar free they're the perfect mid day snack or breakfast to enjoy day 1 - 14 of your cycle. 
Ingredients
1 cup almond flour
1/2 cup ground flax seed
1/4 cup coconut flour
1/3 cup coconut oil melted
1/2 cup maple syrup
1 tbs vanilla bean paste
1/2 tsp flakey sea salt
1/4 cup cocoa nibs or mini dark chocolate chips 
Instructions
This recipe couldn't be easier. Simply mix all of your ingredients together in a bowl until well mixed. Roll into small balls, bake into cookies (350 for 12 minutes) or eat straight out of the bowl - store in the fridge (1 week) or freezer (2 months). Eat 1 - 2 tbs daily in your follicular phase for healthy happy hormones, hurrah!
Recipe by This Doctors Kitchen at https://www.thisdoctorskitchen.com/flax-paleo-cookie-dough-seed-cycling/