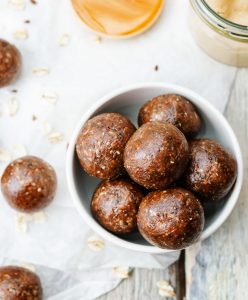 Gingerbread Fat-bomb Recipe
These festive fat bombs are one of my favourite pre-holiday party treats. They're high in healthy fats and low in sugar to help keep blood sugar levels balanced through the holiday season. 
Ingredients
1 cup almond butter
1/2 cup almond flour 
½ cup ground flaxseed meal
1 tbs ground cinnamon
1 tsp ground ginger
1/2 tsp ground nutmeg
1/2 tsp sea salt
1/3 cup coconut oil 
1 tsp vanilla 
4 tbs monk fruit sweetener / maple syrup or molasses 
Instructions
Add the coconut oil, almond butter, vanilla, maple syrup or monk fruit sugar, and vanilla to a small pot on the stove and heat over low heat until everything is melted and well incorporated. Remove from heat and allow to cool slightly. In the mean time mix together the flax seeds, salt, spices and almond flour in a large bowl. Add the slightly cooled 'wet ingredients' to your almond flour flax mixture and stir well. Use clean hands to roll into small 1 inch balls and store in the fridge for 1 week, or freezer for 1 month. Eat 1 - 2 before holiday parties, or anytime you feel like a satisfying, lower sugar snack.
Recipe by This Doctors Kitchen at https://www.thisdoctorskitchen.com/gingerbread-fat-bombs/