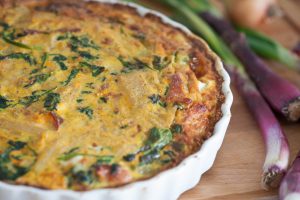 Keto Frittata with Spring Vegetables
This delicious egg dish looks impressive, yet is amazingly simple to make. It contains coconut milk for an extra dose of healthy fats along with fresh organic eggs and locally sourced vegetables from our spring CSA box. It's my go-to everyday fat-fuelled breakfast.  
Ingredients
10 organic, free-range eggs 
1 cup full fat coconut milk 
1 cup mushrooms, chopped
1 bunch asparagus, chopped 
2 cups spinach 
2 cloves garlic, finely chopped or grated 
2 tsp paprika
1 tsp cayenne pepper flakes
1 tbs coconut oil 
salt & better to taste 
Instructions
Preheat oven to 350F. Melt coconut oil in a medium-hot skilled, add garlic and cook for 2 - 4 minutes until aromatic and slightly browned. Add the chopped vegetables (except for the spinach) and cook, stirring frequently, for 5 minutes.
Meanwhile whisk the eggs with the coconut milk, salt and pepper and spices in a large bowl. Add the lightly cooked vegetables along with the raw spinach to your egg mixture and pour into an oiled baking dish. Cook for 25 - 30 minutes, or until eggs are set through. Serve with a side of bacon and some greens tossed in lemon & olive oil for a delicious weekend brunch. Leftovers can be stored in the fridge and eaten daily for breakfast for up to 1 week.
Recipe by This Doctors Kitchen at https://www.thisdoctorskitchen.com/keto-frittata-recipe/