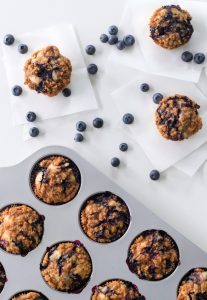 Lemon Blueberry Keto Muffins
This recipe is one of my go-to follicular phase breakfasts for healthy hormones. These muffins contain estrogen-balancing flax seeds & hormone healthy magnesium & omega 3's for a happy, healthy cycle. 
Ingredients
1 cup ground flax seeds
1 cup almond flour
2 tsp baking soda
1/2 tsp sea salt
1/3 cup monk fruit sugar (or coconut / brown sugar if not keeping keto) 
1 pint blue berries
1/3 cup raw pumpkin seeds 
3/4 cup coconut milk
1 tsp vanilla
juice from 1 small lemon
1/4 cup coconut oil melted
Instructions
Preheat oven to 350F. Mix the dry ingredients (salt, baking soda, almond flour, ground flax, monk fruit or sugar of choice) together in a medium sized bowl. In a small bowl mix the coconut milk, lemon juice, vanilla extract and coconut oil until well incorporated. Mix the wet ingredients into the dry then gently fold in the pumpkin seeds and blue berries. Our 2 tbs batter into each well of a lined muffin tray and bake 30 - 35 minutes until golden brown on top.
Recipe by This Doctors Kitchen at https://www.thisdoctorskitchen.com/lemon-blueberry-keto-flax-muffins/