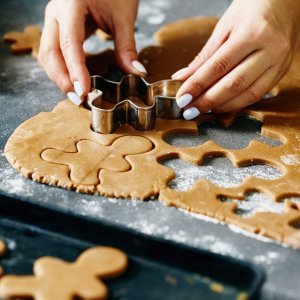 Paleo Gingerbread Cookies
These healthier, grain-free and paleo gingerbread cookies are moist, chewy, and seriously addicting. Give that sad, unused bottle of molasses some love this holiday season and whip up a batch of these cookies to bring to your Christmas parties.
Ingredients
2 cups almond flour
3 tbs coconut flour
1/4 tsp baking soda
1 tbs ground ginger
1 tbs cinnamon
1 tsp nutmeg 
1/2 tsp sea salt
1/4 cup maple syrup
1/4 cup molases
1 egg
1 tsp vanilla
Instructions
Preheat your oven to 350F. Prepare the cookie dough by mixing the dry ingredients together in a large bowl until well incorporated. Add the egg, maple syrup, vanilla and molasses to the dry ingredients and mix well. Refrigerate the dough for 20 - 30 minutes prior to rolling. Roll your chilled cookie dough out on a clean surface - you can use a little extra coconut flour here to prevent sticking. Cut cookies to your desired shape (I prefer to make little gingerbread men for the holidays) and bake for 14 minutes. Cool for 15 minutes before serving. Merry Christmas from this doctor's kitchen.
Recipe by This Doctors Kitchen at https://www.thisdoctorskitchen.com/paleo-gingerbread-cookies/