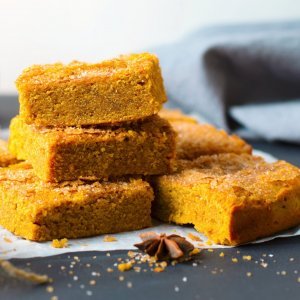 Paleo & Keto Pumpkin Pie Bars
Halloween has passed and you're likely now stuck with a bunch of old pumpkins and a lingering sugar hangover. Luckily for you, this keto & paleo pumpkin pie bar is the solution to all of your problems. Made with low-carb, grain-free flours and monk fruit sweetener instead of sugar it's the perfect low-sugar healthy treat to easy you out of your sugar-coma.
Ingredients
2 cups almond flour
2 tbs coconut flour
1 cup pumpkin puree 
1/3 cup melted coconut oil
4 tbs monk fruit sugar / coconut palm sugar / brown sugar (if you're not totally sugar-ed out) 
2 eggs 
1/2 tsp nutmeg
2 tsp cinnamon
1 tsp vanilla 
1.2 tsp flaked sea salt like Maldon 
2 tbs pumpkin seeds
Instructions
Mix the almond flour, coconut flour and spices together in a large mixing bowl. In the mean time gently melt the coconut oil in a small saucepan on low heat - add the monk fruit and vanilla and stir until the 'sugar' is mostly dissolved. In a separate bowl mix the eggs and pumpkin, add the coconut oil mixture and mix until well incorporated. Add the wet ingredients to the dry and spread the mixture into a square baking pan, sprinkle with pumpkin seeds and flaky sea salt. Bake at 350 for 40 minutes. Stored well in the fridge for up to 5 days.
Recipe by This Doctors Kitchen at https://www.thisdoctorskitchen.com/paleo-pumpkin-pie-bar-recipe/