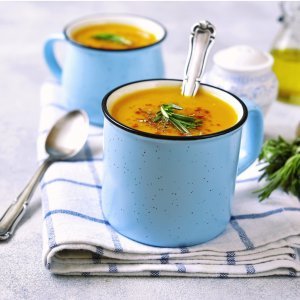 Fall Squash Soup with Warming Spices
There's nothing I love more than a bowl of creamy warming soup on a crisp autumn day, but I often have a hard time finding delicious soup recipes that don't include heavy cream or milk (I stay away from dairy & sugar for the sake of my skin). This go-to cold weather soup recipe uses fresh local squash and creamy coconut milk instead resulting in a delicious and creamy, yet still healthy, fall meal. 
Ingredients
1 large squash - I use whatever looks good from the local farmers market, or whatever I find in my CSA organic food delivery box, so far I've used butternut, acorn, delicata, buttercup and even pumpkin and they've all been delicious. 
1 onion, chopped 
4 cloves of garlic, finely chopped 
1 tbs coconut oil or avocado oil 
1 can organic BPA-free coconut milk 
1 tbs curry powder 
1 tbs turmeric 
1/4 tsp chili flakes (optional) 
4 cups of bone broth, or boxed organic vegetable or chicken broth. 
sea salt + fresh ground pepper to taste 
Instructions
Preheat the oven to 400F. Cut your squash in half and lay face down in a baking sheet, bake in the oven for 30 minutes while you prepare your other ingredients. Add the onion, garlic and spices to a preheated medium-hot large dutch oven (shout out to my grandma Ruthie for stocking our kitchen with the most gorgeous Le Creuset cookware, I think of her every time we make this soup in my beautiful Caribbean blue pot) and cook until translucent and fragrant. Remove the squash from the oven and carefully scrape out the flesh of the squash and add it to your pot along with the chopped apple and cook for 5 minutes, stirring often. Add the bone broth and simmer covered for 30 minutes. Add your can of coconut milk and use an immersion blender to puree your soup. This recipe will keep in the fridge for 5 days and freezes very well.
Recipe by This Doctors Kitchen at https://www.thisdoctorskitchen.com/squash-soup/