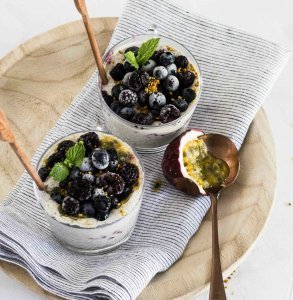 Tropical Chia Pudding
Chia pudding is a great breakfast option if you're looking to improve metabolic flexibility, get in shape and maintain glowing skin. This recipe is quick, easy and delicious, and should keep you full for hours. 
Ingredients
4 tbs white chia seeds
1 cup almond milk (homemade tastes so much better in this recipe, check out my go-to recipe here) 
1/2 cup frozen mango 
1 tbs unsweetened coconut flakes 
Optional toppings: 1 tsp bee pollen, blue berries, additional coconut flakes 
Instructions
In a high powered blender combine almond milk with frozen mango and blend until smooth. Mix the mango almond milk with your chia seeds and 1 tbs of coconut flakes and mix well. Place in the refrigerator to set for a minimum of 15 minutes or up to 5 days. When ready to eat mix the chia pudding well and serve in small bowls topped with berries and additional coconut flakes.
Recipe by This Doctors Kitchen at https://www.thisdoctorskitchen.com/tropical-chia-pudding/