Ceylon Vegan Cinnamon Buns [gluten-free]
January 17, 2022 By Sarah White 2 Comments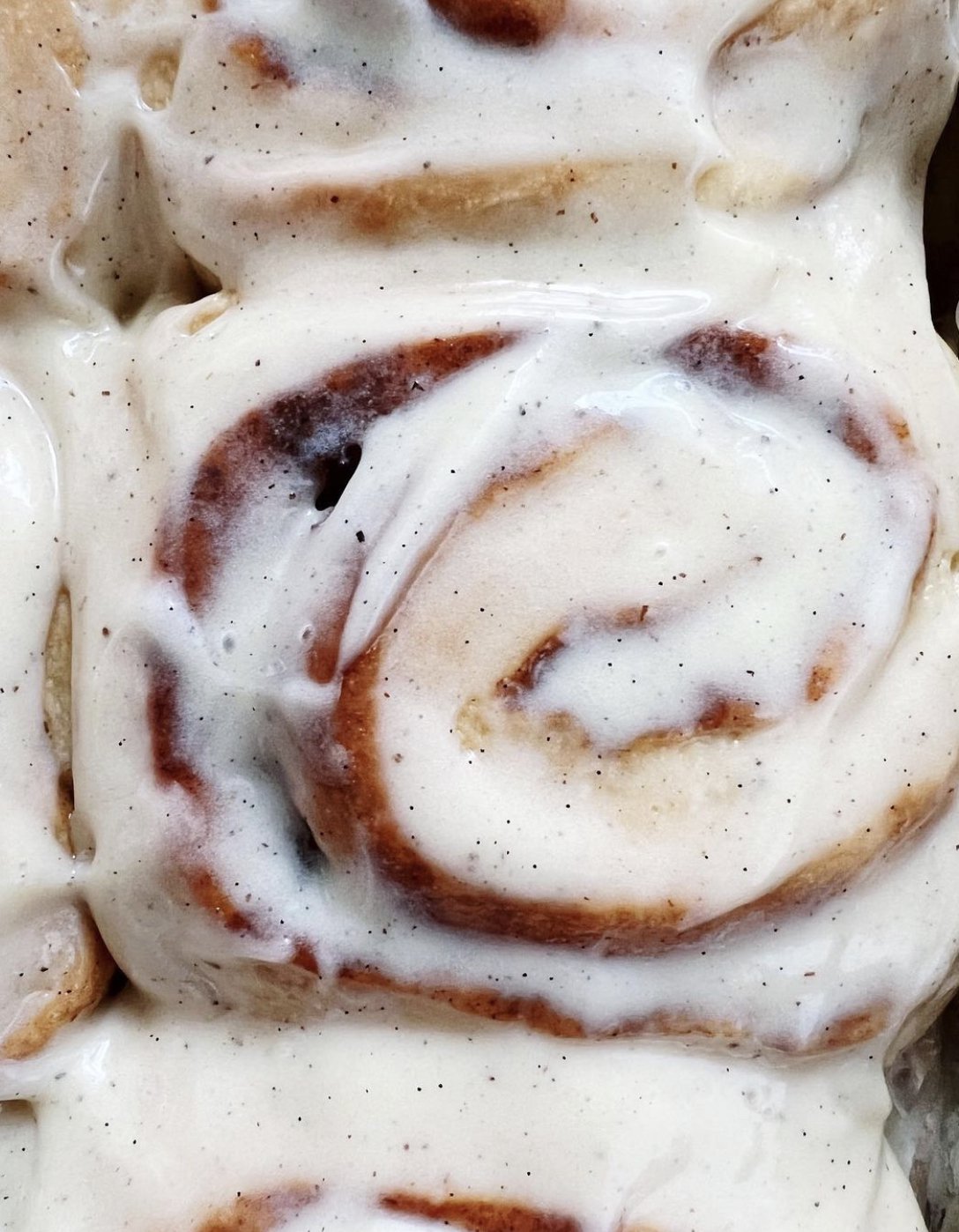 The 'so nice we've already made them twice in 2022' cinnamon buns have officially found their forever home on the blog! There were a lot of questions about this recipe over on instagram so I figured they deserved their own little space on the world wide web.
I'm about to start my yearly FMD, which means I'd typically cut my sugar and carbohydrate intake a few days prior to make the transition into this high fat, low calorie 'fast' easier on my body. Unfortunately for my future fast, it's a snow day today & I have 1/2 a can of coconut cream begging to be used up, so today it's time for one more round of the boxing day cinnamon buns. While loaded with gluten-free grains and sweetened with a touch of cane sugar, I still think these buns deserve a spot on the okay for my blood sugar list due the large amounts of ceylon cinnamon featured in this recipe.
There are dozens of studies showing that cinnamon can lower blood sugar and reduce the insulin-bombs that typically follow a high sugar / high carbohydrate meal; mini science lesson; insulin is released after eating to bring glucose into your cells to in order provide your body energy. When insulin levels spike in response to a higher glucose meal you will store more of it in the liver or fat cells contributing to weight gain & cholesterol problems). While both cassia (traditional cinnamon) and ceylon cinnamon can help you manage blood sugar levels, ceylon cinnamon has been shown to be much lower in coumarin, a natural compound that can have negative impacts on the liver. Wishing you a healthy, happy snow day from this doctor's blood sugar balancing kitchen.
Ceylon Cinnamon Buns (gluten-free, vegan)
gluten-free, dairy-free vegan cinnamon buns loaded with so much ceylon cinnamon that they're basically keto 😉
Ingredients
2 3/4 cups gf  1:1 flour
1 tbs live yeast + 1/3 cup slightly warmed cashew milk
1/2 tsp baking soda
1/3 cup cane sugar
1/4 cup melted vegan butter
1 tsp vanilla
1 tbs ceylon cinnamon
1 tsp salt
1 cup cashew milk
cinnamon bun filling: 2 tbs ceylon cinnamon + 1/4 cup softened vegan butter + 1/4 cup cane sugar
frosting; 1/2 can coconut cream, 1/4 cup maple syrup, 1 tsp vanilla bean paste (option)
Instructions
Start with your dough, as it will need sometime to rise on the counter before you roll & bake.
Mix your live yeast with the warmed cashew milk and let sit for 5 – 10 minutes until slightly bubbly. Meanwhile, mix the flour, melted butter, 1/3 cup cane sugar, salt, 1 tbs cinnamon and baking soda in a stand mixer or large bowl. Add melted butter, additional cashew milk + vanilla and mix well. Roll into a ball, cover with bees wrap, a towel or plastic wrap and let sit at room temperature for 1 hour (size of dough should double).
Roll out your risen dough into a large rectangle on a clean surface dusted with additional gluten-free flour to prevent sticking. Mash softened butter with the remaining cane sugar & cinnamon and spread onto of dough, gently roll up the dough and cut into 1.5 inch slices. Arrange buns cinnamon-swirl up in a circular baking pan and cover to let rise again for 1+ hour (again, buns should double in size). Bake at 350 for 25 minutes, or until golden brown on top.
While buns are baking whisk together the coconut cream + maple syrup and allow buns to cool slightly before topping with frosting. Serve warm, these will keep well covered on the counter for a few days, or 1 week in the fridge.
References: