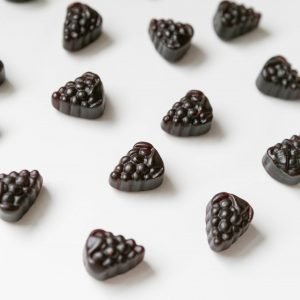 Wildcrafted Elderberry Gummies
These cute little cold-fighting gummies are a great addition to your immune health protocol during the change of season. Made with only 3-ingredients this elderberry gummies are as easy as they are delicious. 
Instructions
Combine elderberry syrup, honey and gelatin in small saucepan over low heat. Stir continuously until gelatin has completely dissolved and the ingredients are well-mixed. Remove from heat and immediately transfer to a silicone mold using a dropper (amazon sells great gummy kits that include both gummy molds and droppers). Once the mold is full, place in fridge for 30 minutes until hardened. Gummies can be stored in an air-tight container for up to two weeks.
Recipe by This Doctors Kitchen at https://www.thisdoctorskitchen.com/wildcrafted-elderberry-gummies/