Campfire Blueberry Oat Pancakes
January 6, 2017 By Sarah White No Comments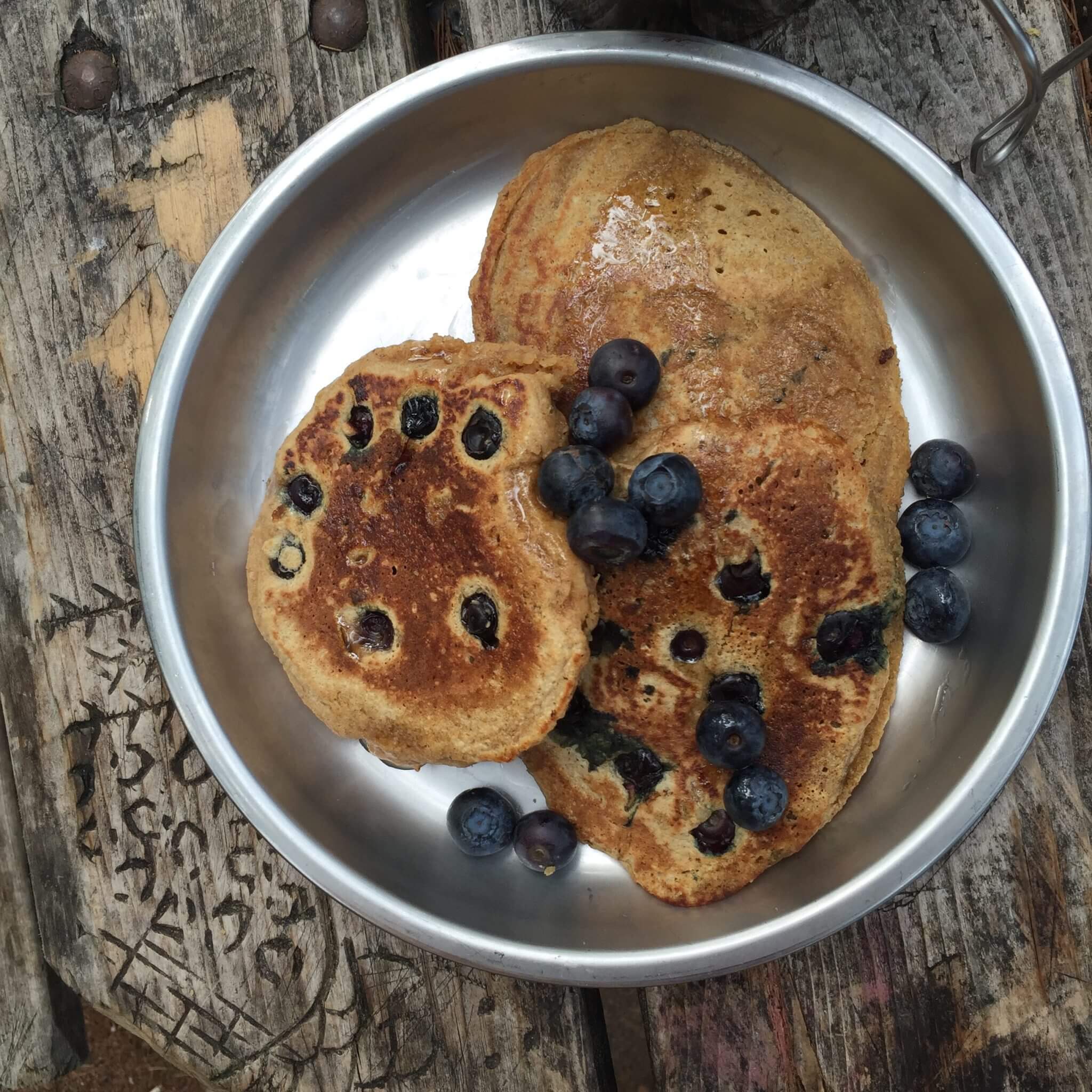 My partner Kyle and I are avid campers and live for our summer weekends in the great outdoors. While I'll always enjoy 'glamping' (car access, air mattresses & portable mini fridges), the most special times up north are the ones where I'm feeling truly connected to nature and my surroundings. This means a full day of canoeing and multiple portages to reach an untouched site. These gluten-free blueberry pancakes from this doctor's camp kitchen are healthy, delicious and most importantly … portable for long treks in the woods.
Blueberry Oat Pancakes
Yield 2 people
These gluten-free blueberry pancakes also contain rolled oats & cinnamon which have been shown to reduce cholesterol levels and improve weight loss outcomes.
Ingredients
1.5 cups of rolled oats
1 tsp baking soda
1 tbs cinnamon & blend into a powder
1 egg
1 cup of dairy-free milk of your choice
Maple syrup (optional)
1/2 cup blueberries
Coconut oil
Instructions
Add 1.5 cups rolled oats to a blender with 1 tsp baking soda + 1 tbs cinnamon & blend into a powder. At this point you can pack your pancake mix in a small container or biodegradable bag to cook at the site.
When it's time for your camp breakfast add 1 egg + 1 cup of dairy-free milk of your choice + 1/2 cup blueberries to the pre-made pancake mix (pro-camping tip: purchase the individual tetra packs of almond milk and freeze them along with a pint of berries before your head out on your trip, they'll be thawed and ready to go by the time breakfast hits without taking up precious room in the cooler).
Melt coconut oil on a pan over a fire or camp stove & pour in 1/3 cup pancake batter, cook 5 minutes per side & enjoy topped with maple syrup.
Notes
This is a section for notes. Vivamus ipsum lorem, posuere ut eros eu, venenatis venenatis mauris. Nunc porttitor justo urna. Quisque euismod hendrerit ex, sed congue erat placerat mollis. Morbi luctus suscipit purus et ornare.
Courses Breakfast
Cuisine American
Amount Per Serving

Calories 100

% Daily Value

Total Fat 10 g

15%

Unsaturated Fat 1 g

Cholesterol 2 mg

1%

Sodium 20 mg

1%

Total Carbohydrates 36 g

12%

Dietary Fiber 6 g

24%

Sugars 6 g

Protein 10 g

20%
Looking to connect with a Naturopath in Oakville to discuss your health goals? Check out my professional site for more information www.naturopathoakville.com or to book https://www.naturopathoakville.com/appointments/