Farro Jambalaya
October 18, 2021 By Sarah White No Comments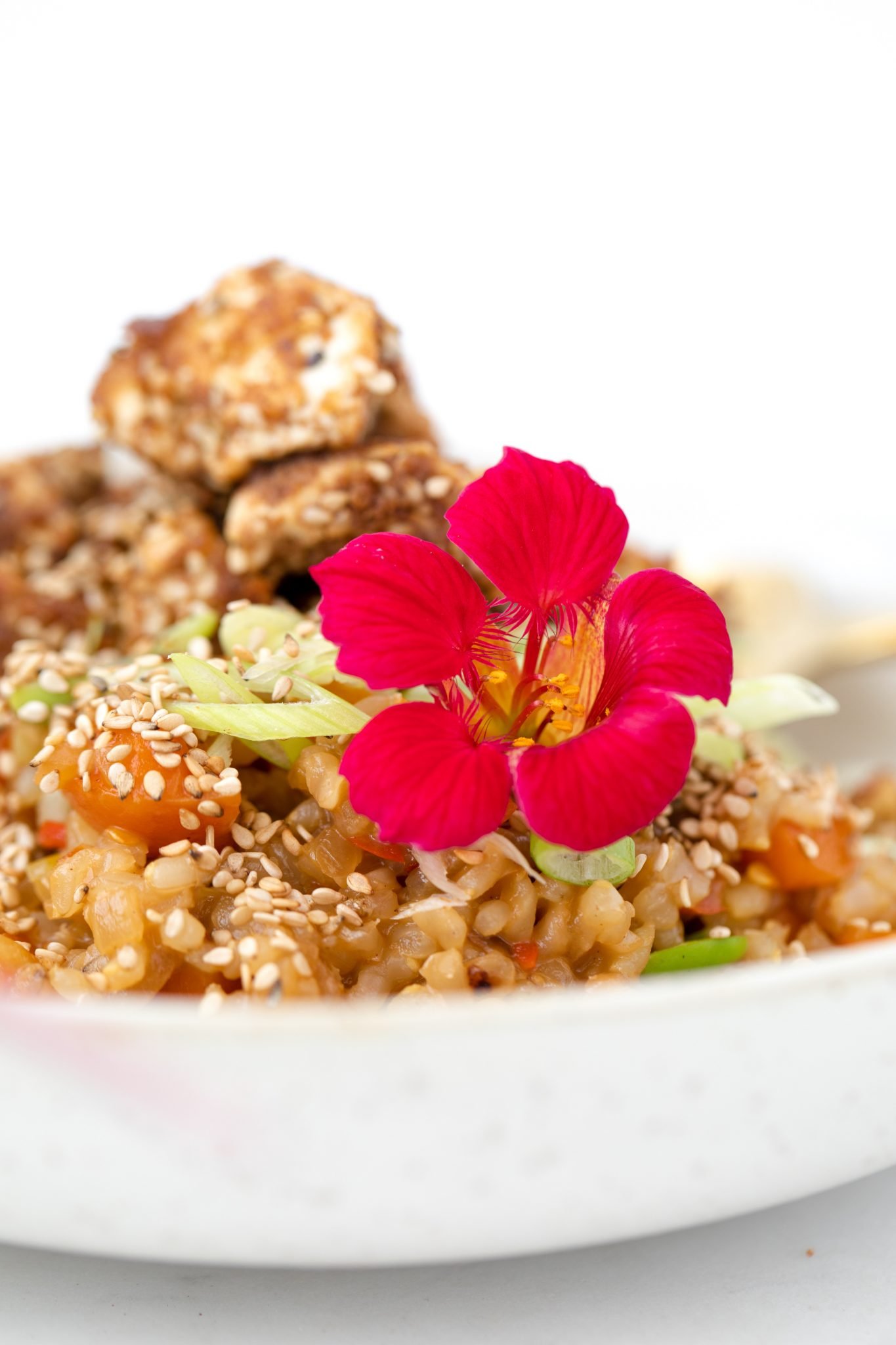 Jambalaya is a quintessential one-pot dish from New Orleans, and while Mardi Gras has already passed that doesn't have to stop us from enjoying some delicious Creole-inspired food.
This dish tastes just like my childhood; not because I was raised in New Orleans or anything exciting like that, we just ate this dish a lot growing up. It's protein-packed, full of veg, and comes together quickly and easily at the end of the work day (with 2 entrepreneurs for parents, quick & easy was key on weeknights).
I've added my own spin to this traditionally Creole dish by loading up the veg + protein and swapping out rice for farro grande, aka triticum spelta. Adding some farro brings a healthy dose of zinc, magnesium and vitamin B3 to this comforting bowl of goodness. It also has way more fibre than traditional rice; just one cup of whole grain farro provides an impressive 20% of your daily recommended fiber intake. Farro is a nutrient-packed grain that is a staple in Italian cooking and adds a delicious nutty flavour and toothsome chew to this deliciously spicy bowl of comfort, perfect for fall. You can find it at most health foods stores or Italian speciality shops.
Farro Jambalaya
This spicy veg & protein-packed dish provides a ton of nutrients along with all that flavour. Farro makes this version of Jambalaya especially filling since it's high in fibre and full of vitamins missing from traditional white rice based preparations. 
Ingredients
2 stalks celery, finely chopped
2 bell pepper, finely chopped
3 shallots, finely chopped
4 cloves of garlic finely chopped
1 - 2 tbs grapeseed, olive or avocado oil 
1.5 cups whole farro grande (aka spelt farro) 
4 cups stock or bone broth 
1 tbs tomato paste
1 can jar diced tomatoes 
1 package of frozen wild-caught shrimp
2 spicy sausages (meat-based or vegan-based both work well in this recipe) 
1 large chicken breast, diced  
Hot sauce, to taste (I like a traditional tabasco sauce) 
Instructions
Pour oil into a large dutch oven, add all the chopped vegetables and cook for 5 minutes stirring frequently until they start to brown. Remove sausage from casings and add to the pot, breaking up the meat into smaller pieces as it cooks, add the chicken and tomato paste and cook the meats along with the vegetables for 10 minutes until browned. Add the farro, broth and diced tomatoes and cook on low medium, uncovered for 50 minutes until the farro is cooked through but still chewy. While the jambalaya is cooking peel the shrimp and cut them in half along the vine (the line that runs through the back of the shrimp), add the shrimp halves to the pot for the last few minutes of cooking and serve the jambalaya hot with hot sauce on the side so everyone in your household can add as much heat as they'd like.