Millet & Pear Muffins (+ fall things)
October 7, 2021 By Sarah White No Comments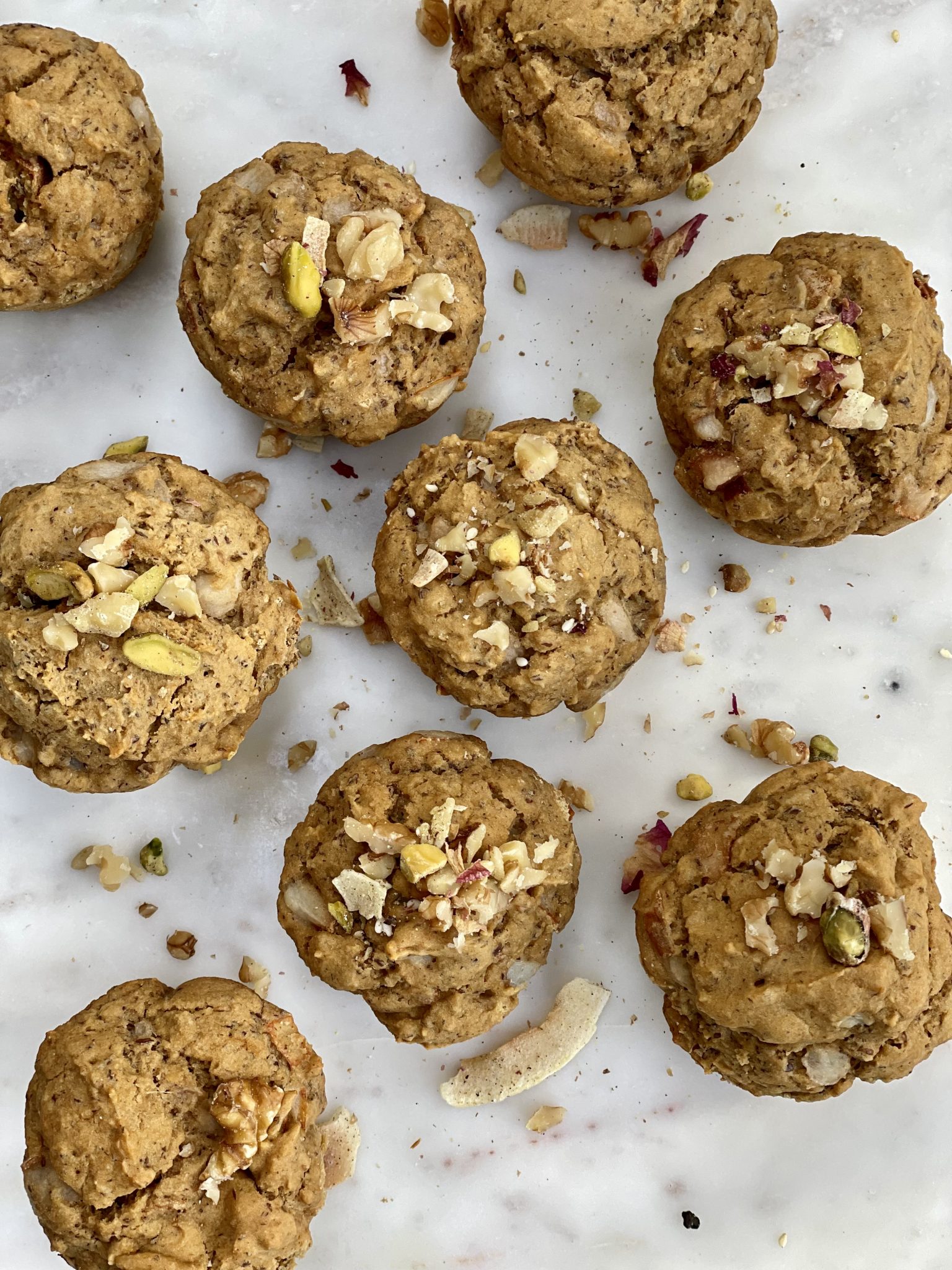 Fall things;
foraged mushrooms
sundresses, booties + cardigans
golf
cold lake dips
pumpkin / cinnamon / apple everything
marathon walks
farmer's markets
dinner straight from the garden
red wine + scotch
cashmere
apple-picking
backyard bon fires
baking (specifically, these millet pear muffins)
I hope you enjoy my first foray back to the oven this fall; these gluten-free + vegan millet & pear muffins were an absolutely winner from this doctor's pumpkin-scented, fresh produce packed, soup-simmering fall kitchen.
Millet & Pear Muffins
Fall baking at it's finest. I highly recommend you grab some pears at your local farmer's market this weekend while they're still in season to whip up a batch of these gluten-free vegan muffins. 
Ingredients
1 cup millet flour
1 cup bobs gf 1:1 flour blend (can sub spelt, or regular flour if you're okay with gluten) 
1/4 cup flax + 1/2 cup cashew / almond / oat milk (to make flax egg) 
1/2 cup cashew / almond / oat milk
1/3 cup dark maple syrup
1 tsp maple extract, optional
1/2 tsp baking soda
1 tsp ceylon cinnamon 
1/4 tsp fine sea salt
2 large or 3 medium pears, chopped,
1/4 cup grapeseed or melted coconut oil
Instructions
Preheat oven to 350, then prep your flax egg by mixing ground flax with 1/2 cup milk and letting sit for 5 - 10 minutes. In a separate bowl whisk your baking soda, salt, flours and cinnamon. Once your flax egg is ready add the additional milk, maple syrup, and oil to the flax egg mixture and mix until well combined. Add your wet ingredients into your dry ingredients, mix until a thick batter forms then fold in the chopped pears.
Bake for 22 - 25 minutes until golden brown on tops, and a toothpick inserted in the middle comes out clean.