Peach Snacking Cake [gluten-free, dairy-free]
August 1, 2023 By Sarah White No Comments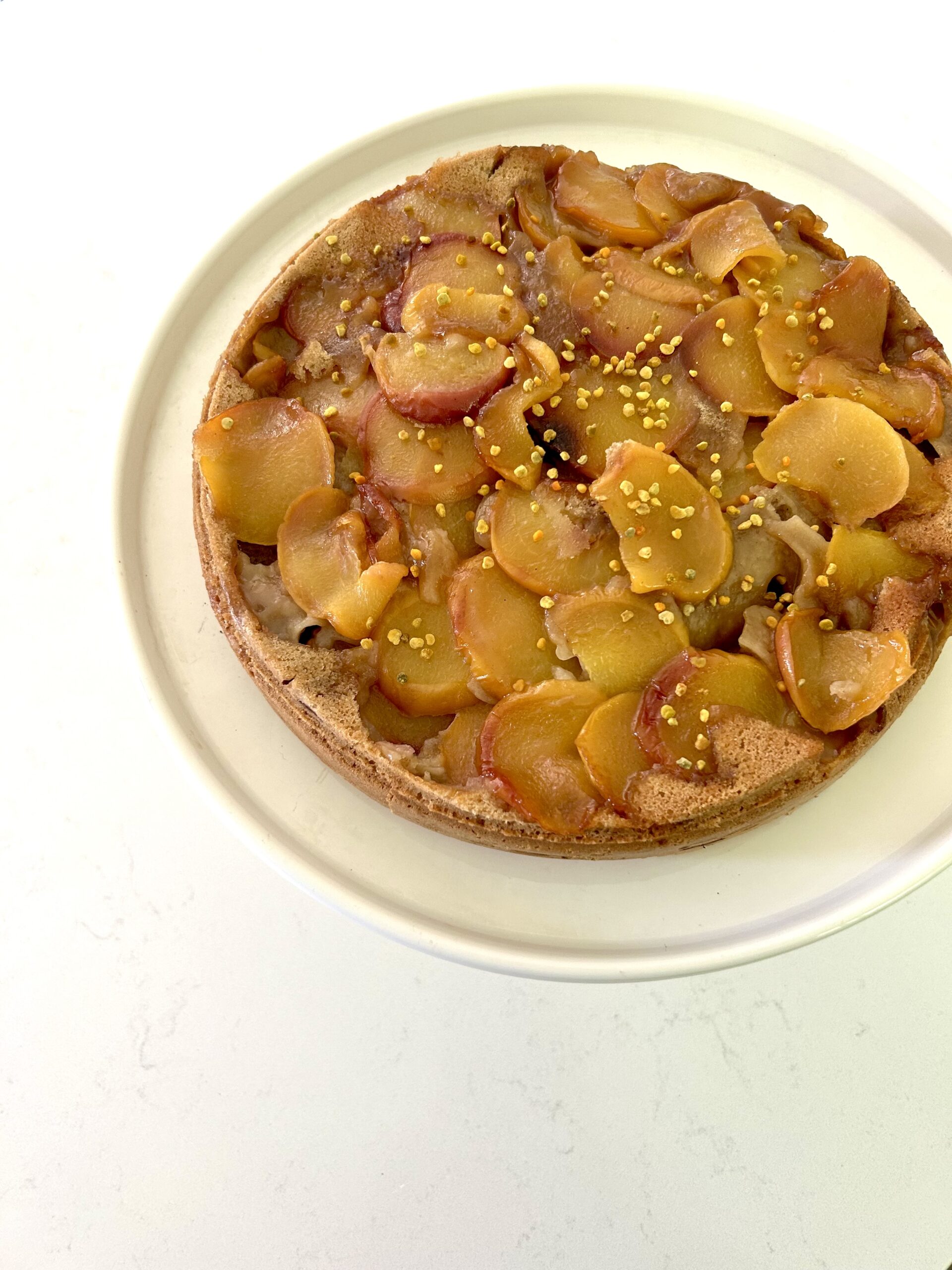 Snacking cakes; an unfussy treat that comes together quickly, with ingredients found in most pantries. They are not reserved birthdays or special occasions, they are meant to be eaten whenever the craving for cake lands, like on a Tuesday afternoon. This version also happens to be pretty healthy thanks to high fibre gluten-free flour and an absence of refined sugars, so it can totally pass for breakfast.
The peaches are glorious this time of year and work beautifully in this recipe, but can be exchanged for any seasonal fruit;
Peach Snacking Cake
This gluten-free, dairy-free peach cake is perfect for a Tuesday afternoon treat, or even breakfast. Peaches are perfect this time of year but can be swapped out for any seasonal fresh fruit. 
Ingredients
2 eggs, room temperature
3/4 cup maple syrup 
3/4 cup melted vegan butter
1 tbs vanilla bean paste 
2 cups gluten-free flour (spelt also works very well here)
1 tsp baking soda & 1 tsp baking powder
8 peaches, sliced 
2 tbs bourbon, optional 
Instructions
Preheat oven to 350 degrees.
Layer sliced peaches at the bottom of a spring form pan. Melt 1/4 cup butter, vanilla, bourbon, 1/4 cup maple syrup and pour over your layered peaches. In a large bowl mix together the dry ingredients, then add your remaining melted butter, maple syrup and eggs and mix well. Pour batter on top of the peach slices. Bake (I recommend placing a baking tray under your spring form pan just incase a little leaks) at 350 for 22 - 25 minutes until a tooth pick comes out clean. Serve anytime of day, we recommend topping with bee pollen & fresh mint if you have it on hand.