Gluten-free + Vegan Cinnamon Buns
January 4, 2021 By Sarah White 1 Comment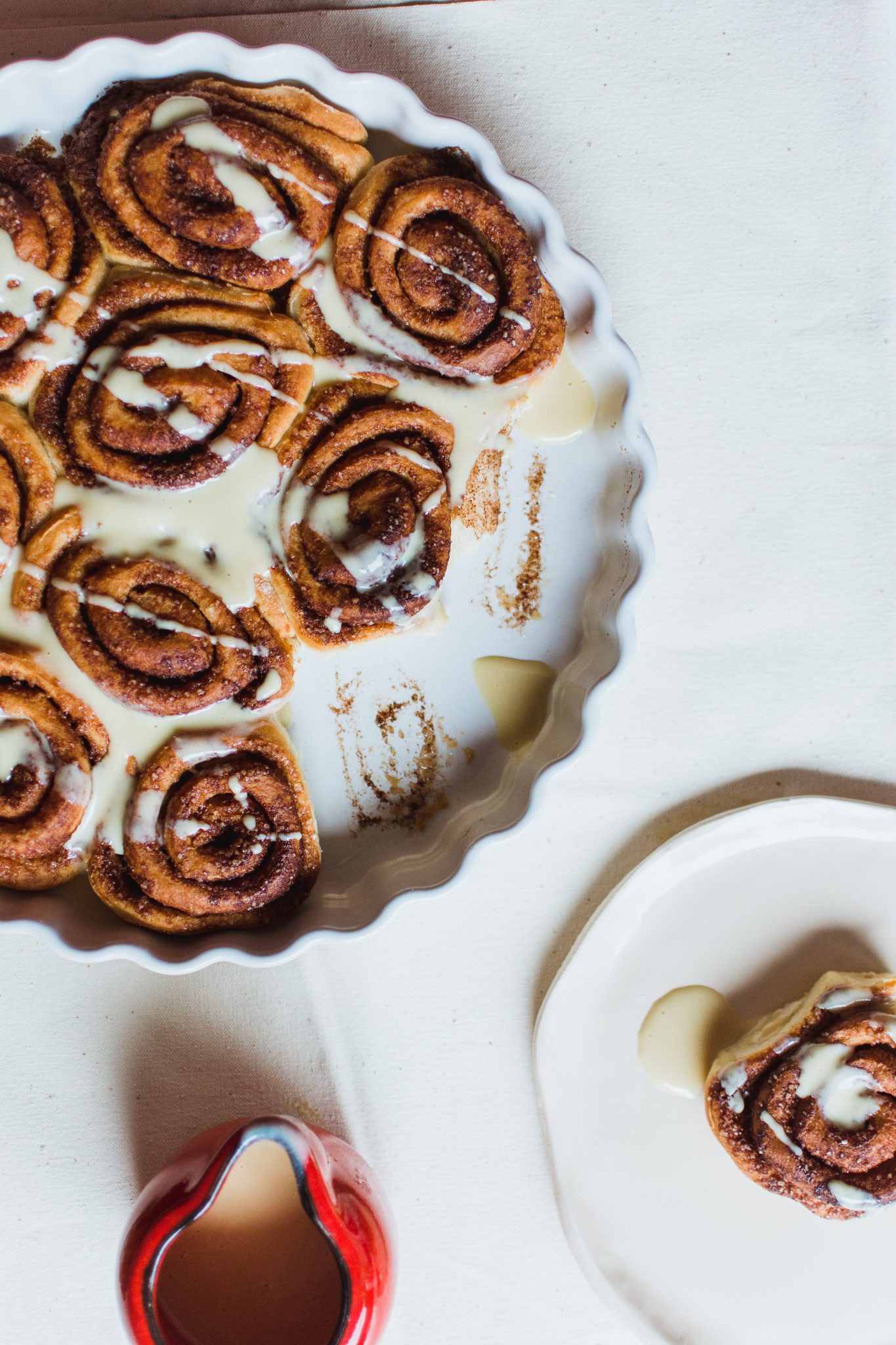 Happy New Year, from this doctor's 2021 kitchen. Before we get into my much requested cinnamon bun recipe, I'd like to first thank you guys for your patience with me this year. Many of you have been DM-ing and emailing me asking for new recipes, and unfortunately by the end of 2020 I just didn't have anything left over for writing or recipe-developing. This year has been undoubtedly difficult for everyone, and while I've appreciated the forced reframe, new puppy and time at home I have not loved the amount of time, energy and emotion that this year has cost us small business owners. Between making up for clinic closures and focusing on building my virtual care practice I just honestly didn't have the time or resources left to commit to this blog by the end of this year.
After a gruelling 6 months I'm happy to report that I've learned how to code (made my new website), launched a virtual / home practice @Replete Wellness, successfully mastered virtual care, started a supplement line, and am fully caught up and recommitted to my writing and my kitchen. While I love love love working with you guys in person in Oakville and online in my virtual practice I recognize that one-on-one care can be costly and isn't accessible to everyone, which is why this website is so important to me. This blog allows me to share recipes and wellness tips with people all over the world for free! and I'm so thrilled to be back here with a renewed energy, creativity and sense of purpose.
All that being said I'm feeling really good about my first recipe back. These cinnamon buns have been earning rave reviews ("the best recipe you've ever made" – Kyle, "delightful, darling" – Grandma Ruthie, "edible" – uncle Pete) and are vegan, gluten-free and refined sugar free so they won't completely de-rail your 'new year, new me' health goals. Let me know what you guys think, and feel free to harass me via instagram if you don't see at least 2 new posts weekly this year. Lots of love and I look forward to sharing so many new recipes with you in 2021. Please comment below if there are any specific recipes you'd like to me health-ify or any health topics you want me to discuss.
Gluten-free Vegan Cinnamon buns
These cinnamon buns are vegan, gluten-free and refined sugar free so they won't completely de-rail your 'new year, new me' health goals. 
Ingredients
Cinnamon Bun Ingredients: 
1.5 cups super-fine brown rice flour
1 cup almond flour
1 cup tapioca flour
1 quick package yeast
1/4 cup psyllium husk
2.25 cups almond milk
1/3 cup maple syrup 
1/2 tsp sea salt
2 tbs cinnamon
1 stick (1/2 cup) vegan butter, warm or at least room temperature 
1/4 cup maple sugar, monk fruit sugar, coconut palm sugar or cane sugar
Vegan Icing Ingredients: 
1/3 cup coconut manna / coconut butter  
1/4 cup maple syrup or any of the sugars used above 
Instructions
Preheat the oven to 400F.
To make the cinnamon buns: start by gently warming your almond milk over low heat in a sauce pan on the stove top (until milk is lukewarm or around 100F). Once warmed add the maple syrup and quick rise yeast and stir well. Wait 10 minutes until mixture is frothy then add psyllium husk and wait an addition 5 - 10 minutes until the whole mixture thickens. While the yeast mixture is resting add your brown rice flour, almond milk, tapioca flour and salt to a large bowl or mix master and mix together until well-combined. Add the warm almond milk / yeast / psyllium husk mixture to your dry ingredients and mix well (add a little more brown rice flour if mixture looks too sticky). Sprinkle more brown rice flour onto a clean counter top and add the mixed dough, needing a few times to cover the dough in brown rice flour and prevent sticking. Roll the dough out to a 3/4 inch thickness (you should should be approximately 8inch x 16inch wide & long by the time it's rolled out on the counter) then cover with a mixture of the warm butter, cinnamon and sugar. Roll the dough into a long log and cut into 10 equally sized pieces. Place the buns into 1 - 2 greased cake pans leaving space between the buns and cover with bees wrap or plastic wrap to rise for 40 minutes to 1 hour. After buns have doubled in size place them in the oven to bake for 30 - 35 minutes until golden brown on top.
To make the icing melt the coconut butter and sugar in a small sauce pan (until sugar has dissolved) and drizzle over your baked cinnamon buns. Serve warm, eat them all!