Dessert for breakfast: My Healthy Apple Crisp [low carb/gluten-free/dairy-free Recipe]
October 17, 2018 By Sarah White No Comments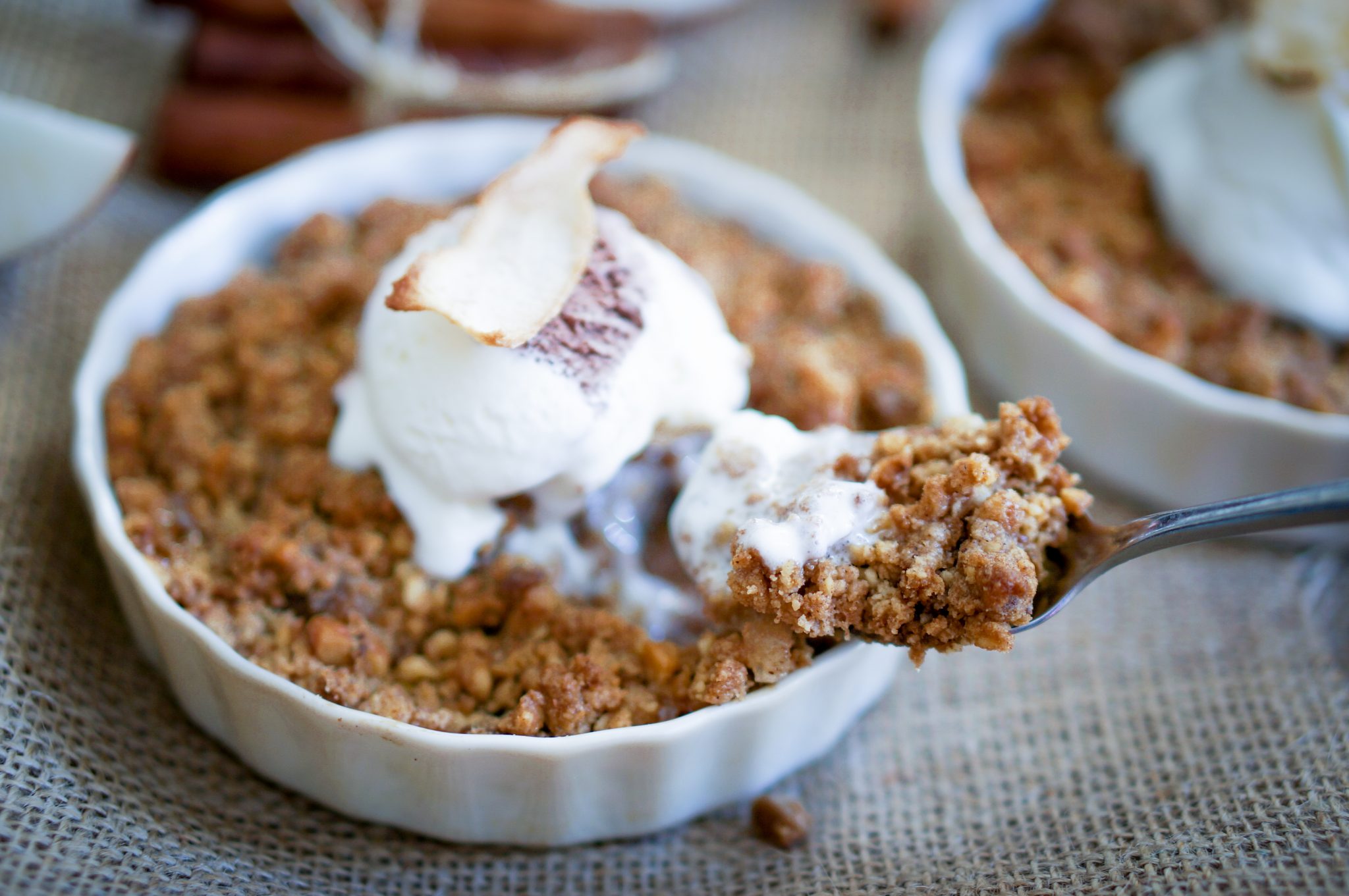 Happy fall everyone. I hope you enjoy this quick and healthy (gluten-free/low-sugar/dairy-free) apple crisp recipe from This Doctor's Kitchen. 
After a round of apple picking and a CSA box full of local apples we recently found ourselves with a surplus of honeycrisps. A girl (and her husband) can only eat so many apples, so naturally I've found myself incorporating this seasonal favourite into all of my recent baking and cooking. We've made apple muffins, squash & apple soup and even bourbon & maple stewed apples, but my hands-down favourite way to use up apples is in this healthy, yet indulgent apple crisp.
I've always loved apple crisp; it is cozy, comforting and so much easier to make than a traditional apple pie. I originally created this healthier apple crisp recipe a few years ago when I made the decision to cut refined sugar and dairy out of my life for the sake of my skin. These days I'm rarely eating any sugar and typically use healthier alternatives like monk fruit sweetener or Benisweet in my baking. That being said, I know many of you don't necessarily keep these on hand so I've provided alternatives in the form of natural sugars like maple syrup or coconut palm sugar, which are fine for most in moderation and are used sparingly in this dish.
This apple crisp is the perfect easy dessert for a special meal or is even healthy enough to be served up as breakfast on lazy Sunday mornings. In the latter case it's best served with a huge cup of hot coffee and a good book while cuddled up on the couch listening to your favourite records (possibly speaking from experience here …).
Healthy Apple Crisp Recipe [low carb/gluten-free/dairy-free]
This quick and healthy apple crisp recipe is gluten-free, low-sugar and even dairy-free. It's the perfect easy dessert for a special meal or is even healthy enough to be served up as breakfast on lazy Sunday mornings. 
Ingredients
3 cups apples chopped into 1/2 inch pieces (cortland, honeycrisp, gala and golden delicious all work well in this recipe - leave the skins on for a little extra fibre). 
2 tbs monk fruit sweetener / coconut sugar / brown sugar (or whatever granulated sugar that you have on hand) 
Juice from 1 medium lemon 
2/3 cup thick rolled oats 
1/3 cup coconut flakes or coconut chips 
2 tbs maple syrup or benisweet 
2 tbs cinnamon 
1/2 cup coconut oil (room temperature or slightly softened) 
1/2 tsp sea salt 
Instructions
Preheat the oven to 350F. Mix the chopped apples, lemon juice, granulated sweetener and 1 tbs of cinnamon in a large bowl until the apples are well coated. Pour your apple mixture into a baking pan or baking dish (I love my square casserole dish from Le Creuset for this - it's the perfect size) and set aside. Add the softened coconut oil to a large mixing bowl along with the maple syrup, remaining 1 tbs cinnamon, and salt. Mash the coconut oil with the other ingredients until everything is mixed through. Add the oats, sea salt and coconut flakes to the coconut oil mixture and combine well. Spread the coconut and oat mixture overtop of your apples and baked uncovered for 1 hour. Serve warm with vanilla coconut milk ice cream for dessert or reheat in the morning for a delicious healthy treat.