Dairy-Free Creamy Rajas Poblano Recipe
November 22, 2019 By Sarah White No Comments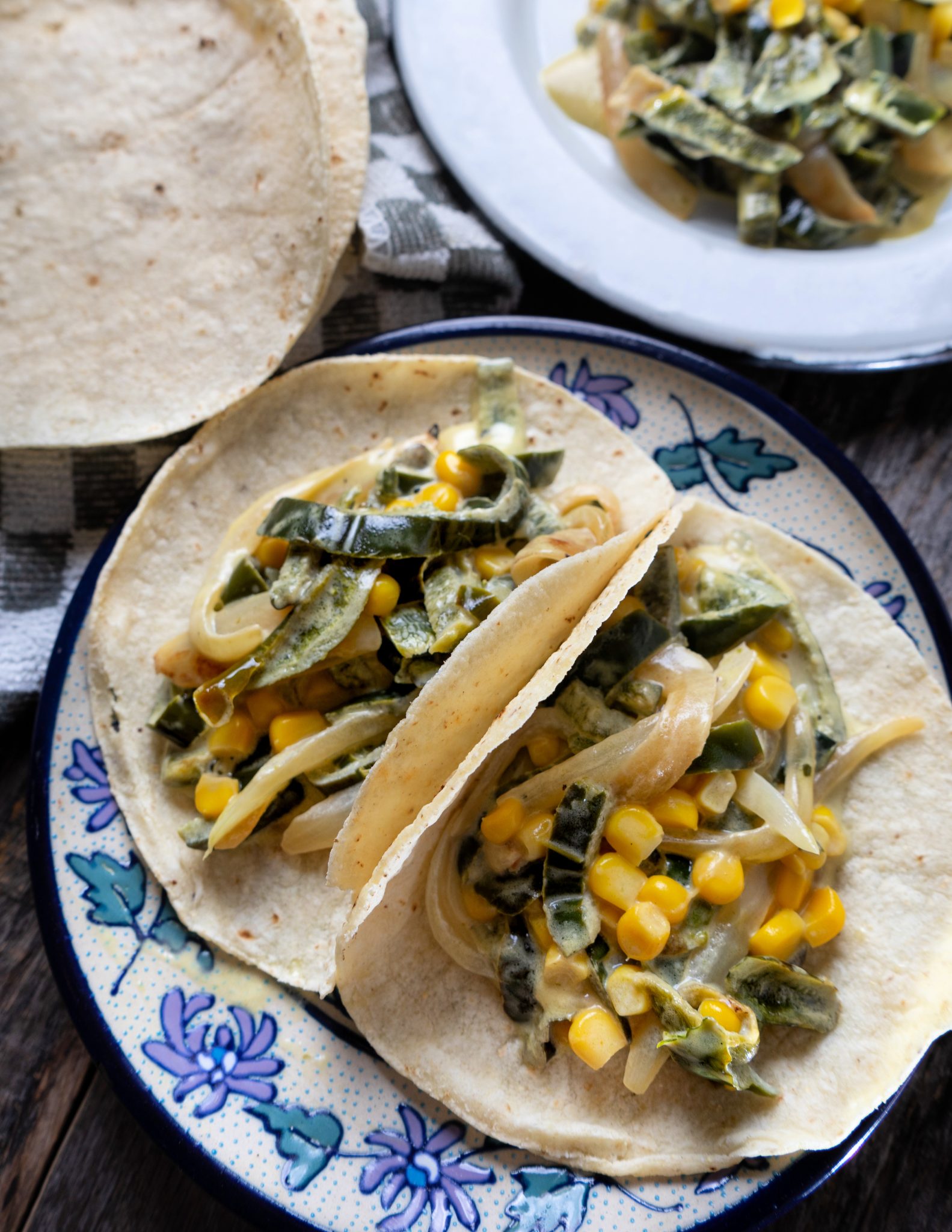 My fascination with this traditional Mexican tortilla filling started last month in a cooking class that I attended while in Mexico. The original dish was delicious (or so I was told), but unfortunately I wasn't able to try it since it was loaded with dairy. I couldn't wait to get back to my kitchen and healthify this protein-packed, poblano-loaded weeknight meal and I'm proud to say I nailed this recipe on the first try! We've made this dish a few times since I've been home it and it makes me smile and think of Mexico every time I whip up a quick batch of this easy, healthy weeknight dinner.
Dairy-free Rajas Poblano Recipe
Rajas translates to slices; rajas poblano therefore refers to the slices of poblano peppers used in this delicious dish inspired by a cooking class I took in Mexico. I made my version dairy-free and serve it on siete grain-free tortillas for a tasty low-carb dinner that reminds me of my current favourite place in the world. 
Ingredients
2 organic free range chicken breasts, chopped into 1/2 inch cubes 
6 poblano peppers (not always easy to find in Canada but I found some recently at Farm Boy).
1 tbs olive oil 
1/2 cup unsweetened plain diary-free soy or coconut yoghurt 
1 tsp chili powder 
1 chicken stock bullion cube 
3 cloves of garlic, chopped 
1 small onion, chopped into thin slices 
2 small potatoes, diced (omit if you're sensitive to night shades or replace with yams) 
Corn kernels from 2 cobs of cooked corn or 1/3 cup Farm Boy spicy corn Salsa 
salt + pepper to taste 
Instructions
First prepare the poblanos by cooking them on a hot BBQ, turning frequently until the skin blisters on all sides. Remove from the BBQ and allow to cool. Once cooled chop into thin slices and set aside until you're ready to add them to your rajas poblano recipe.
Add olive oil to your pan along with the diced potatoes and cook stirring frequently until crispy and cooked-through. Remove the potatoes and add the onions, garlic, corn or corn salsa, and chicken to the pan along with chili powder, salt and pepper and cook until the chicken is cooked through - about 10 minutes. Add the cooked poblano slices, chicken stock cube to the pan along with the cooked potatoes, stir well and cook for 5 minutes until piping hot. Stir the yoghurt into the chicken and potato mixture and serve onto of tortillas or with a bowl of tortilla chips.