Nothing feels more "fall" to me than snuggling up on the couch with a glass of bold red wine and a huge bowl of hot chili. This sweet potato and beef chili recipe is my absolute favourite and is perfect for this fall weather and cozy evenings at home. It strikes that balance between spicy and sweet and happens to be super simple to make, too. Lately, I've been eating a 'ketogenic' style diet during the day and saving my carbohydrates for dinner time. This strategy allows me to maintain blood sugar balance through the day while maintaining normal cortisol patterns and ensuring restful sleep. A simple chili like this one provides tons of protein (just please purchase organic when using red meat) and just the right amount of carbohydrates to keep me full and satisfied in the evenings. Top with chopped avocado for an extra hit of satiating healthy fats.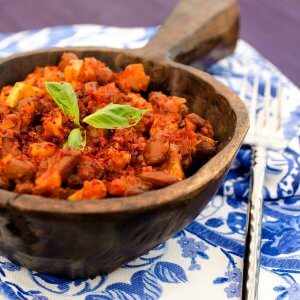 Print
Yield 4 - 8 large servings
The ultimate fall comfort food, this chili is hearty, simple and incredibly filling. My current favourite cold weather dinner. 
Ingredients
2 cups tomato sauce

2 cups chicken broth

1 tomato diced

1 pepper diced

1 chili pepper diced

2 tbs chili powder

3 large cloves garlic

1 small onion diced

1 tbs coconut oil or avocado oil

2 medium sweet potato, chopped

1lb organic ground beef

1 BPA-free can of beans (chickpeas, red beans, kidney beans, pinto beans, whatever you prefer/have on hand) 

2 pieces of organic bacon, chopped into small pieces. 
Instructions
Heat a large pot on medium high heat, add bacon, oil, onion and garlic to pot and cook stirring frequently until browned (about 5 - 10 minutes). 
Add ground beef, along with chili pepper along with 2 tbs chili powder, to the pot and cook for 5 minutes on high heat until most of the pink has been cooked out of the meat. 
Combine the broth, tomato sauce, chopped pepper, sweet potato and chopped tomato to the pot and cook for 35 minutes. 
Add drained and rinsed beans to the chili and cook for an additional 10 minutes. 
Serve chili hot topped with chopped avocado (optional) with a side of gluten-free corn bread. 
Courses Dinner