Vegan Keto Coconut Macaroons
April 7, 2020 By Sarah White No Comments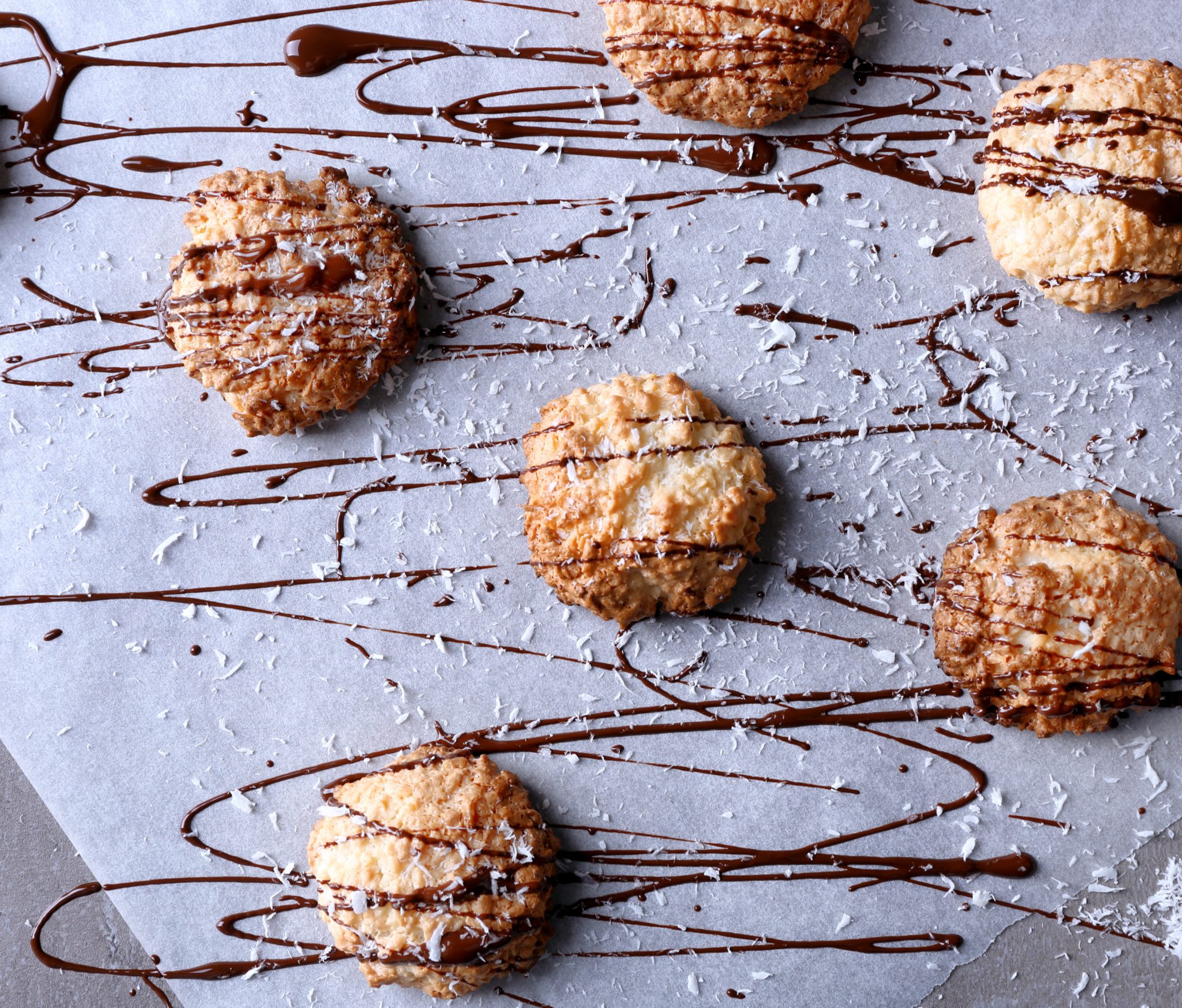 These vegan coconut macaroons were a long time in the making; many bags of shredded coconut were lost to the process of developing an edible (dare I even say, delicious) macaroon recipe free of egg whites and sugar. After months of experiments I've finally nailed the perfect ratios and replacements – just in time for passover.
Coconut macaroons are the ideal dessert during the holiday as they do not contain any flour or other 'forbidden' Passover foods and Grandma usually brings out a can of Manischewitz macaroon's at the end of the Passover seder to accompany her homemade apple sauce and mini bunches of grapes. While these store-bought cookies are not the healthiest or even tastiest dessert, they do taste like nostalgic family tradition and passover just wouldn't feel right without them.
I'm hosting my first ever passover quarantine seder this year – although it definitely won't be the same via FaceTime I still wanted my menu to feel as traditional as possible. I'm making gluten-free matzo ball soup, a roast with mini potatoes and beans (the way my Grandma Ruth makes them with lots of garlic, lemon zest and almonds) with these tasty little vegan and keto macaroons as our dessert. We'll miss the plastic frogs flying around the table after too many glasses of kosher wine but at least we won't be missing macaroons – or Maple leaf's jerseys [Last year my gentile husband showed up to my fancy Grandma's passover dinner in a Leaf's jersey and refused to take it off until dinner time. When the matzo ball soup was ready to be served he walks up to the formal dining room table and pulls off his jersey only to reveal a second jersey that he'd been wearing underneath!!]
Wishing all you celebrating a healthy happy social distancing seder from this doctor's kosher for passover kitchen.
Vegan Keto Coconut Macaroons
Vegan + Keto – these tasty little coconut macaroons are the perfect way to end your passover seder. Free of sugar & egg-white these cookies won't crash blood sugar levels or cause breakouts!
Ingredients
3 cups unsweetened shredded coconut flakes
The coconut cream (aka 'hard layer') from 1 can of coconut milk
3 tbs golden monk fruit sweetener (or 3 tbs of honey if you're okay with a little sugar)
2 tsp vanilla bean paste
pinch of flakey sea salt
1/4 cup stevia-sweetened dark chocolate chips (lily's are our favourite)
2 tbs coconut oil
Instructions
Preheat oven to 350 degrees F and line a baking sheet with parchment paper. Make your cookie batter by combining the coconut cream, monk fruit or honey and vanilla in a small sauce pan on the stove top and heat gently until the coconut cream breaks down and the monk fruit and vanilla are well incorporated into the mixture. Pour the warm coconut cream over your coconut flakes in a large bowl and mix well. Scoop out 2 tbs of the coconut mixture and place on a cookie sheet 1 inch apart (tip: make sure you pack your little macaroon mounds well so they don't fall apart, I find 1 – 2 cookies from every batch will break apart in the cooking process regardless of how well I pack them, use these to top oatmeal or chia puddings). Bake in oven for 20 minutes or until golden.
Meanwhile warm the coconut oil and chocolate chips on the stove over low heat until melted then drizzle the chocolate on top of the macaroons and finish with some flakey sea salt. Let cool for 10 – 20 minutes before handling them.