Brown Rice Mushroom Risotto
May 11, 2020 By Sarah White 2 Comments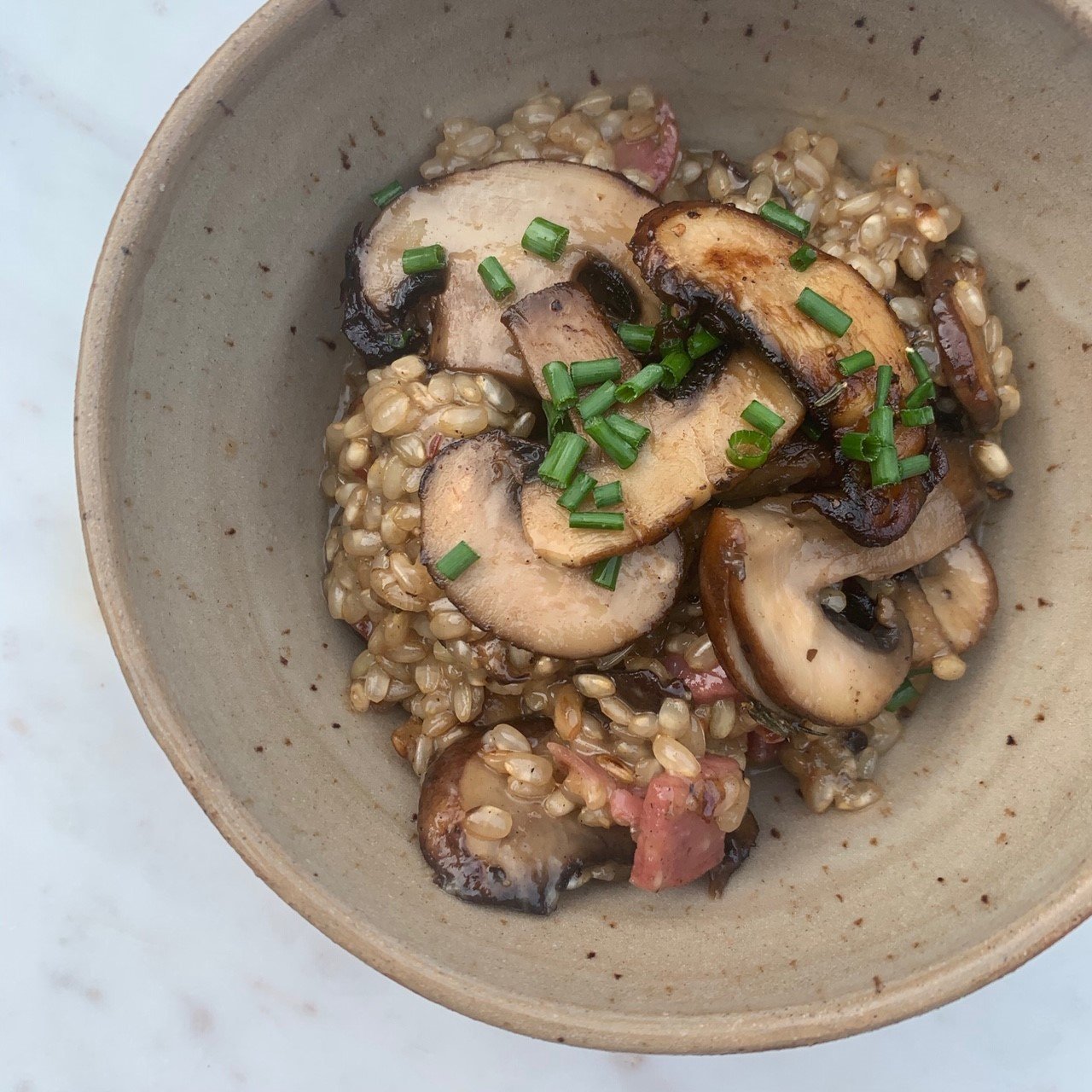 This is the perfect recipe for stay-at-home days when you have too much time on your hands. The key to a perfect risotto is love, attention and lots of slow meditative stirring to help you get your mind off of the fact that it looks like we'll be stuck at home for another couple of weeks. It's gloomy and rainy in Ontario, which means it's the perfect day for a big bowl of comforting creamy brown rice – tonight you'll find me in the kitchen listening to Fleetwood Mac records while chopping earthy mushrooms & fresh herbs for this soul-satisfying dinner.
I've made this earthy brown rice mushroom skillet risotto pretty much weekly since quarantine began in March. It's the perfect stay-at home comfort dinner and something I would have shied away from making in my former/busier life since it takes a lot of time and focus to get that perfect creamy risotto texture when using brown rice. While white rice is certainly easier to cook with I prefer to use short grain brown rice for this recipe because it tastes better (richer, chewier, I just the stuff!) and it has way more health benefits than white rice. Unlike white rice, brown rice is a whole grain since it includes the fibrous bran and the nutritious germ. White rice, on the other hand, has had the bran and germ removed, which are the most nutritious parts of the grain.
Additionally, brown rice is exceptionally high in a little known mineral called manganese which is vital for many important processes in the body, such as wound healing, metabolism, fertility, nerve function and blood sugar regulation. Just one cup of rice fulfills nearly all your daily requirement for this important nutrient. However, it should be noted that brown rice contains way more fibre so it can also hold more heavy metals (brown rice grown in China has almost 80% more inorganic arsenic on average than white rice of the same type).  However organic brown rice from California, India, or Pakistan are relatively low in arsenic and are a fine heath choice as long as you're not eating it every single day.
Brown Rice Mushroom Risotto
The perfect mood-boosting meal for those gloomy "I'm so sick of staying at home" days. This comforting creamy brown rice recipe features earthy mushrooms & fresh herbs for a truly soul-satisfying dinner.
Ingredients
4 cups organic chicken broth or bone broth
1.5 cups short grain organic brown rice
1 cup dry white wine 
2 cups assorted mushrooms (I typically use some combination of shiitake, cremini and chanterelle) 
2 tbs butter (I use Miyokos vegan butter - available online or at Farm Boy) 
1 tbs olive oil 
1/4 cup parmesan (we're dairy-free at home so it's Earth Island vegan parm for us, honestly my husband can't even tell the difference) 
 1 tsp dried rosemary 
2 tsp dried thyme
1 tsp chili flakes 
salt + pepper - to taste 
1 tbs chopped fresh chives 
Optional: chopped salami or prosciutto
Instructions
First, prepare the chopped mushrooms: add 1 tbs of butter, 1 tbs olive oil and 3 small chopped garlic cloves to a hot pan along with your thyme, rosemary, salt + pepper and mushrooms and cook until browned and crispy.
Remove mushrooms from pan then add the rice to the now empty pan cook on medium high heat stirring frequently for 4 - 5 minutes to get the dried rice grains all nice and toasty. Add 1/2 cup chicken stock and cook stirring frequently in a figure 8 motion for 5 minutes, add an additional 1/2 cup broth or white wine every 5 minutes for a total of 45 - 50 minutes, or until brown rice is cooked through but still slightly el dente. Add in the butter, chili flakes and parmesan cheese and mix well, then stir in 3/4 of the mushrooms and chopped salami or prosciutto, if using. Serve risotto with the last bit of your crispy garlicky mushrooms on top along with fresh chopped chives.
References: