Fresh Clams with Garlic, Lemon + Vinho Verde
July 26, 2018 By Sarah White No Comments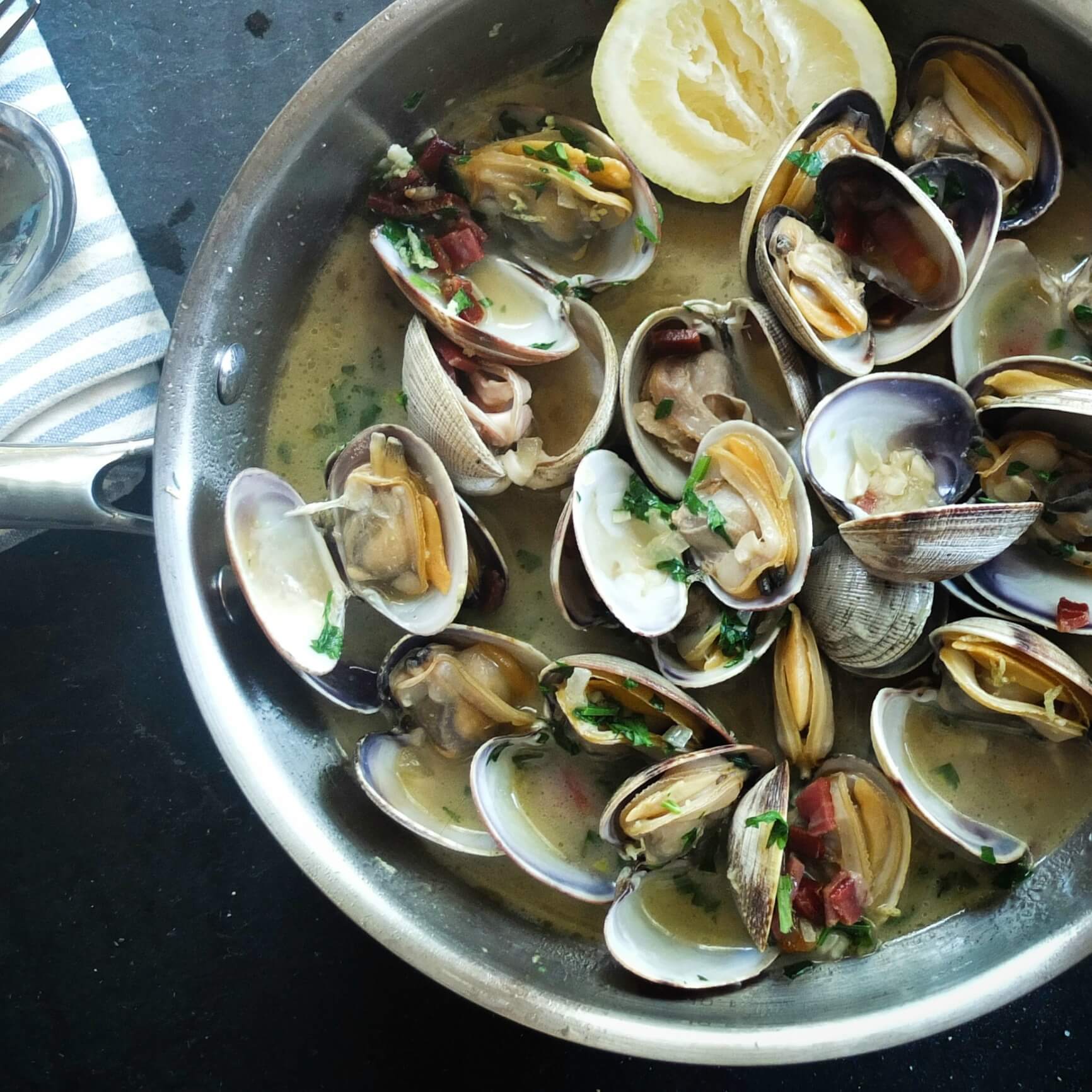 One of my favourite things we ate in Portugal (aside from my daily salt cod fritter) was a huge bowl of the freshest clams I've ever tasted cooked with garlic, lemon, cilantro and vinho verde (aka Bulhão Pato clams). This is yet another recipe inspired by our visit to chef Esteve's flat in Lisbon. He created a very similar dish for us and we've been obsessed with recreating it at home as often as possible, we hope you enjoy it as much as we do.
This bowl of clams was not merely delicious, it was also life changing, since it made me question all of my preconceived notions surrounding the controversial cilantro. Researchers have found two separate genetic variants that cause a person to dislike cilantro and it's estimated that approximately 15% of the population has the genes that make cilantro taste like soap. For 30 years of my life I was absolutely positive that I was one of those people who hated cilantro, and these clams completely changed my opinion on the subject.
Cilantro is an incredible health food, and research shows that it helps to increase liver production of glutathione; a potent antioxidant that helps support your body's natural detoxification mechanisms. This added detoxification support is key when it comes to this dish since it makes me feel a little less guilty about polishing off the rest of that bottle of vinho verde while cooking up these delicious clams (the bottle is already open after all …):
Clams with garlic, lemon + vinho verde
This delicious recipe for clams was inspired by our recent trip to Portugal and has quickly become a staple in our weekly meal planning rotation. The fresh flavours of lemon, garlic (tons) and crisp vinho verde come together to perfectly capture the fresh flavours of summer.
 
Ingredients
1.5 lbs small clams (the fresher the better) 
3 tbs olive oil 
10 large cloves of garlic (crushed, with the skin left on)
1 small bunch of cilantro, coarsely chopped
1 tsp sea salt
1 cup vinho verde
1 lemon, juiced
1 tsp fresh lemon zest 
Instructions
The most difficult and time consuming part of creating this dish is cleaning your fresh clams. Clean the clams thoroughly to remove any sand and grit, then soak your clams in salt water as you prepare the rest of your ingredients.
Heat a large dutch oven or wok over medium heat on the stove then add the olive oil and chopped garlic, stirring frequently for approximately 5 minutes, or until the garlic beings to brown. Drain and rinse your clams then and them to the garlic and shake the pan occasionally until all of the clams open. Once the clams are fully cooked add the cilantro, wine, lemon juice + zest and salt and stir gently until well combined. Serve hot with a loaf of crusty bread (if you can handle a little gluten) and a cold glass of your remaining vinho verde. No need for cutlery when it comes to this dish; serve the clams family style and simply use the shells and bread to scoop out all of the leftover sauce. 
References: