Gingerbread Fat-bombs
December 13, 2019 By Sarah White No Comments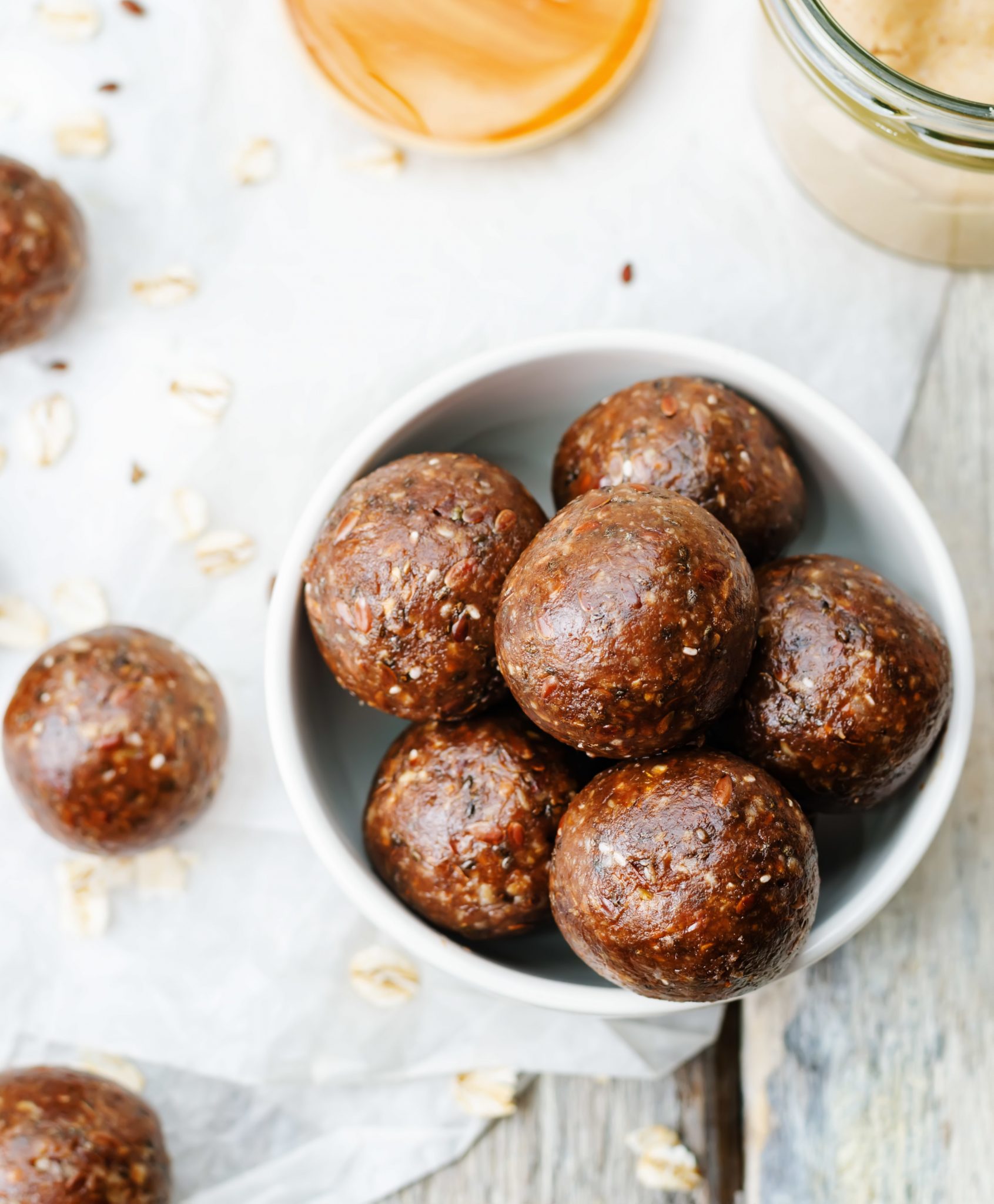 A low sugar, fat-based snack is my go-to 'pre-game' before holiday parties to help me make better choices while still enjoying myself at events. Fatbombs aren't just for the keto crowd, they're wonderfully satisfying and bloodsugar-balancing so you don't need to rush to the dessert table with a ravenous appetite. This festive version tastes like a ginger cookie but is loaded with healthy fats, hormone-balancing flax seeds, and antioxidants. Store them in the fridge for any time you need a sweet snack that won't throw your blood sugar into turmoil.
I've strategically added some flax seeds to these fat bombs for two important pre-party reasons. Firstly, flax seeds are high in fibre so you can go into your holiday events with balance blood sugar levels from the satiating combo of fat + fibre. As an added hormone-balancing bonus flax seeds are also high in lignans, a type of phytoestrogen. Phytoestrogens are nutrients that are structurally similar to the hormone estrogen so they can act as female hormone normalizers. This extra hormone support is especially important if you plan on drinking alcohol at your holiday events since alcohol interferes with your body's ability to detoxify estrogen and can increase production of harmful estrogens in both men and women. Whip up a quick batch of these gingerbread fat bombs for your winter weekend adventures, I promise you'll be glad to have them waiting for you in the fridge before your next holiday party.
Gingerbread Fat-bomb Recipe
These festive fat bombs are one of my favourite pre-holiday party treats. They're high in healthy fats and low in sugar to help keep blood sugar levels balanced through the holiday season. 
Ingredients
1 cup almond butter
1/2 cup almond flour 
½ cup ground flaxseed meal
1 tbs ground cinnamon
1 tsp ground ginger
1/2 tsp ground nutmeg
1/2 tsp sea salt
1/3 cup coconut oil 
1 tsp vanilla 
4 tbs monk fruit sweetener / maple syrup or molasses 
Instructions
Add the coconut oil, almond butter, vanilla, maple syrup or monk fruit sugar, and vanilla to a small pot on the stove and heat over low heat until everything is melted and well incorporated. Remove from heat and allow to cool slightly. In the mean time mix together the flax seeds, salt, spices and almond flour in a large bowl. Add the slightly cooled 'wet ingredients' to your almond flour flax mixture and stir well. Use clean hands to roll into small 1 inch balls and store in the fridge for 1 week, or freezer for 1 month. Eat 1 - 2 before holiday parties, or anytime you feel like a satisfying, lower sugar snack.
References: