Green Curry Dairy-Free Corn Chowder
September 25, 2020 By Sarah White No Comments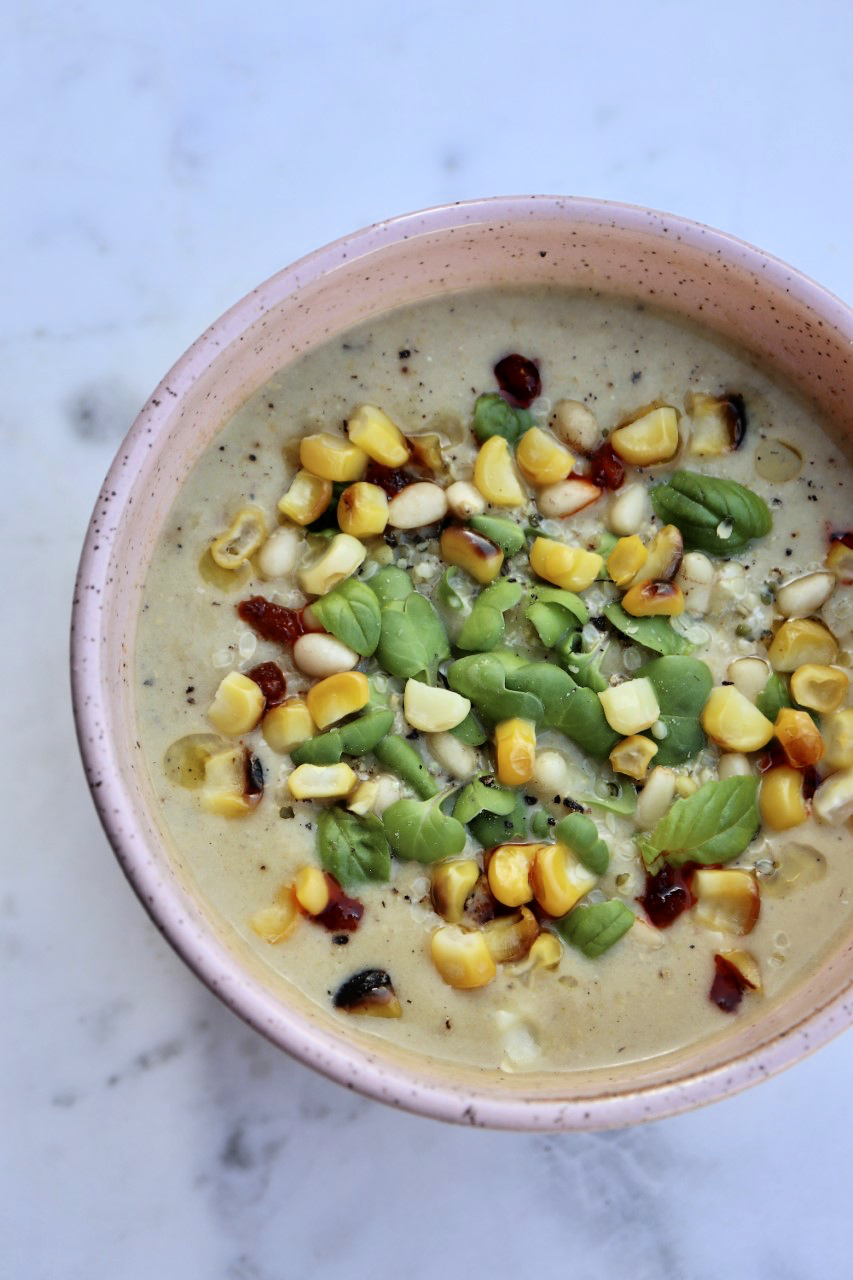 It's SOUP SEASON – the most wonderful time of the year. The leaves are starting to change and that cool fall weather that I love so much is slowly moving in. Fall has always been my favourite season; full of beautiful hikes, comfy sweaters and backyard fires with a glass of good scotch. This soup is the perfect way to welcome autumn while taking advantage of all that corn showing up at the farmers markets this time of year.
I don't have a ton else to say about this recipe, other than I highly recommend that it be eaten outside in the back yard before fall sets in. It's the perfect combination of sweet (corn!), spicy (green curry paste) & creamy (coconut milk, yeah baby!). Wishing you all a great weekend – we're planning on finishing up the basement renovation, making soup & foraging for mushrooms. Happy fall y'all.
Green Curry Dairy-free Corn Chowder
This dairy free corn chowder tastes like fall in a bowl; it's the perfect combination of sweet, spicy and creamy.
Ingredients
1L organic chicken bone broth 
1 can BPA-free coconut milk 
1 tbs olive oil or other neutral oil like avocado or grapeseed  
2 small white potatoes
3 large shallots or 1 small white onion 
4 - 6 cloves of garlic 
3 cobs of corn 
2 tbs green curry paste 
salt + pepper to taste
thai basil to serve
Instructions
Roughly chop the potatoes, garlic and shallot / onion and add to a large pot with your oil and curry paste. Cook on medium high heat for 10 minutes until lightly browned. Cut the corn kernels off 2 of the cobs and add to the pot along with the bone broth. Simmer the soup on medium low heat for 30 - 45 minutes (or until potato chunks pierce easily with a fork). While the soup is cooking either boil or BBQ the remaining cob of corn. Add the coconut milk, salt & pepper and blend with an immersion blender until mostly smooth. Cut the cooked kernels off the remaining cob and add back to the soup along with freshly chopped Thai basil to serve.