My Healthier Hibiscus Cocktail Recipe
March 4, 2019 By Sarah White No Comments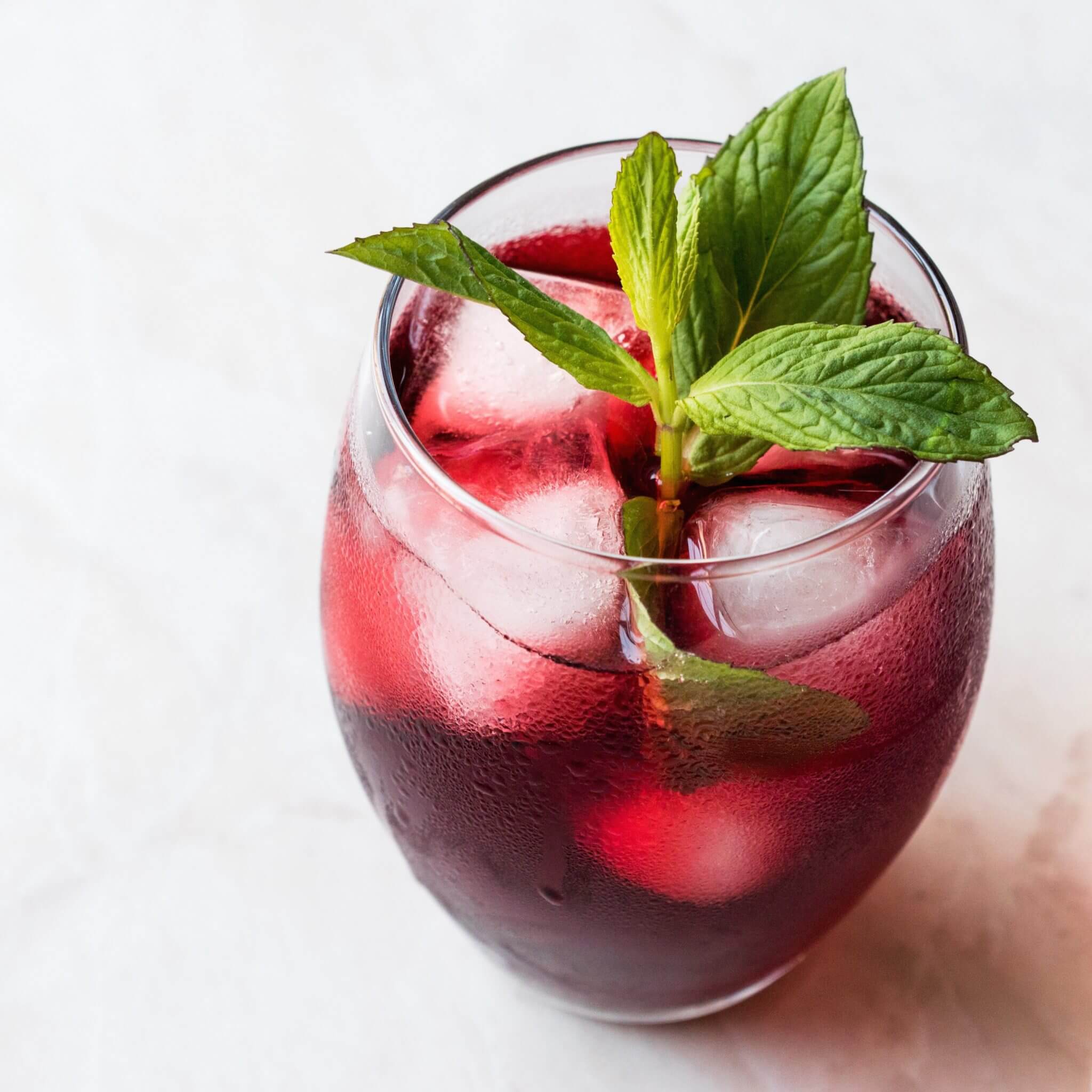 While alcohol is never the 'healthiest option' those who know me (or follow me on instagram) know that I love my dry gin martinis on nights out with my girlfriends, or relaxing in a bubble bath with a nice glass of biodynamic red wine. A truly balanced lifestyle is all about creating healthy habits that allow you the flexibility to enjoy life's little indulgences without sacrificing your health goals. In order to enjoy alcohol in a way that aligns with your overall health it all comes down to making healthier choices when you play bartender. This includes making smart ingredient swaps and choosing high quality spirits and mixers (you can check out my calibration with Fashion Magazine to learn more about healthier alcoholic choices).
Lately, we've been playing around with adding herbal tea infusions to our weekend bevvies, which is a cheap and easy way to healthify some of your favourite alcoholic drinks. We already drink a ton of tea at our house since it's an inexpensive and delicious way to add a little more antioxidants to our daily diet. There's an abundance of research linking tea consumption to a whole range of health benefits including reduced instance of disease and even increased lifespan. This is due to the high concentration of antioxidants called polyphenols found in many herbal teas. Research shows that these polyphenols may contribute to the prevention of cancer, osteoporosis, aging and cardiovascular disease. My daily earl grey, for example, contains bergamot which is linked to increased atophagy and anti-aging. That cup of chamomile I drink before bed is well studied in improving sleep and reducing anxiety, and can even reduce the likelihood of developing gingivitis.
This weekend's tea-infused cocktail of choice included hibiscus, my favourite herb for reducing blood pressure and improving blood sugar regulation. Hibiscus tea also has a high vitamin C content, which helps fight the signs of aging from the inside out. As an added bonus it even infuses a beautiful pink colour into your drinks and provides a tangy and slightly sweet flavour. Hibiscus flowers are also a great source of chromium to keep blood sugar levels balanced. This makes it an excellent addition to a night of partying since alcohol tends to spike blood sugar levels leading to an inevitable crash and worse hangover symptoms. We hope you enjoy this healthier pink cocktail; cheers from This Doctor's Kitchen.
Healthier Hibiscus Cocktail Recipe
This hibiscus-infused cocktail is tart, refreshing and absolutely delicious. Enjoy my favourite healthier pink cocktail recipe from This Doctor's Bar. 
Ingredients
1/4 cup dried hibiscus leaves
8oz good quality gin
4 dashes grapefruit bitters (optional) 
2 limes, juiced + lime twists to garnish 
Sparkling water
Mint leaves to garnish (optional) 
Instructions
Pour 1 cup boiled water over your hibiscus leaves and infuse for 30 minutes, until tea is cooled and brightly coloured (if you prefer a sweeter cocktail you can add 2 tbs cane sugar or honey to the warm tea but we prefer this drink tart and sugar-free). Strain the hibiscus leaves & discard, then add the tea mixture to a cocktail shaker along with the lime juice, gin and as much crushed ice as you can fit in your shaker. Strain and pour into 4 large high-ball glasses filled with ice and top with sparkling water, bitters and a lime twist + fresh mint leaves to serve.
References: