Chocolate Maca Sex Fudge
February 11, 2020 By Sarah White No Comments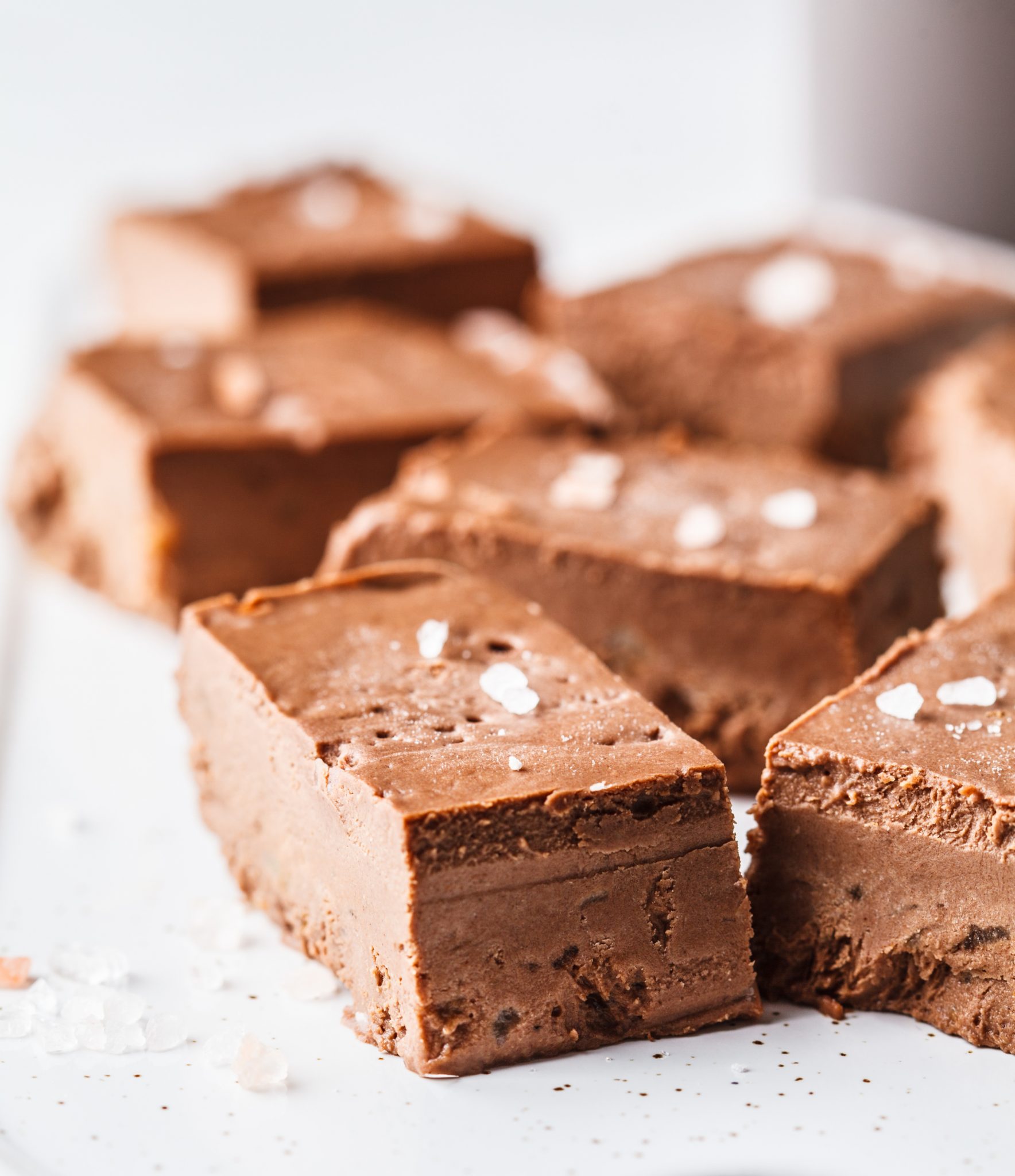 Female arousal is undoubtedly complicated. Information gathered from hundreds of observational studies on female sexuality suggests that, for women, psychological factors such as relationship satisfaction, mood, and emotional stress may play a more important role in feelings of sexual desire than physiological factors. While I can't help you with the resentment you may feel towards an unhelpful sexual partner (there are lots of wonderful sex therapists & couples counsellors available for support in that area) we can make sure that physical factors related to arousal, like hormones and blood flow, are optimized in order to give you the best shot at a healthy and satisfying sex life.
Great hormonal health begins with the foods you're putting in your body, and dietary fats from whole foods are especially important because they provide the essential fatty acids needed to make hormones. In order to have healthy hormones we also need to have healthy cell membranes, which are made from fats and therefore require lots of dietary fats in order to function optimally. There's a growing body of evidence suggesting that most female hormone problems actually start with an imbalance between pro-inflammatory and anti-inflammatory lipid compounds called prostaglandins. These prostaglandins are fat-based molecules that play a role both in activating & eliminating inflammation. While some inflammation is necessary & even beneficial, excess inflammation causes a variety of health problems, including hormone dysregulation and low libido. My absolute favourite healthy fat for improved sexual function comes from coconut oil, so naturally it's included in this chocolate sex fudge recipe. Not only do MCT oils from coconut provide the building blocks for healthy hormones, studies also show that dietary coconut intake is associated with a healthier body weight. This is important to your hormone status because a lot of our body's estrogen is made in fat tissues. The more fat you have stored on your body the more estrogen you'll make, increasing your risk of estrogen dominance and low libido. In addition to providing hormone-helping fats, coconut oil may also help modulate stress hormones to keep your hormones giving you a better chance at a happy sex life, despite still having a partner who refuses to pick up their own dirty socks …
This sex fudge recipe gets additional sexual super powders from dark chocolate and maca. Studies show that eating 1 serving of chocolate daily leads to higher levels of desire, arousal, and sexual satisfaction in women. Female participants in this chocolate study experienced more active libidos and better overall sexual function than those who didn't indulge. Chocolate works as a sexual stimulant because it causes a spike in sexy brain chemicals, including dopamine, a neurotransmitter that induces feelings of pleasure and arousal. This fudge is also the perfect way to sneak some maca powder into your daily diet. Maca is a Peruvian root that promotes optimal functioning of the hypothalamus and the pituitary gland to help improve output of important female sex hormones like testosterone, estradiol and progesterone; all of which are important in a healthy sexual response. In a recent study, women given higher doses of maca root (up to 3 g/day) reported improved sexual desire, likely due to balanced cortisol levels (maca is an adaptogen after all) and increased production of female hormones.
Chocolate Maca Sex Fudge
This healthy treat can help improve your sex life by providing healthy fats, hormone-balancing maca and libido-stimulating chocolate. I'm currently enjoying a small piece of this energizing, balancing chocolate sex fudge everyday after dinner to keep my lady hormones optimized. Happy Valentines day from this doctor's sexy kitchen. 
Ingredients
2 tbs raw Maca powder
1/2 cup coconut oil
1 tbs cinnamon
1/2 cup natural almond butter (unsalted, unsweetened) 
1/4 cup dark chocolate chips (we love lily's stevia sweetened 70% dark chocolate) 
2 tbs maple syrup (or 2 tbs golden monkfruit sugar) 
1/2 tsp flakey sea salt
Instructions
Easy! Simply melt coconut oil on low eat in a small saucepan with almond butter, chocolate, cinnamon, maca and maple syrup (or monkfruit). Stir frequently until melted and well incorporated, then pour into a loaf pan or mini muffin tin and top with flakey sea salt. Keep in the freezer until you're ready to cut & serve
References: