Summertime brings us some of the best and most beautiful ingredients that mother nature has to offer. Fresh berries are my go-to summertime dessert; sweet and juicy all on their own. While I typically serve them up au naturel, I've recently been experimenting with quick and easy ways to turn the humble berry into an elegant dessert to serve at our frequent summertime dinner parties.
This new recipe was inspired by my recent trip to Portugal where my husband and I took a cooking class with EatWith, a website that hooks you up with local food experiences while travelling abroad (thanks Jason & Eli!). Our host Es showed us how to make traditional Portuguese dishes like bean salad, clams with vinho verde (recipe coming soon), and salt cod with potato. He also whipped up an amazing dessert made with balsamic roasted berries, quark (a type of yoghurt), Portuguese cookies and fresh flowers. I knew as soon as I tasted it that I had to recreate it at home using gluten-free & dairy-free ingredients. The end result is a delicious dessert that requires zero oven time.
Scroll down for my favourite healthy no-bake dessert. A taste of Portugal that's perfect for summertime entertaining.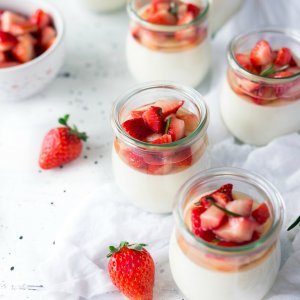 Print
No-Bake Strawberry Dessert
Gluten-free, dairy-free & requires zero oven time on hot days. I hope you enjoy my new favourite healthy no-bake dessert; a taste of Portugal that's perfect for summertime entertaining.
Ingredients
1 cup strawberries, roughly chopped 
1 cup coconut yoghurt (silk brand unsweetened vanilla is the best I've tried) 
1 tbs cane sugar or monkfruit sweetener (for my low carb pals) 
1 tsp balsamic vinegar 
A pinch of pepper 
Instructions
Simply break up the graham crackers and layer 1 cookie at the bottom of 4 small glass containers (mini mason jars work very well for this dessert). Top each cookie layer with a few tablespoons of coconut yoghurt, then add a second layer of crumbled cookie and a second layer of coconut yogurt. Add your sweetener of choice to a hot pan and stir frequently until it starts to bubble and caramelize. Add the chopped berries, pepper and balsamic vinegar to the hot pan with the sugar and cook until the fruit begins to breakdown and is warmed throughout. Gently add the hot fruit mixture to your coconut and graham cracker layers and serve immediately. I've also served this with a little fresh basil and some additional cookie crumbs sprinkled on top for a little extra flavour and sweetness.