Pink Paleo Coconut Flour Crepes
February 18, 2019 By Sarah White No Comments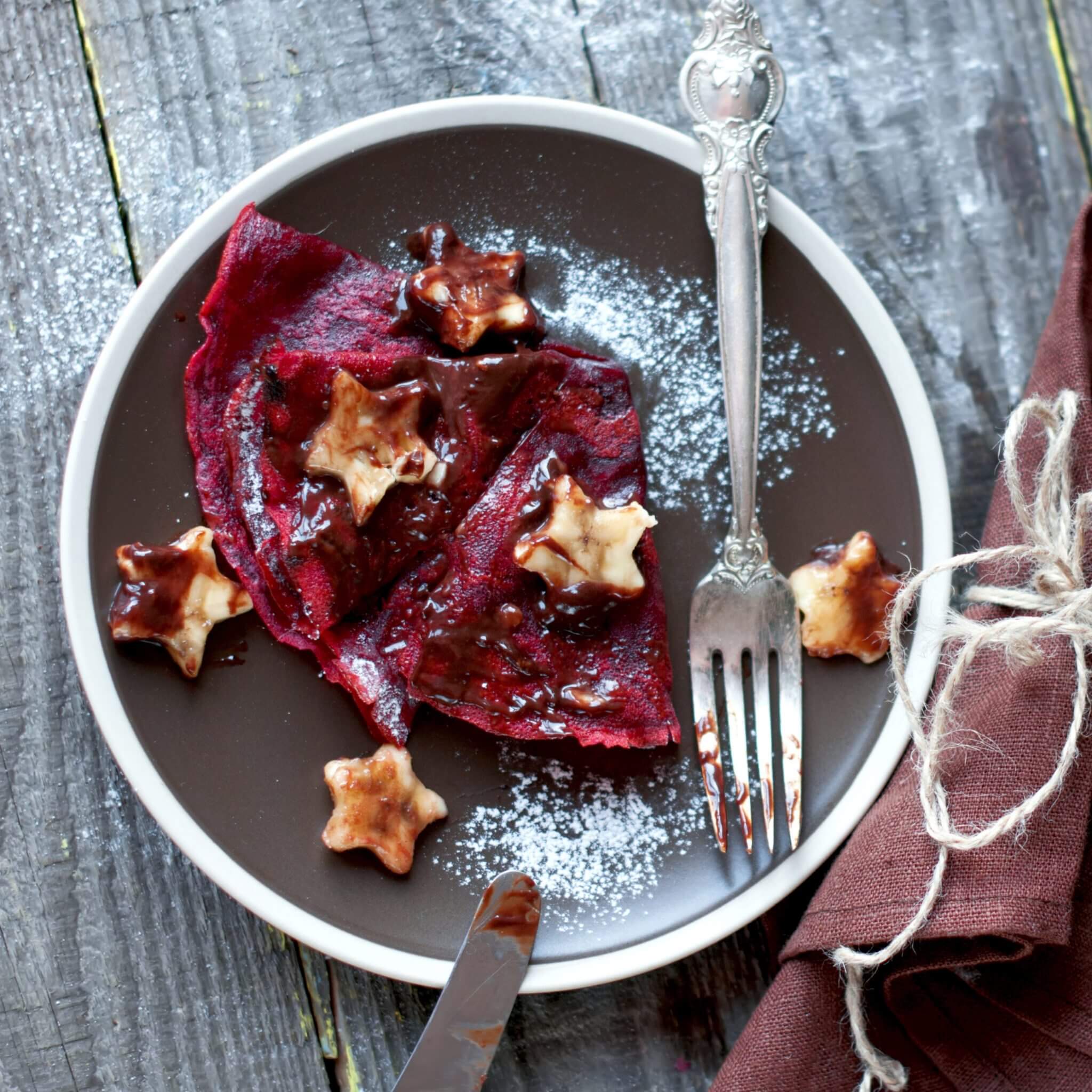 This lovely little Valentines day recipe is the ultimate combination of my favourite things: pink, Paris & coconut whipped cream. I'm slightly fixated on all things Parisian, and I'll soon be channeling my inner Parisian it-girl in bed with a big plate of these healthy crepes & a cafe-au-lait (almond milk, always) while flipping through the latest issue of the Paris Review and listening to Serge Gainsbourg albums with my hunny.
Valentines day fell on a weekday this year so we decided to postpone our celebrations to this weekend. My husband and I are currently relaxing in Prince Edward County, him in bed, me in the kitchen whipping up this special surprise V-day breakfast.
This weekend is officially 'Vinter Festival' in Prince Edward County, a celebration of all things wine + winter. We'll be spending the rest of today wine tasting & snowshoeing around vineyards so a healthy breakfast is a must. These coconut flour crepes provide the perfect to fuel for a busy (boozy) day. Coconut flour is made from 100% pure coconut meat so it's high in fiber, protein and healthy fats, and completely free from blood sugar-wrecking grains. Happy Valentines day weekend lovers.
Pink Paleo Coconut Flour Crepes
Surprise your honey this weekend with the ultimate Valentines day breakfast in bed recipe. 
Ingredients
1/2 cup organic coconut milk
2 Tbs coconut oil, melted
2 large free-range eggs
2 Tbs coconut flour
1/2 tsp vanilla extract 
1 tsp beet juice or 1/4 tsp beet juice powder (you're welcome to omit the beets, this step is for those of us who are over the top extra when it comes to holidays; these crepes are a wonderful breakfast in bed with or without a hint of pink)
1 Tbs organic extra virgin coconut oil for frying up the crepes 
Whipped coconut cream & chopped berries for serving 
Instructions
Whisk the eggs, melted coconut oil, vanilla, beet juice or powder, and salt in a mixing bowl. Gently stir in the coconut flour and coconut milk until your batter is well mixed. Let sit for 5 minutes while you heat up the remaining coconut oil in a non-stick crepe pan or small skillet. When the pan is hot and coconut oil is melted pour in 1/4 cup of batter while quickly rotating and evenly coating the pan with the batter. Flip your crepe when the it starts to bubble in the centre and cook for an additional 1 - 2 minutes. Repeat with your remaining batter until you have a nice little stack of pink crepes. Serve with fresh cut berries and a little coconut whipped cream.