Pumpkin Spice Coffee Cake
November 7, 2022 By Sarah White No Comments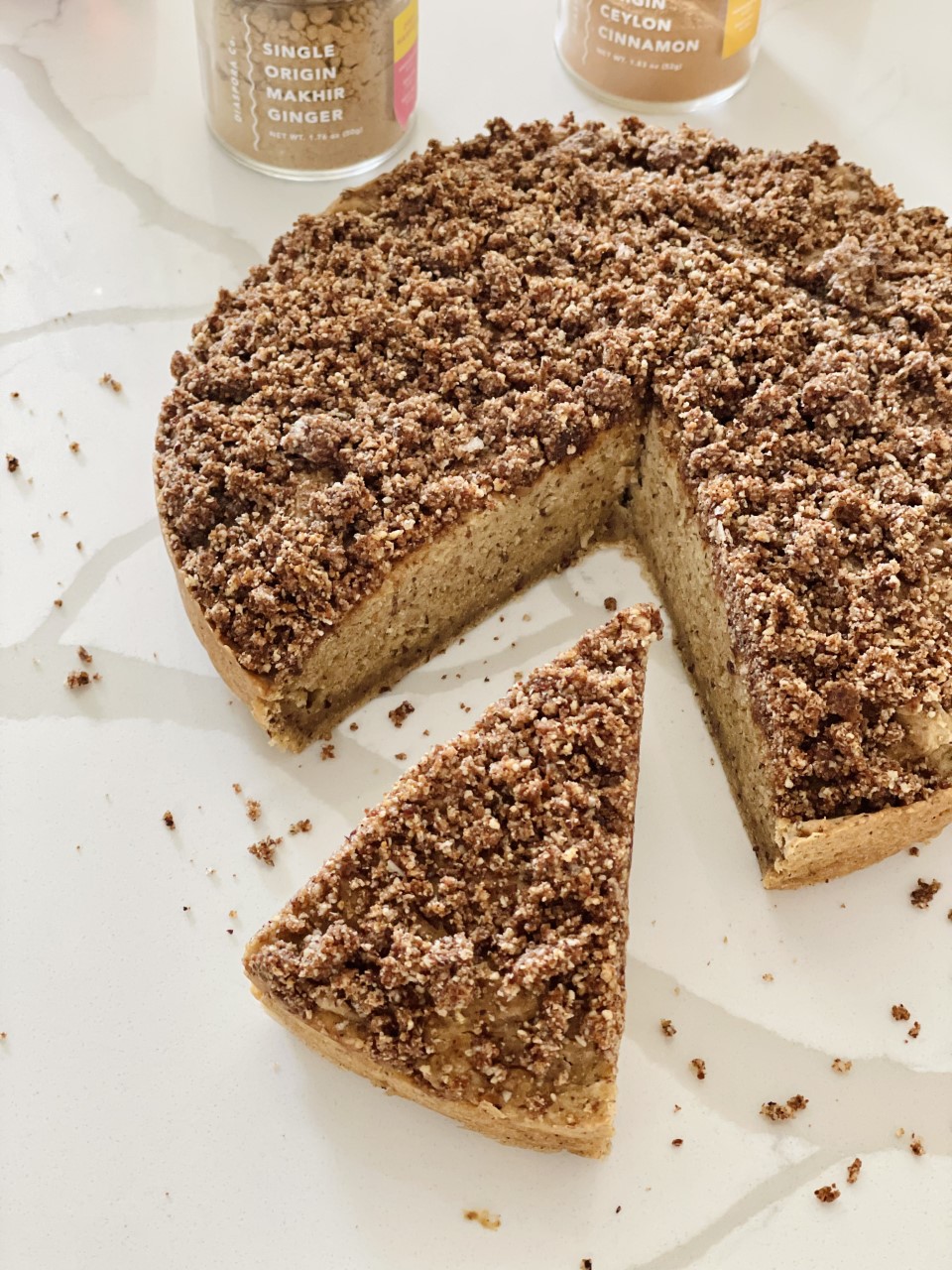 Finally, the 'better late than never' pumpkin coffee cake recipe I promised you guys weeks ago (my apologies, it's busy season at the clinic & life is very full).
The good news; with halloween & thanksgiving already come and gone you'll now probably be able to pick up a few cans of organic pumpkin puree on sale at your local health food store, so you're welcome for that.
This healthy pumpkin coffee cake is perfectly moist thanks to coconut yogurt & organic pumpkin puree. It also happens to be gluten free and naturally sweetened with maple syrup, making it the perfect fall snack or even breakfast. Happy fall ya'll from this doctor's cozy, pumpkin-scented kitchen.
Pumpkin Spice Coffee Cake (dairy-free, gluten-free)
My sweetie came up with this idea and it was an absolute hit; this gluten-free, dairy-free coffee cake tastes like fall and is a wonderful mid afternoon treat with a (decaf) coffee or cuppa tea. 
Ingredients
Cake Ingredients: 
1

 

cup

 

pumpkin puree 

2

 

eggs, at room temperature

1/2

 

cup

maple syrup 

1

 

cup coconut yoghurt 

1/2 cup non-dairy milk 

1

 

teaspoon

 

vanilla extract

1/4

 

cup

melted vegan butter or

neutral oil like coconut or grapeseed oil

2 cups gluten-free flour

1

 

cup

 

hazel nut or almond flour 

2

 

tablespoon

 

cinnamon 

1

 

teaspoon

 

baking soda

¼

 

teaspoon

 

salt

1 tbs ground ginger
1 tsp nutmeg 
Crumble Topping: 
1/2 cup hazelnut or almond flour
1/3 cup coconut sugar
1 tbs cinnamon
1 tsp ginger 
1/2 tsp nutmeg
2 tbs coconut oil or vegan butter, melted 
Instructions
Preheat the oven to 350 degrees F. Add all the dry ingredients and spices to a large bowl and whisk together until well incorporated. In a separate bowl whisk the wet ingredients then add them to your dry, mixing well. To make the crumble mash all the crumble ingredients in a small bowl. Pour batter into a round cheese cake pan and sprinkle evenly with the crumble mixture. Bake for 40 - 45 minutes until a tester comes out clean.