Spicy Sweet Potato Soup
October 6, 2017 By Sarah White No Comments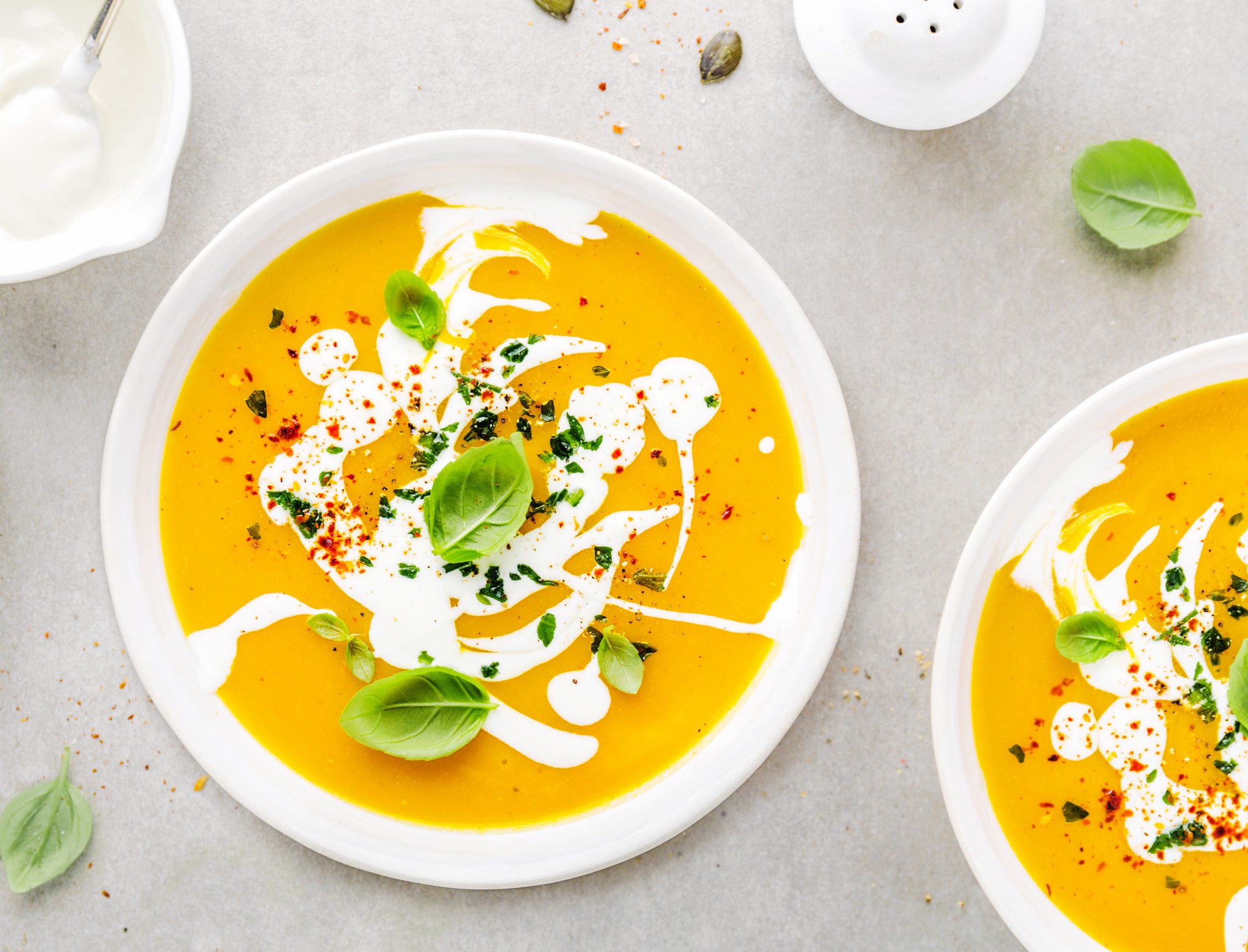 From both a Western and an Eastern perspective, sweet potatoes are considered to be a fabulously healthy vegetable. Just one sweet potato contains 400% of your daily Vitamin A intake as well as a high dose of vitamin B6 to improve hormonal health and neurotransmitter function. They are also a great dietary source of vitamin C which helps to support the immune system during the change of seasons. While sweet potatoes carry multiple well-studied health benefits from a Western perspective, Traditional Chinese Medicine (TCM) considers them to be especially beneficial when eaten during the end of summer and beginning of fall. According to TCM theory, colours and tastes are connected with the optimal function of particular organs. Sweet potatoes are traditionally good for healthy digestion, as their sweet taste and orange colour benefit the stomach and spleen, the two organs that must be supported during the transition between late summer and early fall. Longer cooking times and heartier ingredients (seriously, what's heartier than a potato?) are also important to prepare the digestive tract and immune system for the colder months ahead.
Spicy Sweet Potato Soup
This creamy sweet potato soup is my favourite way to incorporate more sweet potatoes into my diet during the early fall. It's simultaneously sweet, spicy and creamy thanks to a touch of cayenne and a can of healing coconut milk. 
Ingredients
1 can (BPA-free) coconut milk 
900ml chicken or vegetable broth
2 large sweet potatoes (peel if using non-organic potatoes or if you like a creamier texture) 
1 small head of cauliflower 
1 small onion
4 cloves of garlic
2 tbs coconut or avocado oil 
1 tbs curry powder 
1/2 tsp cayenne powder 
salt & pepper to taste 
Instructions
Finely chop garlic and onion and add to a large pot with 2 tbs of oil and the curry and cayenne powders. Heat on medium high heat for 5 - 10 minutes until onion is translucent and beginning to brown. 
Wash and chop sweet potatoes into 1/2 inch cubes and cut cauliflower into small florets. Add to the pot after the initial 5 - 10 minutes have passed along with the coconut milk and broth. 
Bring soup to a boil then reduce heat and simmer on the stove top for 30 minutes. Once the sweet potatoes and cauliflower are tender, puree the soup with an immersion blender until smooth. 
Add salt and pepper to taste. Serve or keep in the fridge for up to 5 days.