Easier Green Pozole
October 12, 2022 By Sarah White No Comments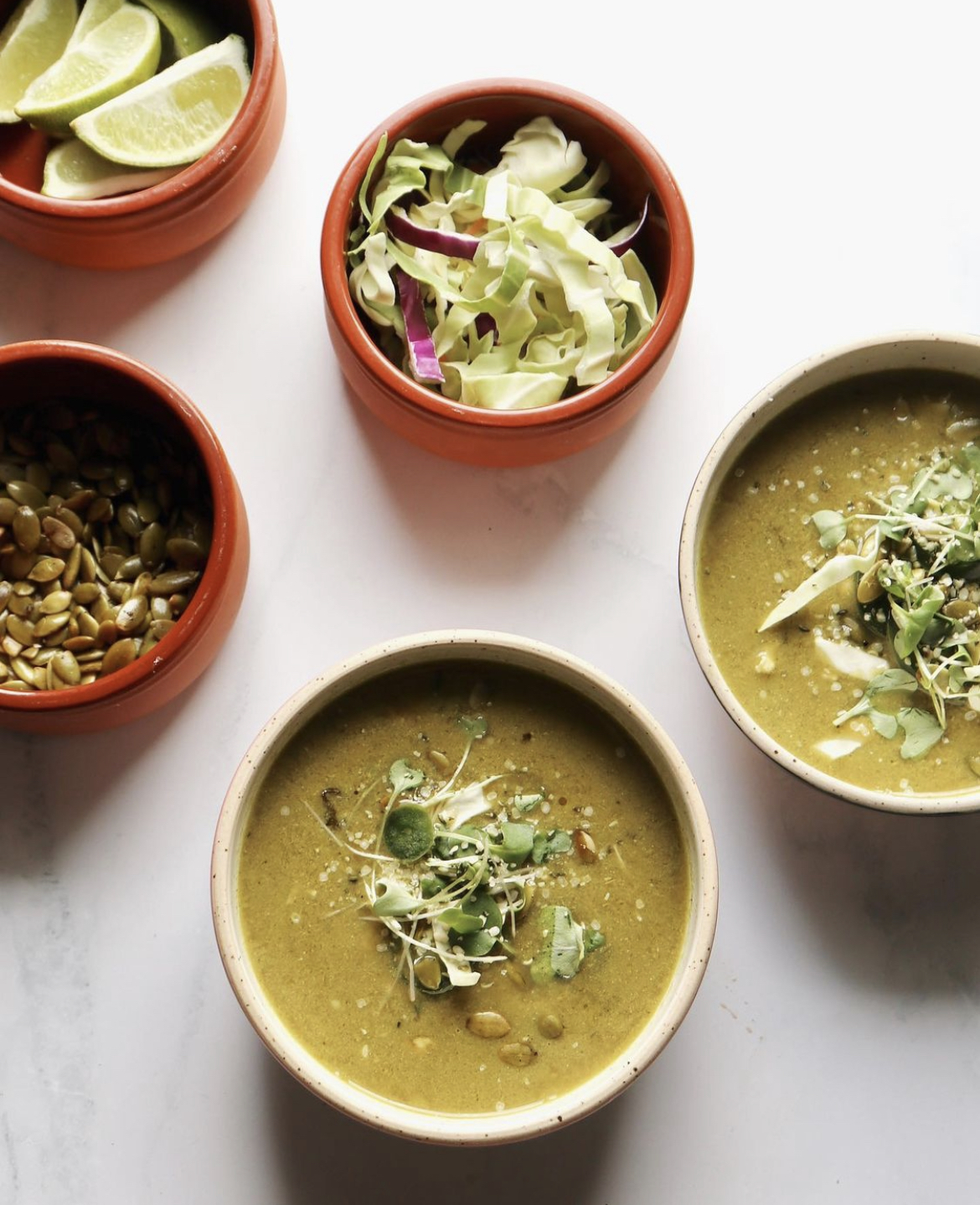 It's fall y'all, aka soup season – the most wonderful time of the year. Fall will always been my favourite season; mushroom foraging, comfy cashmere, backyard fires and red wine weather. This soup is the perfect way to embrace autumn, warming & takes me back to sunny days in Mexico.
This easy green pozole tastes just like Baja but can be made with ingredients found locally in Canada. I also cut out a few steps (4) and hours (3) for your cooking convenience with a surprisingly authentic result. Wishing you a wonderful soup season from this doctor's kitchen.
Easier Green Pozole
Gluten-free, dairy-free, kind of easy pozole; soup season is officially here! 
Ingredients
4 chicken breasts, bone in (skin removed)

4 bay leaves

1 head of garlic

1 medium white onion

2 poblano peppers

1 serrano pepper

2 jalapeños

1 tbs avocado oil

2 cups spinach

1 1/4 cup raw pumpkin seeds

2 cups green chard

800ml can green tomatillos or around 12 fresh tomatillos if available

2 cups hominy

1 lime

optional toppings: micro greens, shredded cabbage, sliced radish, avocado

salt + pepper to taste
Instructions
Remove skin from chicken breasts and place in a large stock pot or dutch oven with 12 cups filtered water, bay leaves, 1/2 onion chopped, and 6 cloves of garlic. Bring to a boil uncovered then simmer on low heat covered for 45 minutes. Remove the bay leaves and chicken from the broth, pull the chicken apart into small pieces and set aside. At this point we like to use an immersion blender to breakdown the onion and garlic in the broth but you can leave it whole if you like some chunkier alliums in your soup. Rinse hominy and add to the broth to cook for 45 minutes as you prepare the rest of your ingredients.
Add pumpkin seeds to a hot pan (no oil needed) and cook stirring frequently until toasted. Remove pumpkin seeds from the pan and set aside. Cut tomatillos in half and add to the hot pan with the oil, serrano, jalapeño and poblano pepper along with the rest of the garlic & onion, finely chopped. Cook tomatillo mixture for 10 - 15 minutes stirring frequently until peppers and tomatillos are slightly browned., add chopped greens and cook for an additional 5 - 10 minutes until greens are wilted. Add tomatillo mixture to a high powered blender along with 1 cup of the pan toasted pumpkin seeds and juice from 1 lime, blend until a thick, pesto-like sauce forms (add broth as needed to thin the mixture) then add your pepper and tomatillo sauce to the broth for the last 15 minutes of the hominy cooking time. Add shredded chicken back to the soup pot to warm for a few minutes then serve the soup topped with additional lime juice, toasted pumpkin seeds and any of your favourite pozole toppings (we love extra jalapeños, cabbage, micro greens & a little avocado).