Fermenting 101: Easy Fermenting Recipes [Homesteading in the City]
November 6, 2018 By Sarah White No Comments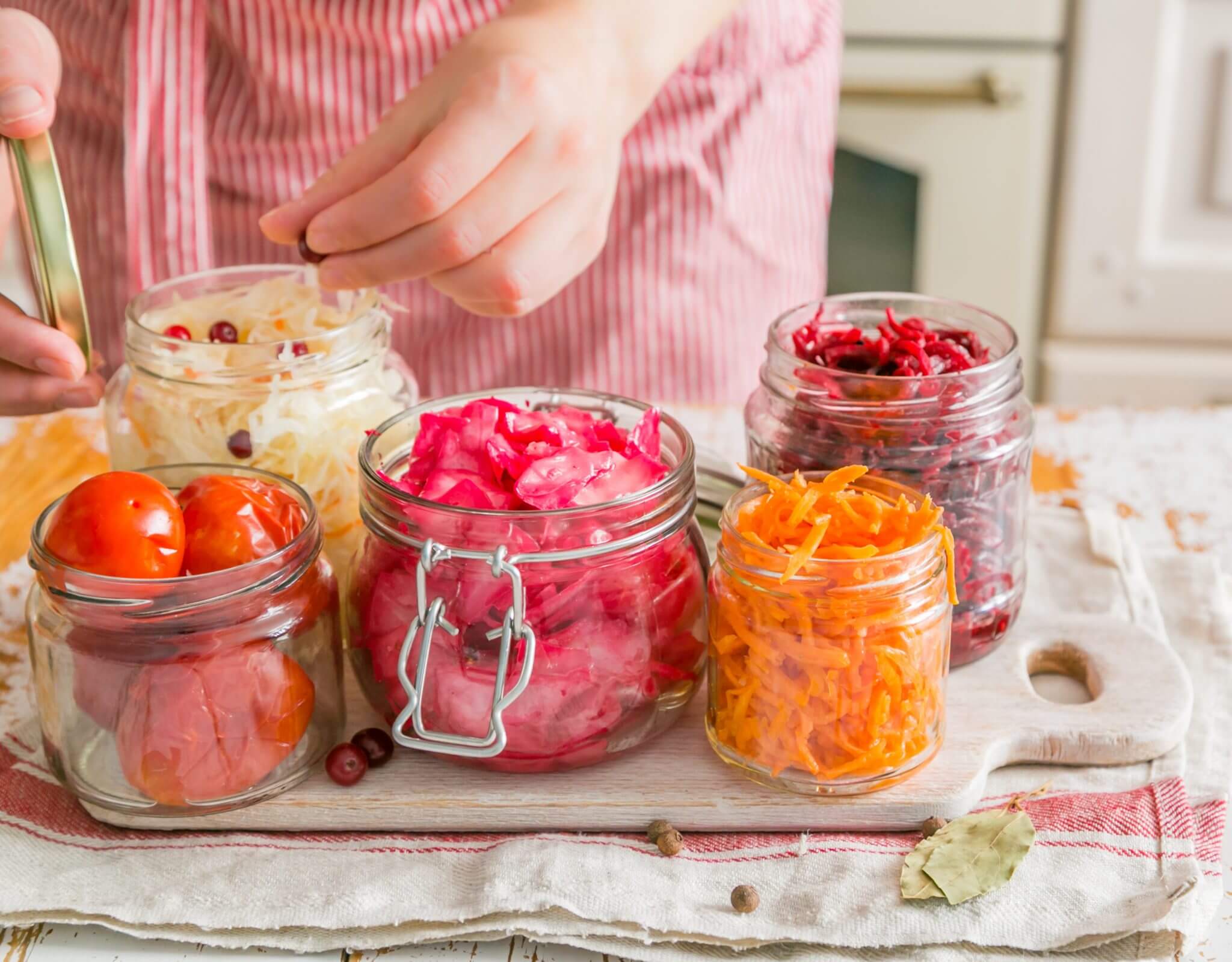 Fermenting 101: Easy Fermenting Recipes for Gut Health
This summer you learned all about our chickens, and the pros and cons of raising backyard hens in the city. That blog post was such a hit (I'm so thrilled and surprised by how many of you are interesting in keeping chickens of your own) that my husband and I have decided to commit to a monthly 'Homesteading in the City' series to document our adventures in farming/harvesting/chicken-raising/foraging from our tiny plot of land in Toronto: 
Fermenting is my favourite way to preserve our backyard bounty through the fall and winter since fermented foods are absolutely fabulous for digestive health. When it comes to improving your gut health, there's nothing more important than the foods that go into your mouth. While processed and unhealthy foods have been shown to damage the intestinal lining and worsen the gut, fermented foods can actually repair intestinal damage and heal your digestive system. This is because fermented foods are a great source of naturally occurring probiotics. These beneficial bacteria prevent harmful pathogens and "bad bacteria" from accumulating in your GI tract. Probiotic-rich foods help to keep your gut flora balanced by maintaining high levels of 'good' bacteria, which creates a favourable environment to begin the gut healing process. My favourite fermented foods are sauerkraut, kimchi, homemade coconut yoghurt and tempeh – and I try to include at least one serving into my diet each day. Even if you don't have the time or desire to make your own fermented foods you can easily find them at your local health food store. Pro tip: when choosing store bought fermented products make sure to only purchase from companies that ensure a 'live' product.
While fermenting your own food at home can seem intimidating, it's also completely gratifying and totally worth the extra preparation and effort. My goal with this post is to give you all the best tools and recipes to make fermenting easy, fun and safe for beginners.
Let's start with my home fermenting must-haves:
Starter fermenting kit: you can grab these handy kits on amazon, or at your local hardware store. They typically come with a lid, air lock, stoppers, gasket and weight. These kits allow you to remove air from your jars and weigh down your creations in order to safely preserve the healthy bacteria in your ferments. We grabbed ours from Costco for less than $50, you can purchase something similar here.
Fermenting crock: I recommend those new to fermenting begin with a water-sealed crock. They are typically more expensive than open-crocks but they come with a lid and weights that create a fairly fool-proof fermentation barrier. These crocks are perfect for new fermenters who want to simply prepare their ingredients and then forget about them while they ferment. They're low maintenance and perfect for sauerkraut, kimchi or classic cucumbers. You can grab  a relatively inexpensive fermenting crock on wayfair or amazon. I personally have my eye on this gorgeous handmade version from Etsy.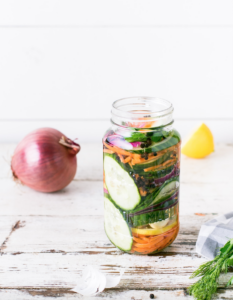 Best Cook books, Websites & Guides to Fermenting:
These are the resources I find myself returning to over and over again:
The Art of Fermentation by Sandor Ellix Katz: This book is by far the most comprehensive guide for do-it-yourself home fermentation. It provides recipes and processes that are simple enough to guide a reader through their first experience, but also includes some more difficult recipes for experienced fermenters.
Batch by Joel MacCharles: This is my personal favourite fermenting cookbook/guide, it even  lives on our kitchen counter. It presents techniques for a variety of skill levels and gives you multiple options for quick and easy preserving. Check out Joel's recipes for pickled asparagus spears, blueberry maple jam and wood-fermented hot sauce; all favourites in our household.
Cultures for Health Website: This site covers complex fermenting topics for the advanced fermenter but is also a wonderful resource for first timers. You can check out their article on how-to ferment vegetables and browse their selection of fermentation starters.
My top 5 easy fermenting recipes for beginners:
The best way to start fermenting at home is to just start experimenting. My favourite recipes from around the web are safe, easy and basically fool-proof: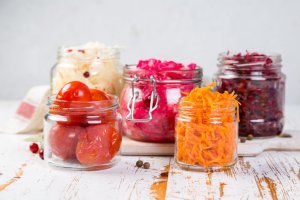 Looking to connect with a Naturopath in Oakville to discuss your gut health and develop a personalized plan? Book your appointment here.