Gluten-free + Vegan Cinnamon Buns [2.0]
December 31, 2022 By Sarah White No Comments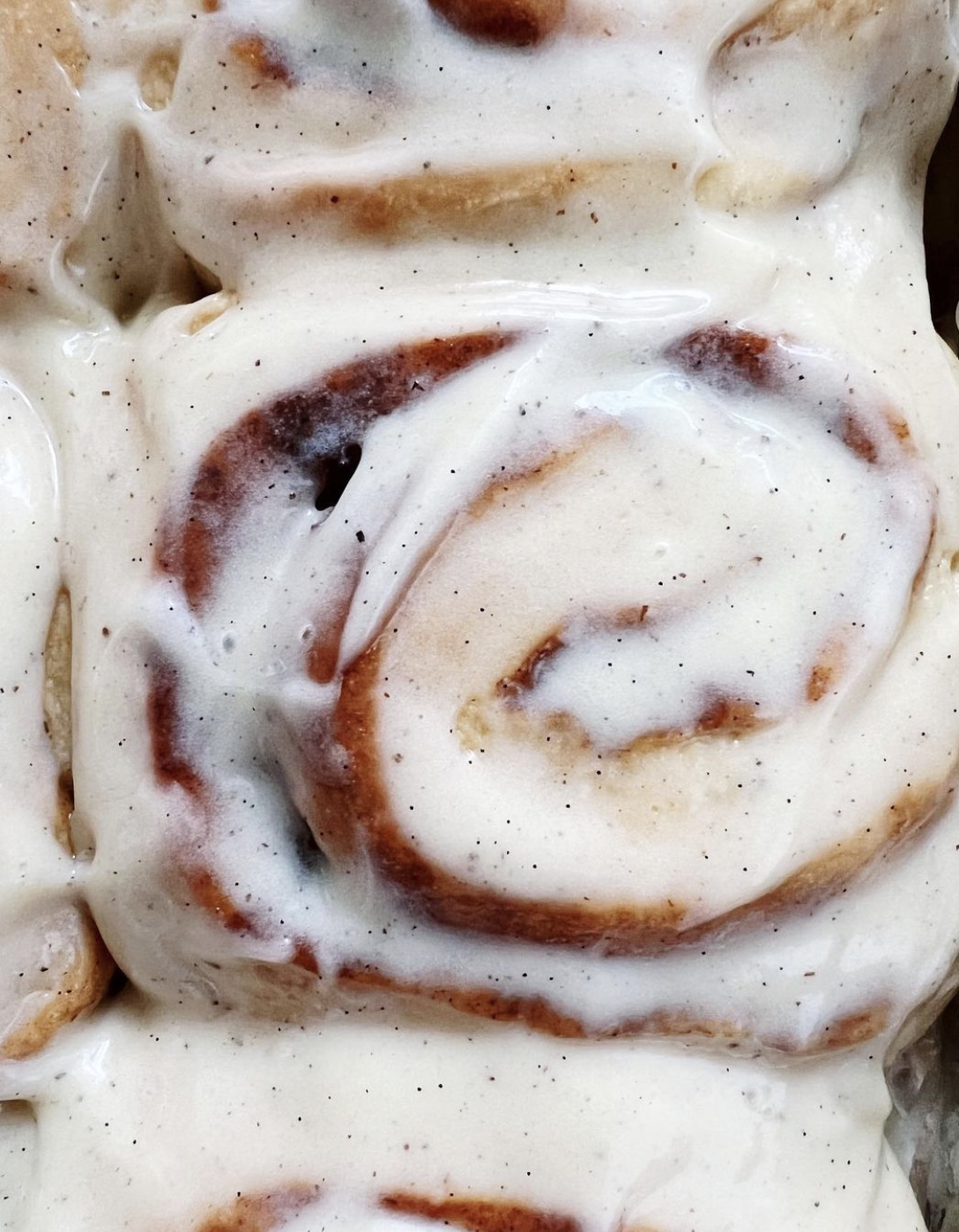 Gluten-free + vegan holiday cinnamon buns, updated; to go along with my updated life.
Holiday cinnamon buns have become a well-loved tradition for me. It's a long (most of the day) recipe that allows me plenty of time to reflect on the past year as I wait for dough to rise and yeast to activate. While there was nothing wrong with the O.G. bun recipe, there have been A LOT of changes happening in my personal life in 2022 and it felt appropriate that the cinnamon bun recipe should get a makeover as well.
This year my mom got sick. She's doing amazing, almost finished her second round of chemo and she's been an absolute superstar through the whole process but her diagnosis completely changed my outlook on my own life. I have been feeling worn down for a long time, silently dealing with my own health challenges and living my life in a way that left me constantly stressed and anxious despite all the yoga & Toshi creek walks. It's an unfortunate part of being human that many of us don't re-evaluate our own health, peace & happiness until someone we love very much is facing a life-threatening illness. After a challenging year of soul searching and self reflection I've been forced to face some hard truths and make big changes to the areas of my life that were likely going to lead me to my own big health crisis later on down the road. For me, 2023 brings like a divorce (I have nothing but wonderful loving feels towards my ex, we just realized through the challenges of 2022 that we want very different things in this life), a move to the country (don't worry I'll still be practicing in-person in Oakville but am going to be opening more virtual clinic shifts in the New Year as well) more energy applied to my passion projects (I promise you all a finished book in 2023, more travel guides @Well Wandering, lots of recipes + health posts) and building a lifestyle that brings me as much peace and joy as possible.
"What is it you plan to do with your one wild and precious life?" ~ Mary Oliver.
I plan on living my wild and precious life as peacefully and intentionally as possible. This means leaning into a love that is aligned with the life I want to lead, and is a good fit for my nervous system + a peaceful little home in the country with more time and energy spent doing the things that fill my soul. If you're into bees, gardening, maple syrup-making, DIY & homesteading I invite you to follow along with my new adventures @This Doctor's Homestead.
Sending you all lots of love. Thanks for your continued support and I look forward to sharing my updated life with you all in 2023.
Gluten-free, Vegan Cinnamon buns, upgraded
An upgraded cinnamon bun recipe for an upgraded 2023. Still gluten-free & vegan, but with a little more ease, peace & love. 
Ingredients
Dough Ingredients: 
2 2/3 cups gluten-free flour blend 
1 tsp baking powder 
1/2 tsp sea salt 
2 tbs maple syrup 
2 tsp ceylon cinnamon 
1/3 cup cane sugar
1 tsp vanilla extract or vanilla bean paste 
1 cup cashew, almond or coconut milk 
1 tbs active yeast 
1/3 cup vegan butter, melted 
Filling Ingredients:
1/4 cup cane sugar
3 tbs ceylon cinnamon 
1/4 cup vegan butter, melted 
Frosting Ingredients: 
1/4 cup vegan butter or coconut butter, melted
1/4 cup maple syrup 
2 tbs nut milk 
Instructions
Heat 1 cup nut milk gently on the stove until slightly warm. Add 2 tbs of maple syrup & yeast and let sit for 10 - 20 minutes until yeast is frothy and active. Mix dry ingredients together in a large bowl then add yeast mixture & melted butter. Stir well until dough forms and flour is well incorporated into the mixture. Roll dough until a ball & cover with a kitchen towel, let rise in a warm spot in your kitchen until dough doubles. Roll out risen dough mixture into a large rectangle and cover in a thin layer of the filling ingredients. Roll up into 1 long log and cut each bun into 1.5 inch rounds. Place buns swirl side up in a round baking dish and cover to let rise again until buns double in size. Bake at 350 for 25 - 30 minutes, let cool slightly then top with frosting ingredients and serve warm.