The Green Goddess Smoothie Bowl
April 19, 2019 By Sarah White No Comments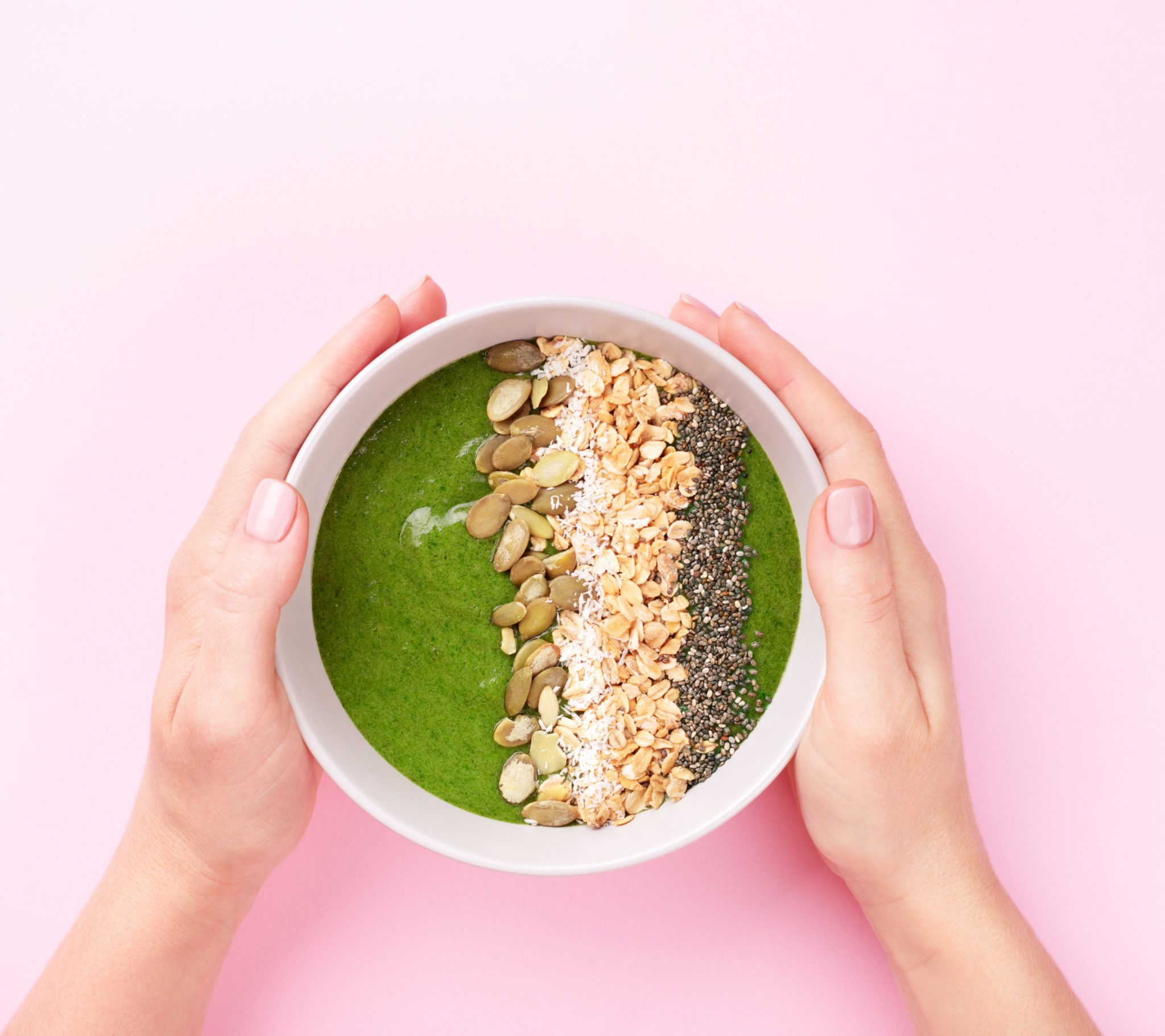 The Green Goddess Smoothie Bowl for Balanced Hormones.
If you drop by this site on a regular basis then I'm sure you've already realized that I am obsessed with healthy hormones. I believe that food is medicine, and often prescribe functional foods to help my female patients optimize their hormone levels, maintain regular cycles and have clear beautiful skin.
I am so incredibly passionate about helping women balance their hormones naturally through food, lifestyle and supplements because I've been there myself. I know first hand how devastating it is to deal with hormonal acne and difficult menstrual cycles. I was put on the birth control pill at age 15 to 'regulate' my hormones (FYI the pill doesn't actually regulate hormones), and spent many years willfully blind to the dangers and side effects that come with taking synthetic hormones. Fast forward 10 years later and I could no longer ignore the symptoms of synthetic estrogen dominance that were becoming worse and worse every year; I'm talking serious mood swings, edema, anxiety and weight gain.
When I initially attempted to go off the birth control pill in my first year of naturopathic medical school I experienced severe anxiety attacks, oily skin and increased breakouts that continued until I resumed the pill after 7 months of misery. One Naturopathic medical degree and three years of clinical experience later, and I finally felt like I had the tools I needed to successfully discontinue the hormones for good. Finally, my skin is glowing and virtually blemish-free but it takes work everyday to keep me there (I ate a few of my food sensitivities this weekend & am under a little extra stress getting ready to leave for Bali so the jawline breakouts have returned slightly, the horror!).
Unfortunately, the birth control pill can permanently mess with your hormones because it induces irreversible changes to sex hormone binding globulin levels. This doesn't mean that you'll never have blemish-free skin again, it just means that you may need a little extra help to get there. I no longer struggle with acne on a daily basis, but only because of my supplement routine and major dietary changes. I now mostly avoid inflammatory dairy and refined sugar, and consume healthy fats with every meal to provide the building blocks for balanced hormones. 
I created this recipe shortly after coming off the birth control pill (for the second time) through extensive research on which foods were the most beneficial when it comes to balancing female hormones. The functional foods found in this recipe are great helping your liver get rid of stored synthetic hormones from the pill and for helping your body find it's natural rhythm. I still make this smoothie (and other hormone balancing recipes) most days for breakfast to help keep my hormones in check.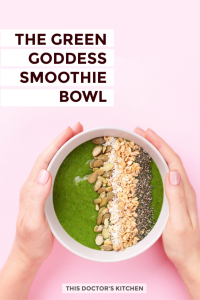 Every single ingredient in this smoothie bowl is beneficial for optimal hormonal health. Frozen cauliflower provides indole-3-carbinol, while frozen greens are a great source of nutrients and fibre to help your body detoxify excess estrogens. Flax seeds contain high amounts of naturally occurring lignans, a type of phytoestrogen that can act as female hormone normalizers. There's also some healthy fats from avocado and chia seeds to help your body build hormones, and collagen protein to facilitate phase 2 detox of harmful environmental hormones. This smoothie even contains maca for a little extra hormone-healing support. Maca promotes optimal functioning of the hypothalamus and the pituitary, thereby helping to balance female hormones estradiol and progesterone. I throw it in all of my smoothies and am currently enjoying it daily in this energizing and hormone-balancing green goddess smoothie bowl. 
Green Goddess Smoothie Bowl
Easy to make, nutrient dense and delicious, this smoothie bowl keeps me full for hours and helps keep my hormones in check. 
Ingredients
1 handful frozen organic kale, spinach, or chard leaves (frozen greens blend much more easily in smoothies to help prevent those little green chunks)Â 
1 tbs chia seeds
3 - 4 pieces steamed frozen cauliflower 
1/3 small avocado 
1 tbs fresh ground flax seeds
1 scoop collagen protein 
1/3 cup frozen strawberries 
1/2 tsp maca root 
1/2 tsp cinnamon 
1 tbs raw almond butter 
1 - 2 cups almond milk / hemp milk / coconut milk 
Instructions
Add all ingredients to a high-powered blender and blend on high for 1 minute. Pour into a shallow bowl and sprinkle with your favourite healthy toppings. I throw a little coconut flakes, pumpkin seeds & chia seeds on mine.
References: