Lamb + Squash Tagine
May 29, 2021 By Sarah White No Comments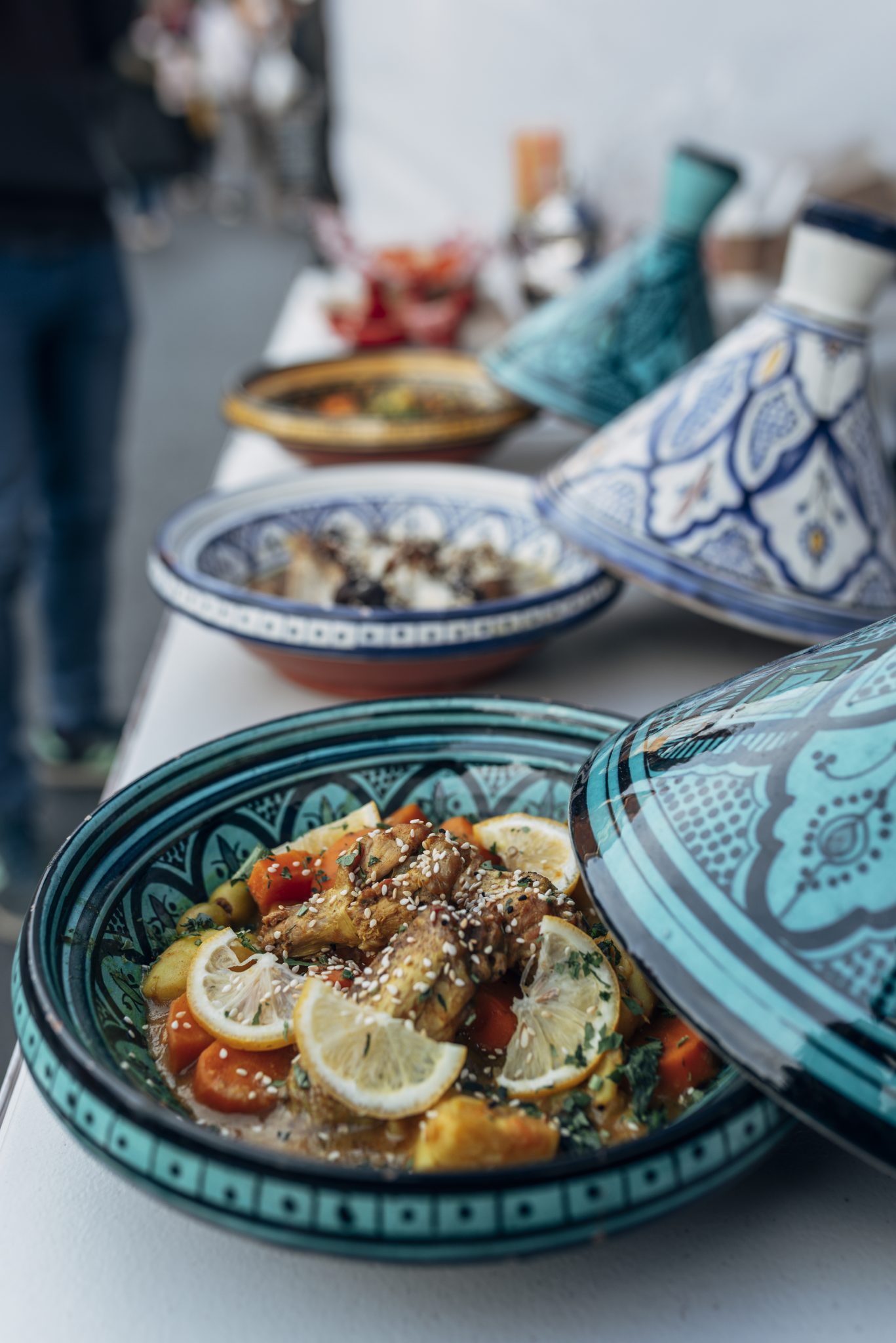 I own the world's most beautiful tagine; it was a wedding gift from my cool artist aunt who always gives the best gifts. It's so beautiful that it was fully one of my favourite kitchen items for the past 2.5 years without having ever used it once. Now that I've officially taken this cooking vessel from counter decor to functional kitchen tool I can't imagine a world in which I don't whip this beauty out for a meal at least once a week.
A tagine is a traditional Moroccan cooking vessel made of ceramic or unglazed clay with a round base and low sides. A cone-shaped cover sits on the base during long low cooking times. The cone-shaped lid traps steam during cooking and returns the liquid to the clay pot always resulting in a moist dish with deep flavours. While I typically gravitate to these types of slow hearty dishes in the fall and winter, this week's unseasonable cold weather (& even snow in some parts, ahh) had me reaching for my go-to cooking pot once again.
This recipe came to me this week while I was feeling a little sorry for my cooped-up self. I had big plans for this year; Bali for a 2 week plant-based chef certification, a few weeks in Mexico to work on (finish) my book, and a glorious week in Morocco. While 2020/2021 had other plans for my wander-lusty soul I can't see the world this year I can still cook it! This lamb + squash tagine recipe takes advantage of spring's favourite protein lamb, along with local squash (did you know that squash is actually considered in-season early to mid spring in Ontario? It grows here Aug – March / April). This is healthy reliable comfort food in unreliable times and I hope it brings you some warmth this unseasonably cool weekend.
Lamb + Squash Tagine
I hope you enjoy the warm comforting meal (which also happens to be paleo & pretty dang healthy), from this doctor's unseasonably cold spring kitchen. 
Ingredients
2 pounds bone-less organic lamb leg or shoulder stewing meat 
2 tbs olive or grape seed oil 
2 large red onions, thinly sliced
4 cloves garlic, chopped 
1 cup chicken stock 
2 acorn squash, seeded, skin-on, cut into 2-inch chunks
2 tbs tomato paste 
1/4 cup organic butter or vegan butter if dairy-free 
2 tsp turmeric 
1 tsp cumin 
1 pinch saffron
1 tbs flakey salt
pepper
Instructions
Prep the lamb the day ahead: season with salt & pepper, then mash the butter along with the remaining spices and massage onto the lamb pieces. Cover and refrigerate overnight.
Preheat oven to 300F. Heat the olive oil in the bottom of your tagine over medium heat on the stove top. Add onions and garlic and season with additional salt and pepper. Cook for 15 - 20minutes until translucent but not yet browning. Add the tomato paste and lamb and bring the stew to a simmer. Transfer to the oven and bake for 1.5 hours. Add the squash and bake for an additional 1.5 hours, remove from oven and let cool 15 - 20 minutes before serving with fresh sourdough or warmed pita for dipping.