Lemony Zucchini Pasta with Garlic, Shallots & Basil
September 18, 2020 By Sarah White No Comments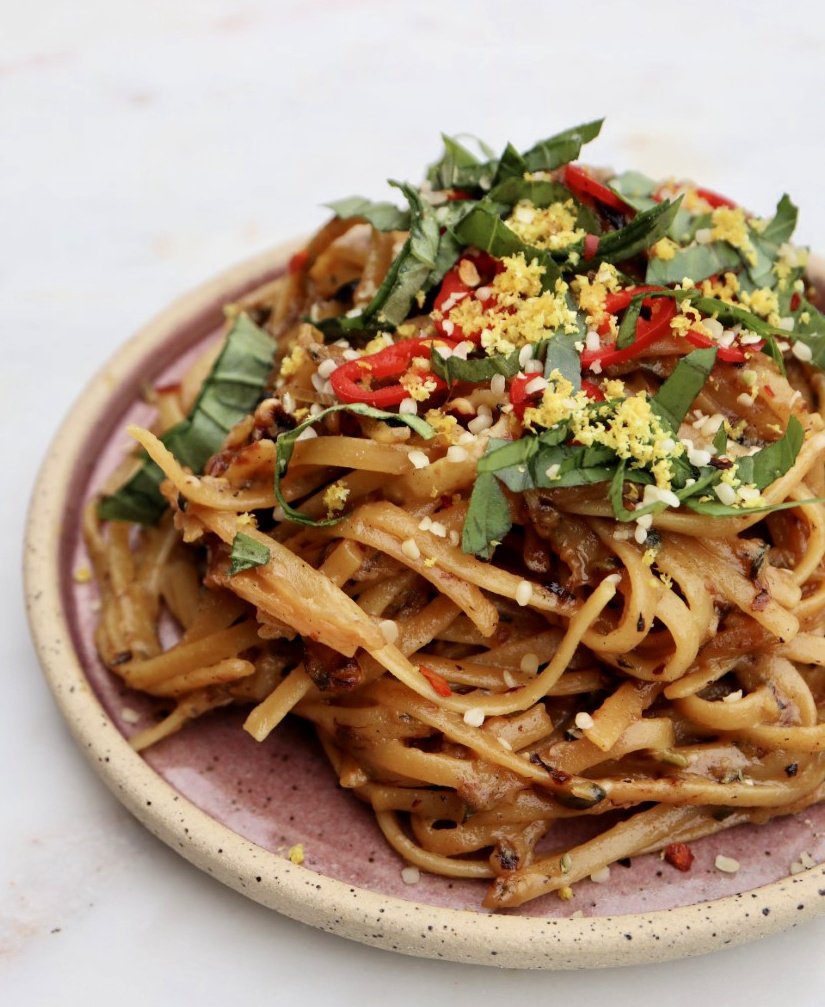 I don't pasta often, but when I do it's this dairy-free, gluten-free lemony zucchini-filled wonder recipe. 
Typically, I prefer my noodles in the form of Thai food (usually glass noodles only, I really really don't do well with a ton of carbs) – Ky and I started the tradition of ordering Thai food on Sunday's years ago and have been pretty consistent in our regular weekend curry consumption. While I do love a good food-based tradition the time inside / off work this year had me questioning a lot of our priorities, goals and spending …
Since starting my practice a little over 6 years ago I've found myself over-booking shifts in the clinic resulting in a tired little doctor with very little energy left for the projects that are really lighting me up (this blog included). After much self reflection & deliberation I've committed to cutting down my clinic hours; saving them for current patients and new patients who are a really perfect fit for my practice, people excited about their health and ready to make real lasting changes. I'm so excited to dig into new recipes & health posts along with the Replete supplement + tea line, my online functional medicine practice and new website that I've been slowly plugging away at over the past few years. While I'm thrilled to have a little more time for my passion projections it also means a little less money for expensive wine, travel (who travels these days anyway ..), shopping and takeout! Healthy organic food is something I will never ever ever sacrifice but I am willing to let go of dinners out and take-out food in an effort to cut down on our food bills.
Fortunately for you all, this lifestyle shift means that the blog will now feature a few more 'indulgent' meals, including pastas, sweets, and DIY Thai food to replace our weekly take out habit. Stop by every Sunday and I'll share something yummy & carb-y for you all to enjoy. This Sunday it's my new favourite pasta recipe, I hope you love it as much as we do (bonus: it only cost $10 to make!).
Lemony Zucchini Pasta with Shallots, Garlic and Basil
This dairy-free, gluten-free lemony zucchini-filled wonder pasta is the perfect way to use up some of those end of summer zucchini's piling up from your quarantine victory garden. 
Ingredients
2 large or 3 small zucchini, grated
4 medium shallots, thinly sliced (a mandolin is ideal here)
5 cloves of garlic, minced 
3 tbs organic butter, ghee or vegan butter 
1 tbs olive oil 
1/4 cup white wine 
1/4 cup parmesan or vegan parm
zest + juice from 1 lemon 
handful of basil leaves
1 - 2 tsp chili flakes 
1 package spaghetti (we use chickpea brand and it's amazing!) 
Instructions
Grate zucchini, mince garlic and thinly slice your shallots - add all prepared vegetables to a hot pan with oil, salt and pepper. Cook on medium high heat until slightly caramelized, around 10 - 15 minutes. Meanwhile cook your pasta el dente. Add vegan butter, wine, lemon juice and parmesan (vegan or regular) to the pan and cook for 5 minutes until butter is melted and alcohol is cooked out of the wine. Use tongs to add noodles to the pan with your vegetable mixture and toss until well coated (no need to rinse or strain, the added pasta water is nice in the sauce). Add lemon zest, chili flakes, more parm and chopped basil and serve hot!