Paleo Cauliflower Wings
February 3, 2019 By Sarah White No Comments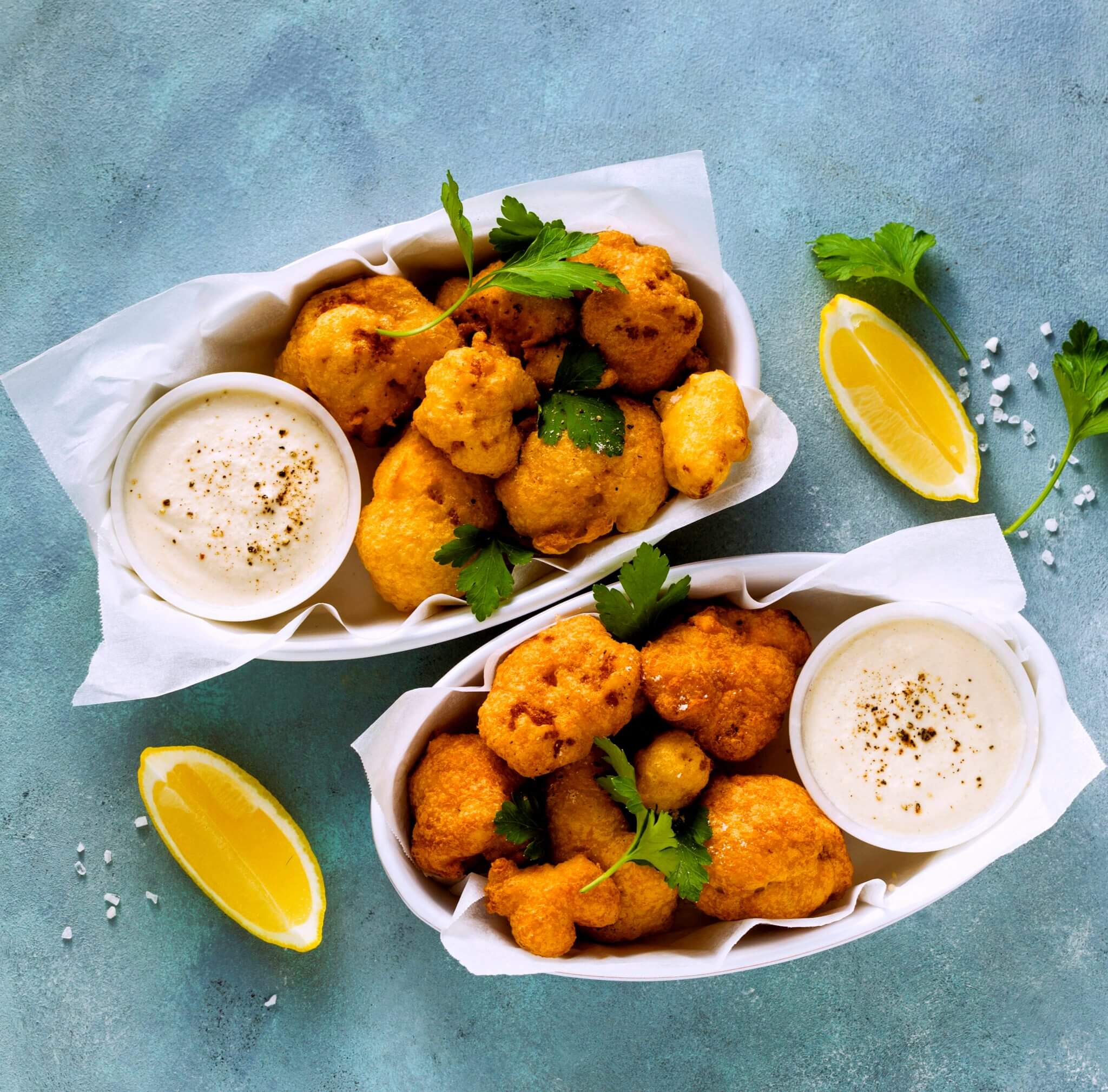 In honour of the big game this weekend I'm whipping up an extra large batch of my healthy breaded cauliflower bites. These cauliflower 'wings' are insanely delicious ✔️ paleo-friendly, gluten-free, dairy-free and completely guilt-free.
Cauliflower is truly one of the world's most underrated health foods, perhaps because this vegetables bland colour makes us think of all the other white foods that we're often told to avoid: white bread, white rice, white sugar. Generally, people don't associate cauliflower with the same abundance of nutrients as its fellow cruciferous vegetables like kale and broccoli, however research shows that cauliflower is just as rich in phytonutrients as the other brightly coloured vegetables. When consumed more than once per week, cauliflower intake is associated with decreased risk of cardiovascular disease, prostate cancer and colorectal cancer.
I also prescribe a ton of cauliflower to my patients with estrogen excess or hormonal conditions like PCOS since it contains hormone-healing indole-3-carbinol (or I3C). I3C balances hormone levels through up-regulation of the phase 1 & phase 2 liver detox pathways that help your body clear harmful hormones. Studies even show that dietary indole-3-carbinol from cauliflower can help prevent the development of estrogen-enhanced cancers including breast, endometrial and cervical cancers. If you're currently suffering from hormonal conditions like endometriosis, acne or infertility then you should definitely try replacing your traditional wings with these estrogen-clearing super nibbles.
Paleo Cauliflower Wings
My favourite game day snack. These little guys are as tasty as chicken wings with none of the trans fat, dairy or gluten. 
Ingredients
1 large head of cauliflower, cut into florets 
1 egg
1 cup almond flour
2 tbs garlic powder
1 tsp salt/pepper
2 tsp paprika 
2 tbs coconut aminos, tamari or soy sauce 
1 tbs maple syrup
1 tbs grass-fed butter or coconut oil  
2 tbs of your favourite hot sauce 
Instructions
Preheat your oven to 400F. Cut up your head of cauliflower, separating the florets from the stalks - you can set the stalks aside to be steamed and frozen for use in estrogen-clearing super smoothies. In a large bowl mix together your spices and almond flour. In a smaller separate bowl beat your eggs until well blended. Dip the cauliflower florets into the egg mixture, then dredge with the almond flour & spice mixture. Arrange the cauliflower in a single layer on a baking sheet and roast for 25 minutes. Meanwhile, add the coconut aminos, maple syrup, coconut oil or butter, and hot sauce to a small pot and head on medium heat until well mixed and warmed. Remove the cauliflower from the oven and toss with the sauce, return your 'wings' to the oven and cook for an additional 5 - 10 minutes until crispy. Serve with cut up veg and your favourite paleo ranch dressing for dipping. Enjoy, and have a happy healthy Super Bowl.
References:
https://www.ncbi.nlm.nih.gov/pmc/articles/PMC3787240/
https://www.ncbi.nlm.nih.gov/pubmed/12840226
Looking to connect with a Naturopath in Oakville to discuss your health goals? Check out my professional site for more information www.naturopathoakville.com or to book https://www.naturopathoakville.com/appointments/