Paleo Fish Tacos with Jalapeño Slaw + Spicy Sunflower Seeds
October 19, 2019 By Sarah White No Comments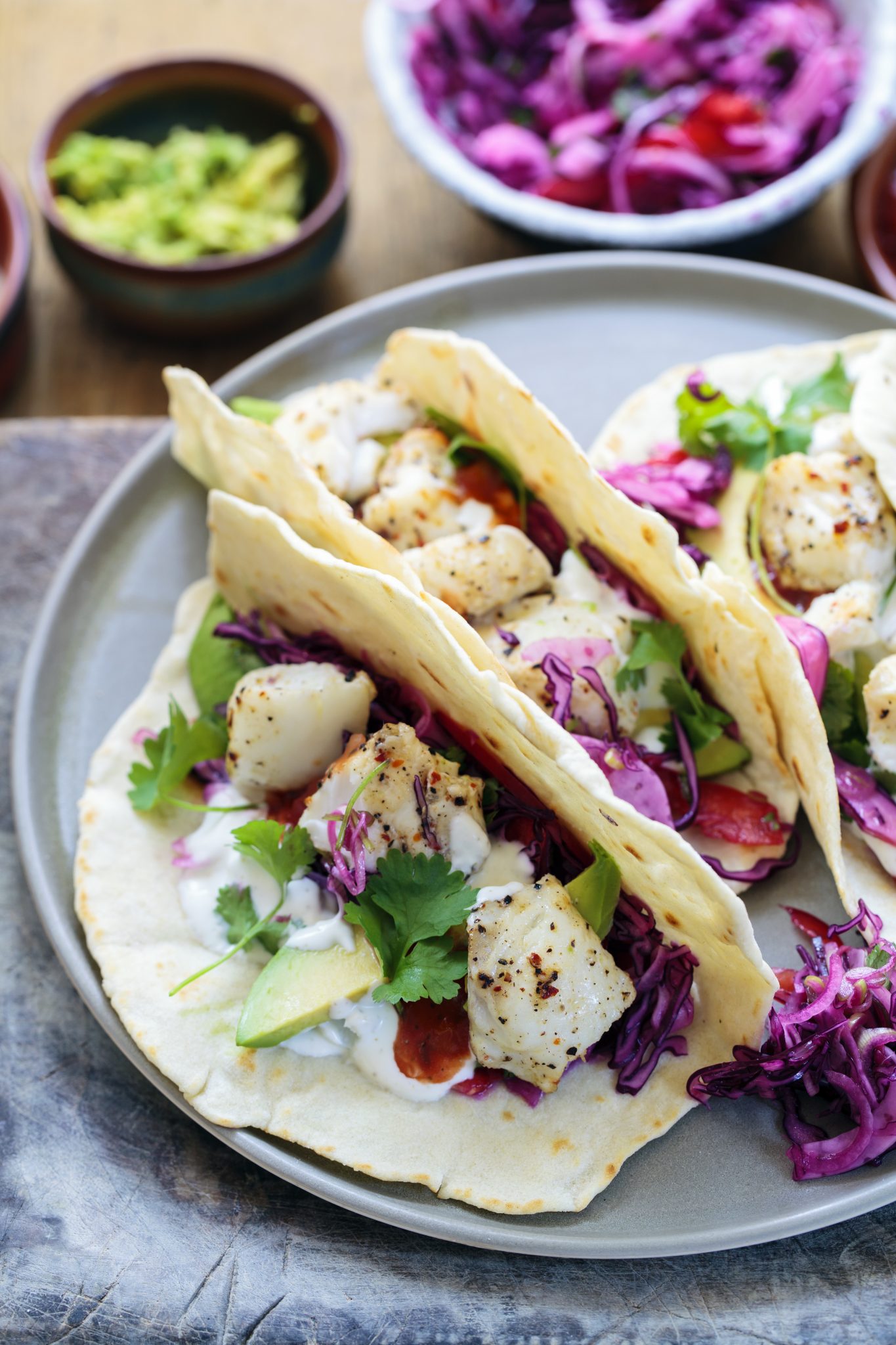 Paleo Fish Tacos with Jalapeño Slaw + Spicy Sunflower Seeds
This fish taco recipe has a lot of components, so bare with me here, I promise you all will be worth it come dinner time. I've made these grain-free paleo tacos weekly for most of the summer so trust me when I tell you that your taste buds will be blown away by the flavour combination of spiced white wish, creamy (dairy-free) jalapeño slaw and salty crispy sun flower seeds. Truthfully, there's nothing particularly difficult about this fish taco, it just has a few extra steps than most of my other healthy recipe posts. Between the white fish, shredded cabbage, and spicy seeds I dare say I've created the ultimate trinity of fish taco perfection. I hope you enjoy this recipe as much as we do, happy taco Tuesday from this doctor's kitchen.
Fish Tacos with Jalapeño Slaw + Spicy Sunflower Seeds
I've paleo-fied everyones favourite Tuesday night feast. These dairy-free, gluten-free fish tacos are so unbelievable no one will even notice that they're healthy. 
Ingredients
Fish Ingredients:Â 
2 filets of safe-catch certified white fish 
1 tbs chili powder
1 tsp sea salt 
1 tbs organic garlic powder
1/4 cup almond flour 
1 egg (optional)Â 
1 tbs avocado oil 
Slaw Ingredients:
1 bag shredded cabbage or 1 medium head of cabbage, shredded  
1/3 cup vegan mayo or chosen foods paleo mayo
1 jalapeno, chopped & de-seeded
juice from 2 limes 
2 tbs apple cider vinegar 
1 tsp chili powder
1 tsp garlic powder 
1/2 tsp cumin powder 
Spicy Sunflower Seeds:Â 
1/2 cup sunflower seeds
1 tsp cayenne powder 
1 tsp sea salt 
2 tbs cane sugar, or monk fruit sweetener 
1 tbs avocado oil 
Additional Toppings:Â 
Sliced avocado 
Many, many hot sauces
 Salsa
Instructions
Fish Instructions:Â 
Beat the egg in a small bowl and brush over fish to make the coconut flour spice mixture stick. Alternatively, if you're off eggs like I am just spray the filets with avocado oil. Mix the coconut flour with the spices in a large shallow dish and dip the prepared fish filets into the coconut flour mixture until well coated. Heat the oil in a large cast iron skillet and add the fish filets to the hot skillet, cooking for 5 minutes on each side. It's okay if the fish falls apart in this process and it will need to be broken up anyway to fit in your tortilla shells. Remove the fish from the heat and pile onto warmed tortillas. Our favourites are the grain-free cassava tortillas from Siete.
Slaw instructions:Â 
Mix all of the ingredients except for the jalapeño and cabbage in a small bowl. Pour mixed sauce over shredded cabbage and mix well to coat the cabbage. Let sit for 1 hour to let flavours settle.
Spicy Sunflower Seed Instructions:Â 
Combine the seeds, spices, sugar and oil in a mixing bowl and toss until well incorporated. Cook the seed mixture on a skillet over medium high heat stirring frequently. The seeds are ready when the sugar or monk fruit sugar is melted and the seeds are slightly browned. Remove from heat and let cool before serving. These will keep for up to 2 weeks in an air-tight container.
To assemble the fish tacos warm the tortillas in an oven (can be placed directly on the oven rack) and pile with fish and slaw. Top with spicy sunflower seeds and all of your favourite taco fixins.