Vegan Spicy Sweet Potato Soup
January 9, 2023 By Sarah White No Comments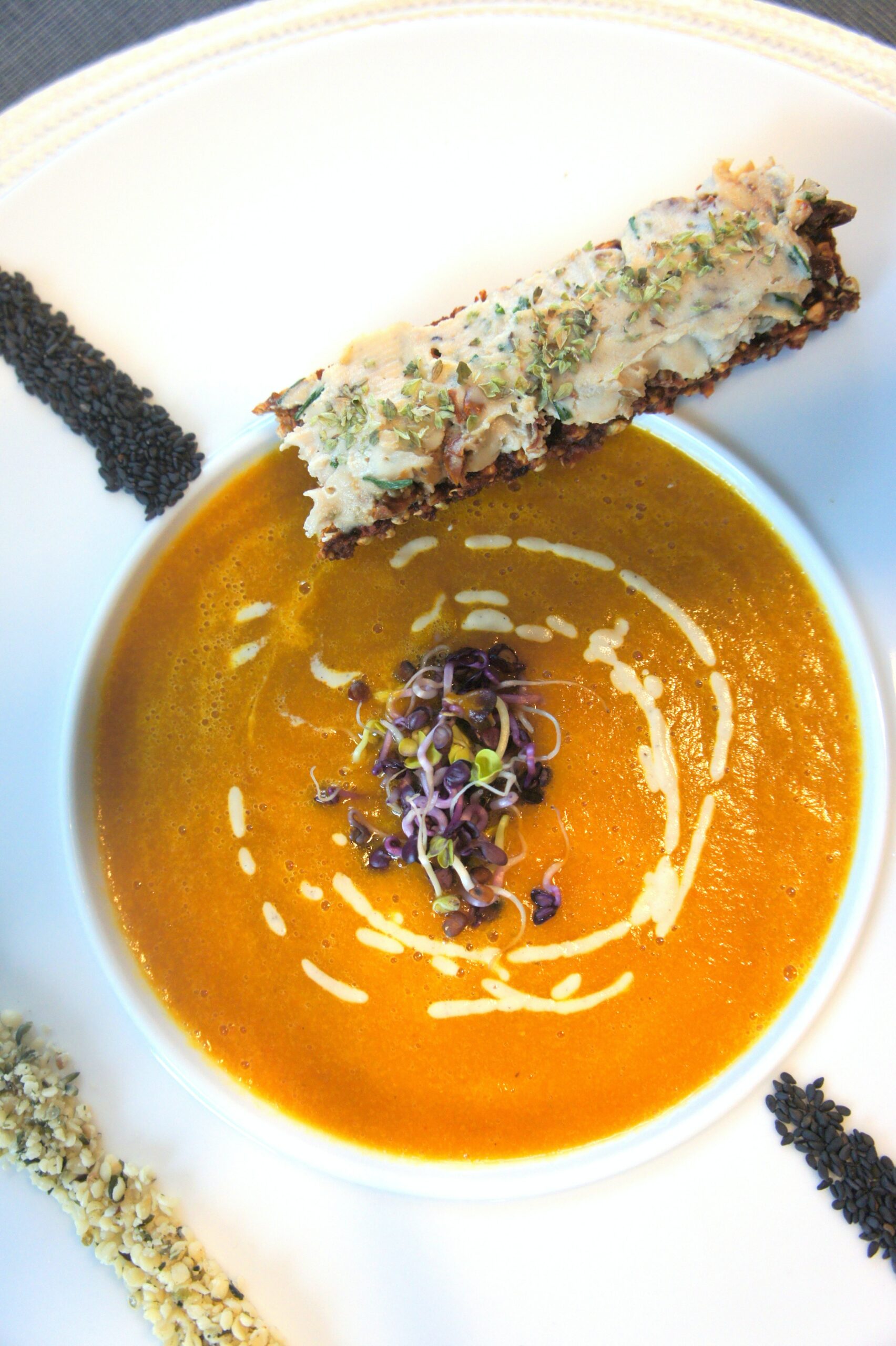 While I'm currently sunning my pale shoulders in a cafe in Mexico (may or may not be sipping on a grapefruit mimosa as I type this) most of you are still battling the cold in Ontario so I'll continue sending cold weather recipes your way until my return. This spicy sweet potato recipe was a regular in my pre-vacation weekday meal prep line up and will make a comeback in my belly as soon as I'm home. It's easy, satisfying and good for my hormones since sweet potatoes contain compounds that boost progesterone levels.
Just one sweet potato also contains 400% of your daily Vitamin A intake to support follicle development, as well as a high dose of vitamin B6 to improve hormonal health and neurotransmitter function. They are also a great dietary source of vitamin C which helps to support the immune system during the cold & flu season (which seems to be every season since since our prolonged hiatus from socializing & sharing germs, who would have thought ..).
Spicy Sweet Potato Soup (Vegan)
This creamy sweet potato soup is my favourite way to incorporate more sweet potatoes into my diet during the winter. It's simultaneously sweet, spicy and creamy thanks to a touch of cayenne and a can of healing coconut milk. 
Ingredients
1 can (BPA-free) coconut milk 
900ml vegetable broth (or bone broth, if you're not vegan) 
2 large sweet potatoes (peel if using non-organic potatoes or if you like a creamier texture) 
1 small head of cauliflower 
1 small onion
4 cloves of garlic
2 tbs coconut or avocado oil 
1 tbs curry powder 
1/2 tsp cayenne powder 
salt & pepper to taste 
Instructions
Finely chop garlic and onion and add to a large pot with 2 tbs of oil and the curry and cayenne powders. Heat on medium high heat for 5 - 10 minutes until onion is translucent and beginning to brown. Wash and chop sweet potatoes into 1/2 inch cubes and cut cauliflower into small florets. Add to the pot after the initial 5 - 10 minutes have passed along with the coconut milk and broth. Bring soup to a boil then reduce heat and simmer on the stove top for 30 minutes. Once the sweet potatoes and cauliflower are tender, puree the soup with an immersion blender until smooth. Add salt and pepper to taste. Serve or keep in the fridge for up to 5 days.