Coconut Curry Soup [Keto/Paleo Recipe]
September 26, 2018 By Sarah White 2 Comments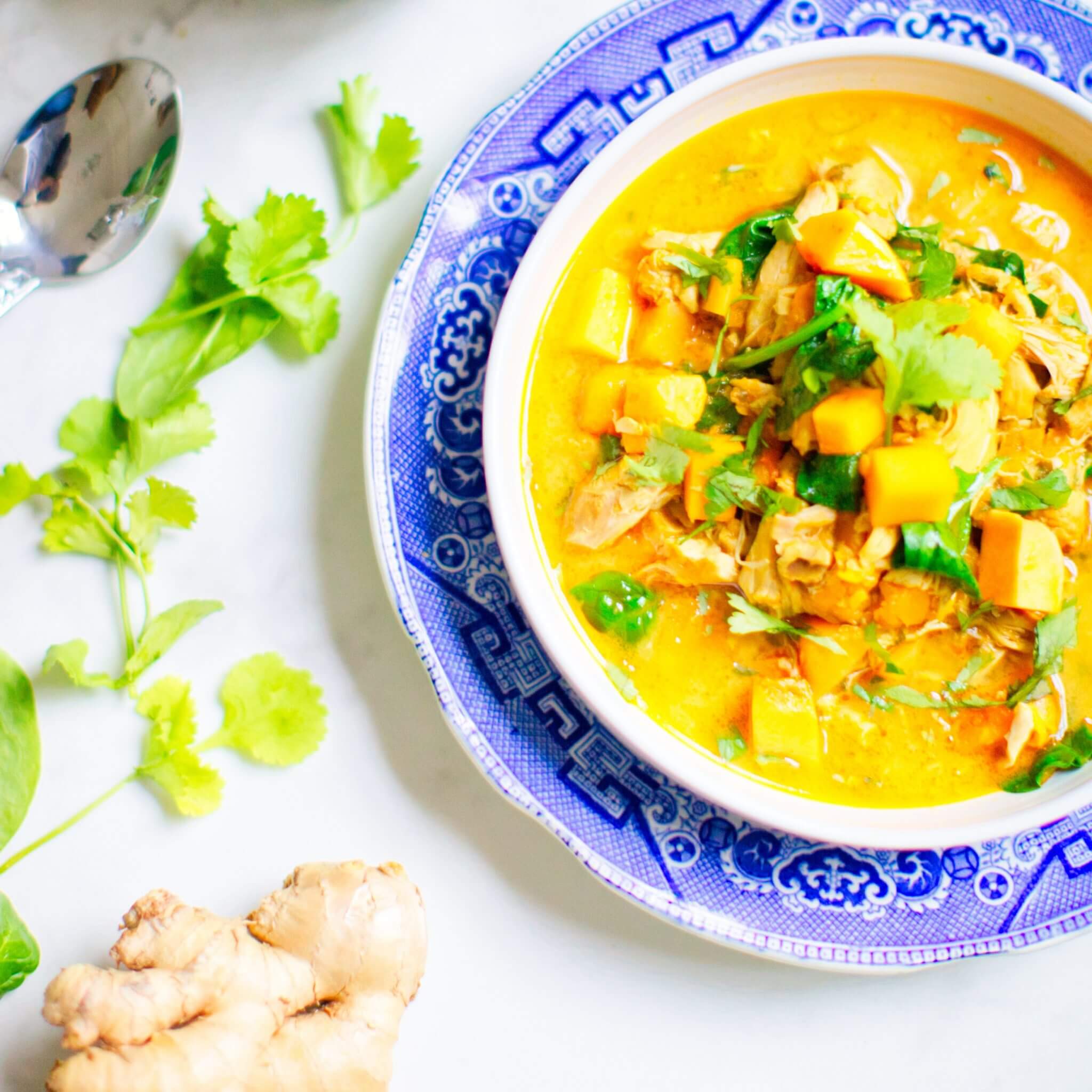 It's finally fall, which is officially my favourite time of the year! The leaves are changing and that cool fall weather that I love so much has arrived. In celebration of a season that's full of beautiful hikes, pumpkin-spiced every and comfy sweaters I'm share my favourite hearty fall soup recipe.  There's nothing I enjoy more in the fall than curling up on the couch with a good book, a glass of red wine and a mug full of this delicious coconut curry soup. Enjoy:
Coconut Curry Soup Recipe
This coconut curry soup is one of my fall meal planning staples. Cooler weather means it's time to incorporate more cooked foods and warming spices to support the digestive system. Coconut curry soup is a great addition to any keto or paleo diet since it's grain-free, low in carbs, and high in healthy plant-based fats. 
Ingredients
1 cup leeks, chopped (green & white parts) 
1 tbs coconut oil 
2 tsp grated ginger 
3 cloves garlic, minced 
1 cup mushrooms, roughly chopped (shiitake are my favourite in this recipe, they also have immune modulating properties which makes them a great dietary addition during the change of season to ward off colds / flus). 
1 yellow pepper, chopped 
1 head of broccoli, chopped 
2 handfuls of greens (spinach, kale, chard, whatever you have handy). 
2 tbs curry powder or 2 tbs curry paste (yellow or green) 
sea salt and ground pepper to taste 
1 tsp chili flakes (optional - we like it HOT! but if you're happier with a medium heat soup please fell free to omit the added heat from the chilis) 
1 can BPA-free coconut milk 
3 cups bone broth or chicken stock 
Pick your protein: 1lb organic wild-caught shrimp / 1 package of organic firm tofu, chopped / 1.5 cups organic rotisserie chicken, pulled. 
1 handful fresh cilantro 
Instructions
Add the chopped leeks to a large cast iron pot along with the coconut oil, garlic and ginger and heat over medium heat until leeks soften.  Add curry paste or curry powder, chilli flakes, salt and pepper, red peppers, mushrooms, broccoli and cook for 5 mins, stirring frequently. Add 1 can of coconut milk & 3 cups chicken broth (or 3 cups H20 + 3 tsb broth powder) and cook for 10 minutes until vegetables are tender. In a separate fry pan cook firm tofu, shrimp or chicken until cooked/warmed through, add your protein of choice to the bottom of bowls and top with soup, cilantro and greens to serve.