How we start each morning sets the tone for the rest of the day. Healthy and positive morning routines propel us towards our goals, get us moving, and motivate us to make healthy decisions for the entire day. For this series I will be interviewing the best & brightest doctors, yogis and health nuts to get the scoop on their morning routines in order to inspire you to develop a meaningful morning routine of your own.
Today I'm interviewing Nastasia Irons; Naturopathic Doctor, spin class instructor and my dear friend. Every time I meet up with Dr. Irons for a brunch, brainstorming session or cocktail she always looks glowingly fabulous and has a TON of energy, so naturally I jumped at the chance to interview her about how she starts her day.
First, can you tell me a little about your journey, why did you decide to become a Naturopathic doctor?
I decided to become a Naturopath after working in a clinic with both medical doctors and naturopathic doctors. I liked how similar both professions were in terms of talking with patients about various health care needs/goals – but I loved how the Naturopaths were able to build a strong relationship with their patients and treat conditions from a wide scope of practice. I also became sick during that time where I was hospitalized – and after months of antibiotics and anxiety I started getting acupuncture and taking herbs which helped me to finally get better. This was the final thing that pushed me into the Naturopathic direction of medicine.
How soon after waking up do you have breakfast, and what do you typically have?
I eat breakfast after my morning spin class – usually around 10:30 am. I like to have two eggs on gluten free toast, or coconut yogurt with granola, pumpkin seeds, chia seeds, hemp hearts and some fresh fruit.
What and when is your first drink in the morning?
I wake up in the morning and drink a large glass of water and immediately turn on the kettle to make some pourover coffee. I like to blend it with a medium chain triglyceride (fat) like coconut oil to give it a delicious taste and also boost my mental and physical energy in the morning.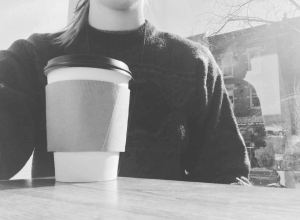 Do you have a morning workout or mindfulness routine?
I love to start the day with good music and a high intensity cardiovascular workout – I find that it clears my mind, reduces any anxiety, and helps set the tone of an energetic and happy day! This is usually in the form of a spin class at 6ix cycle.
Overall, what does your morning routine look like, and do you follow this schedule on weekends?
Wake up – drink some water and bulletproof coffee
Wash my face, apply toner and face serum
Go to spin class
Come home make breakfast, dry brush, shower
Drink more water, get dressed and get ready for work.
Weekends: I wake up and exercise, shower, go for a walk or brunch with friends, clean the house. Same skin routine every morning and night.
We know that you spend most of your clinic hours working at our favourite organic skin care clinic/dispensary Province Apothecary. Can you tell us a little bit about the line and how your skin care routine has changed since working there?
Before I worked at PA, I didn't know about the benefits of oil cleansing or how much natural skin care can really change your skin/life. I used to use an alcohol/soap based cleanser with anti-acne medications in it, followed by a serum and moisturizer from Sephora that I thought was natural – but discovered it was actually just full of chemicals and perfume. When I switched over to PA products I was afraid that my acne would flare up because of the change, and because of the oils. It was the exact opposite. My skin became a lot less dry, and all the little bumps that were around my chin and sides of my cheeks went away – this is because with oil cleansing, the skin becomes a lot softer and is able to detoxify easier. The natural botanicals in the products help with reducing redness, preventing acne, and supporting your skin's natural pH and flora. It has been a total game changer for my skin.
I also changed the way I apply serum and products. I used to wash my face too frequently – now I cleanse at night, and in the morning I use water to dampen it before I apply products. No need to over-wash the face. I also make sure that my face is damp before applying serum – this is to help the oil based product set into the skin instead of staying on the surface [edit: I've personally been doing this at home since Dr. Nastasia made the recommendation and it's been an absolute game-changer for my skin] . At province, we also focus on teaching patients about dry brushing and facial massage – something that has also helped clear up my skin from a lymphatic perspective. Lastly, I have learned that the secret to youthful skin is to make sure it is always moisturized. Dehydrated skin is the gateway to permanent lines and wrinkles. Keeping up with hydrating facial products and making sure it doesn't get overly dehydrated is key.
What does your morning beauty routine look like? Do you have any favourite green beauty brands?
Other than Province? Haha
Wake up – dry brush face, rinse face with water, apply serum with facial massage, apply moisturizer (only in winter) – all Province Apothacary products. Then I add a little bit of makeup on my eyebrows and lip gloss.
Other green beauty brands – Sappho organics for concealer if needed, RMS highlighter, trader joe's tea tree shampoo and VERB conditioner.
Do you do anything before going to bed to make your morning easier?
No – that would be smart but I don't …
Sometimes I make overnight oats or chia pudding!
What is your best organic beauty tip?
The best thing you can do for your skin is to sweat! Your skin in an organ – the largest one in the body – and you need to take care of it the same way as the rest of your body. If you want to help it get rid of stuff that it collects throughout the day and night – you should sweat it out. I spin at a local studio called 6ix cycle – and this is where I have found the greatest workout for both my mind and body. Not only does it give you an intense sweat session, but it also allows you to cleanse the mind and discover your inner strength and motivation, also helping you to push past the limits and barriers you set without knowing it. I find that after spin my skin looks bright, fresh and it actually glows…just like my mood!