Hot Garlic Honey + Pretzel-Crusted (grain-free) Chicken Bites
October 5, 2020 By Sarah White No Comments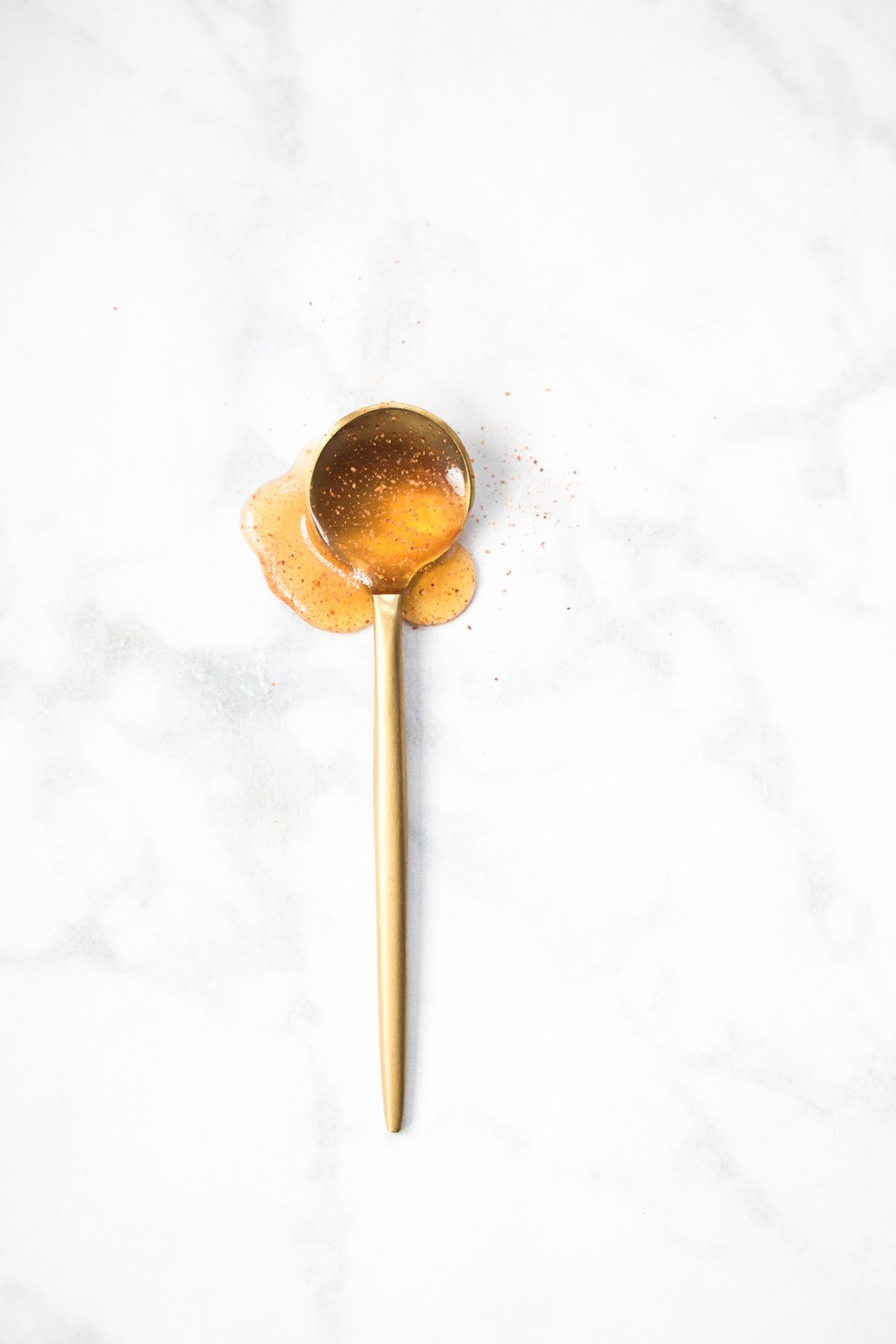 Garlic and honey are two of this doctor's go-to's for cold and flu season. I've been making up a batch of honey + garlic based DIY cough syrup every fall now for a few years (you can grab the recipe here) and only recently discovered that spicy garlicky-infused honey also happens to taste wonderful when paired with something crispy. Gone are the days of plugging my nose and taking down a daily spoonful of spicy pungent honey – I've chosen to embrace this unique flavour so I'm pouring quick and easy hot garlic honey onto roasted vegetables, using it in salad dressings and drizzling it over crispy grain-free chicken bites (recipe below!).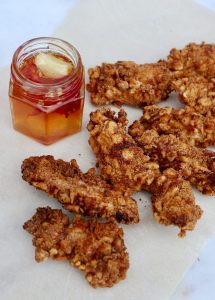 Garlic contains natural compounds that have been shown to improve your body's ability to fight off viruses by up-regulating the function of your white blood cells. Studies prove that high doses of garlic can reduced the likelihood of getting sick by 63%. Already feeling unwell? Another study determined that garlic can reduce the duration of an illness by 61%. Delicious and soothing, research shows that raw local honey is more effective than over the counter cough syrups at relieving throat pain. Honey also contains a ton of naturally occurring antiviral and antibacterial properties to naturally boost the immune system. Mix the two together and you've got a powerful immune-boosting secret sauce, perfect for adding a little sweet heat to all of your favourite fall meals.
In addition to sharing my quick and easy hot honey recipe with you, I'm also giving you the perfect accompaniment: grain-free crispy chicken bites. This recipe was inspired by my favourite late-night bar treat from local's only in Toronto and I do believe it's the best thing that's come out of this doctor's kitchen in a while ..
Hot Garlic Honey + Grain-free Pretzel Chicken Bites
This healthier version of my favourite bar food is great for the soul and the immune system!