How we start each morning sets the tone for the rest of the day. Healthy and positive morning routines propel us towards our goals, get us moving, and motivate us to make healthy decisions for the entire day. For this series I will be interviewing the best & brightest doctors, yogis and health nuts to get the scoop on their morning routines in order to inspire you to develop a meaningful morning beauty routine of your own.
Today I'm interviewing Dr. Katelin Parkinson; Naturopathic Doctor and Certified Fertility Awareness Based Method Educator. She also happens to be one of my best friends and possibly the most naturally beautiful woman that I've ever met. Katelin is currently practicing in Indianapolis, so I don't see her as often as I'd like to, but every time we get together she looks more naturally gorgeous than ever. Today's interview is entirely selfish as I've personally always wanted to know her secrets for achieving such a beautiful healthy glow, enjoy:
First, can you tell me a little about your journey, why did you decide to become a Naturopathic doctor, and how the heck did you end up practicing in the US?  
My journey with Naturopathic Medicine began way back when I was just a little girl. My mother took me to see my first Naturopathic Doctor after exhausting all conventional testing and treatment strategies for gastrointestinal symptoms that I was struggling with. After some food sensitivity testing and basic diet and lifestyle adjustments my symptoms completely resolved. I was in awe of this smart, compassionate and helpful woman who helped me on my own health journey, and equally inspired by naturopathic care. Fast forward to University, I was fulfilling all necessary requirements to pursue my dream job, to become a Veterinarian. However, all those years of being cared for by an ND started to brush off on me, I had become fascinated with holistic medicine, and was constantly sharing knowledge with friends and family.
After graduation I finally made the leap and applied to the Canadian College of Naturopathic Medicine, and after 4 of rigorous Integrative medical training I started working in a multidisciplinary health clinic in the East end of Toronto. As I started to settle into my dream job, life shifted again. My now Husband was given the opportunity to attend Duke University and complete his MBA. After much deliberation I decided to leave Canada and go with him. This was the hardest, most exhilarating, and scary decision I had ever made. Practicing in the USA, and Indiana specifically, has brought many challenges and as many rewarding opportunities. Currently I work in a multidisciplinary clinic alongside an Acupuncturist, Integrative Health Coach and Functional Medicine Doctor. Moving around, and starting practice over again has allowed me to pursue additional training in the Justisse fertility awareness method and focus on doing what I love most Women's Health, particularly hormonal and menstrual health.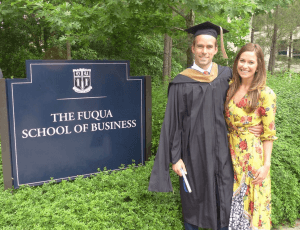 What is the first thing you do every morning?
First, before I do anything I take my basal body temperature. I do this with an oral thermometer, but I actually take the temp in my axilla (armpit), for ten minutes. This location and duration has been shown to be the most effective assessment of not only basal body temperature but thyroid function; which for hormone and menstrual health, is essential! I quickly jot down the number on my paper chart which, I leave sitting on my bedside table.
What and when is your first thing you drink in the morning?
I always start my mornings with a large glass of water (I crave a neutral temp in the winter months and chilled in the summer months). I need a drink of water within minutes of waking up, or I start to feel strange. After the initial glass, I follow-up with another glass of lemon water or a tsp of ACV (apple cider vinegar) depending on what my body is craving. I always feel more "awake" and cleansed after I start my mornings this way.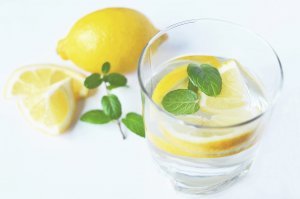 How soon after waking up do you have breakfast, and what do you typically have?
Typically, I eat within an hour of waking but lately I have been experimenting with intermittent fasting. Depending on when I ate last the night before, I may not have anything (aside from my morning green tea of cup of coffee) until 11am. What I eat changes seasonally and is always based on what my body is craving. Lately I have been having either a green smoothie, overnight chia seed pudding or eggs prepared as either a veggie omelet or with bacon and a slice of gluten-free toast (a local company from Indianapolis called Native Bread makes the best allergy-free bread I've ever had!).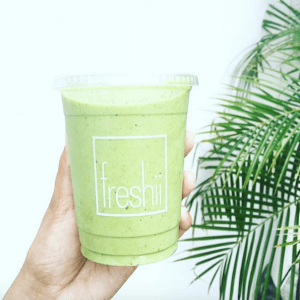 Overall, what does your morning routine look like, and do you follow this schedule on weekends? 
Wake up – take my BBT, drink water followed by lemon or ACV to prime my system for the day
Give some love to my cat and dog while brewing up some coffee. If time permits, my hubs and I like to watch the morning news together while we enjoy our cup of java
Morning face routine – wash and cleanse, tone, moisturize (always SPF even in the Winter). If showering, either dry brush or contrast shower regime.
Brush my teeth, floss (if didn't the night before) and tongue scrape
If I am working into the evening I fit a morning workout in which is usually pilates, yoga or now that the nicer weather has arrived, a walk/jog with the pup.
If getting ready for the day, I apply my basic makeup regime which is often a mascara and touch of bronzer or blush.
Drinking more water at this point for sure (likely with a pink of sea salt to help my cells actually absorb the water and not just flush right through my body)
Weekends: Very similar to my weekday routine minus getting ready for work. Always water first thing. Always the same cleaning routine although I may add an exfoliating step or face mask into the mix. My hubs and I still enjoy our cup of java in the morning but it will often be to music not news, or I will curl up and read a book or go for a walk with our new puppy.
Now onto the really important stuff … Your skin is out-of-control gorgeous, can you tell us a little bit about how you care for your skin every morning?
Water, water and more water: hydration is essential to creating skin that is well nourished and thrives. I also add collagen powder and a good scoop of coconut oil in my coffee both of which help my skin retain those youthful qualities. To cleanse my skin I use a facecloth which helps to gently exfoliate on a daily basis this rids my face of dead skin cells that can clog my pores and prevent the glow. I moisturize every single morning (and at night). In the morning I use a mineral based moisturizer that has a SPF and is slightly tinted. This eliminates the need for a separate sunscreen and concealer. Three items into one quality product. I use organic plant based cleansing products and a clean makeup brand – the brands I use rotate but the consistency in effort to maintain a chemical-free morning routine is what I think really makes the positive impact over time. I also eat a ton of greens! Either in my morning smoothie or as a juice throughout the day. I prefer fresh greens but I will use a good quality organic greens powder when needed. The consistent daily intake of greens helps to alkalize my body and has helped take "heat" (acne/redness) from my skin especially premenstrually.
What does your morning makeup routine look like? Do you have any favourite green beauty brands or products?
Currently I am using Eminence organic skincare – most of my favourite products are from their age corrective series. I will also frequently use 100% pure coconut oil , Thayer's Naturals alcohol-free toner, and cleansing oils from Province Apothecary. Currently for makeup I am using a combination of products from Beauty Counter, RMS, Ilia and W3ll people. I love and trust the Detox Market so I frequently purchase from their makeup selections.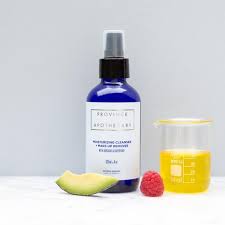 What is your best organic beauty tip?
Remember that your skin is your largest organ and it is a true reflection of the state of your health internally. The health and harmony of your hormones will express themselves beyond the length of your menstrual cycle. Hormones are interconnected with all aspects of your body, especially your skin. Diet, of course, plays a role in skin healthcare but so does ensuring that you have balanced hormones, not just premenstrual but throughout your cycle. The best tip I can suggest is to get in touch with your body! Get in touch with your rhythms! Monitor when your skin feels best and when it is struggling, and then take proactive preventative measures to feel more in control throughout the month. Self Awareness takes out the guesswork, so what are you waiting for? Oh, and water. Water, water, water. 🙂
Please tell us more about the fertility awareness method? What kind of training does it take to become a certified practitioner and is this something you use yourself?
As alluded to, my area of passion is women's health, specifically hormone and menstrual health. This comes from a place of personal interest, as I struggled with my own hormone and menstrual health after discontinuing the oral contraceptive pill over 9 years ago. In my second year at the CCNM I attended a talk about "charting your cycle and eco-birth control" that ultimately would become the starting point of my journey into the world of Fertility Awareness Based Methods. Shortly after this talk I started charting my menstrual cycles using the Justisse Method, a Sympto-thermal Fertility Awareness Based Method, and am still charting to this day.
What I was finding in practice was that women were wanting alternatives to using synthetic contraceptives to manage their fertility. I was an avid "cycle charter" and could certainly share this option with my patients but I was feeling ill equipped to properly teach the method. I also knew that a menstrual chart could be used in practice as a diagnostic tool to aid in the care and management of women's health issues but the naturopathic curriculum does not delve into this amount of detail. So, I was left feeling that a piece to my "women's health focussed practice" was missing and was feeling called to round-out my education as a fertility awareness method educator. This past year I graduated from the Justisse College as a Holistic Reproductive Healthcare Practitioner (HRHP) and certified Fertility Awareness Based Method Educator. I also became a certified educator with the organization Fertility Awareness Collaborative to Teach the Sciences (FACTS) in conjunction with the Family Medicine Education Consortium (FMEC).
What does this all mean? In addition to being a ND I also teach women how to chart their menstrual cycles in order to avoid or achieve pregnancy, and to monitor their hormone and menstrual health. On a daily basis this involves taking your morning basal body temperature, and observing for the presence of cervical mucus. Charting can be done on paper or with an app. This truly is a lifelong skill that traverses a women's reproductive life span. This has forever changed my practice approach as an ND. I have helped women wean off birth control and manage the ups and downs of hormone imbalance thereafter. I have helped women identify their fertile time in order to achieve conception. I have helped women navigate the perimenopause and menopausal years with more confidence. Most importantly, I have helped women gain a profound sense of body literacy whereby they feel empowered and informed about their sexual and reproductive health. From a clinical perspective in addition to lab work I use menstrual charts to identify hormone imbalances such as PCOS or low progesterone, and to monitor effectiveness of treatment. I feel honoured and privileged to work with my clients in such an intimate and life changing way.