Well-Traveled Portugal: Your Healthy Travel Guide 
I'm currently sitting on our balcony in Bali, sipping our new favourite Balinese coffee and looking out at topical mountains & lush rice fields. While I can't wait to share all that we're experiencing and cooking in Bali (so many awesome recipes to come), our time away has inspired me to write this post about last year's vacation to Portugal. My husband and I adore travelling and have built our lifestyle around being able to get away for a few vacations yearly, along with plenty of weekend adventures and backwoods camping trips. We believe that frequent travel is the best way to get us out of our comfort zones and helps us to live in the moment. It's one of the only times where we feel like we can truly disconnect from our hectic work lives (hubby is an engineer in a big oil refinery and I'm busy seeing all you wonderful patients in my full-time clinical practice). We've learned so much in our travels as a couple to places like Tobago, Cuba, Costa Rica and Portugal, and we always come home from our trips feeling inspired and more connected to each other, and to this beautiful world we live in.
Through our first few years travelling as a couple it found that it was hard to maintain balance while on vacation. We live such a healthy lifestyle at home; exercising daily and eating a clean organic diet, but we'd always overindulge on vacation and come back to our 'real lives' exhausted and rundown. On our last trip to Portugal we discovered that when we committed to exercise & avoiding food sensitivities, even while on vacation, we were much happier and healthier for it both during and after our trip. Cooking healthy breakfasts every morning in our air b & b + walking >10,000 steps daily allowed us to have a little (a lot) more room for vinho verde and 10pm dinners while still maintaining our energy, health and balance.
I started this "Well-Traveled" series to give you a sneak peak on how we travel while maintaining our healthy lifestyle. We hope you enjoy this recap of our favourite places to eat, stay and play in Portugal.
To Eat:
Of course, the first thing we did when landing in Porto was to head straight out to dinner. For us, exploring a new country always starts at mealtime with local dishes and wine. We fell instantly in love with Portugal, and Portuguese cuisine is one of the reasons why. It's wonderfully affordable to eat out in Portugal and most of the food is fresh and locally sourced. It's also very easy to eat gluten & dairy-free while travelling here since most of the meals are built around meats, seafood and the occasional codfish cake.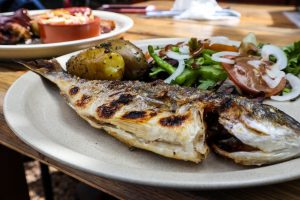 Most days started with an espresso and a homemade meal. A typical breakfast in Portugal consists of buttered toast, or a fresh pastry from a local cafe. I feel my best when eating mostly gluten-free, so we found that eating breakfast at home before heading out for our daily adventure was the best bet. One of the first things we do when landing in a new country is to get acquainted with the local grocery stores. We did most of our shopping in the mini mercados found in the larger cities we visited (aka Lisbon and Porto). These tiny super markets look like your local convenience store but have tons of local produce, fresh meats and prepared foods and pastries. While travelling, a typical breakfast for us includes some sort of vegetable (often a whole head of cabbage) cooked on a pan along with local meat or fish and a drizzle of olive oil. This combo of protein, fat & fibre always keeps us full through mornings exploring the local sites, and gives us plenty of fuel for any adventures that come our way.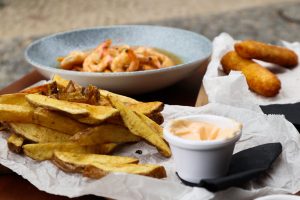 In Portugal we'd typically eat lunch around 2:oo – 3:00pm after a morning of walking through the city and stopping at every cafe in sight for a shot of espresso (thank goodness for that filling & healthy breakfast). Kyle and I loved to split a meal of seafood or Portuguese chicken along with a salad and some sort of 'treat' like a french fry of codfish cake. I normally don't eat potatoes in Canada since they give me joint pain but it's pretty hard to avoid them in Portugal, especially when also eating gluten-free. While travelling I find it nearly impossible to keep to my ideal dietary template but luckily I found the potatoes in Europe to be slightly less aggravating. When visiting Lisbon you must check out Mercado da Riberia (aka Time Out Market). This huge upscale food court was our favourite place to stop for wine and codfish cakes in the late afternoon.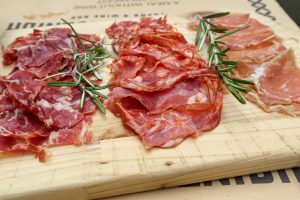 Dinner was almost always after 9:00pm. While we practice intermittent fasting at home (and rarely eat after 6:00pm), a late European dinner after a long day of walking just felt like the right thing to do. For dinner we'd always start with some sort of seafood dish, typically a plate of sardines or a whole roasted fish. Portugal is a country with a huge coastline and the fish was as fresh and amazing as you'd expect. The seafood was especially wonderful in the Algarve, which is known as the seafood capital of Portugal. We'd then share a few plates of olives, cod-stuffed peppers and a giant Portuguese charcuterie board.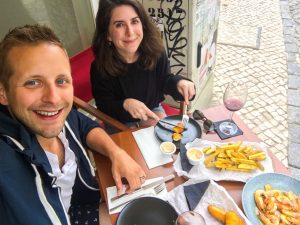 For dessert? I was happy with a glass of sweet green wine (see below) but Kyle ate at least 1 Portuguese tart every single day and said they were the best he's ever had #noregrets.
To Drink:
Portugal is famous for it's green grapes and the wine they produce; aptly named vinho verde. This is easily one of my favourite types of wine to enjoy while sitting on a patio in the late afternoon sun. It's sweet, light, and slightly lower in alcohol than many other varieties making it an excellent daytime sipper. Most of the vinho verde wines we tried also had a light fizz that was extremely refreshing. We had a glass in outdoor cafes while watching the city go by, in windy cliff top restaurants overlooking the city, on sail boats (thank you Mark & Nicole!) and even in bed before our afternoon siesta. But our favourite place for a glass of this crisp vino was while exploring outdoor markets; Portugal has much more lenient liquor laws than Canada and we loved the novelty of being able to enjoy a glass of wine while shopping. Wine is cheaper than water in Portugal and you can find many delicious varieties at your local supermercado for less than 1 euro.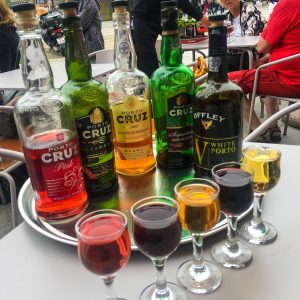 While in Porto we also discovered a new sweet sipper that's since replaced dessert at most of our dinner parties: port. Truthfully, I used to write off port as a weird drink for old sailors but we have a new appreciation for it after learning about how it's made and visiting it's birth place. It now also reminds me of Porto, one of my favourite cities of all time, every time I have a sip. In our time in the northern port city of Porto we visited Sandeman winery for a history lesson and port-tasting. We learned that port is produced from grapes grown exclusive in the Douro region of Portugal. The wine produced from these grapes is then fortified by the addition of a grape spirit known as 'aguardente' which stops the fermentation process leaving extra residual sugar in the wine along with a slight boost in it's alcohol content. Kyle preferred the tawny port, while I loved white port – which is especially delicious when mixed with tons of ice, soda and a little citrus fruit.
To Do:
Porto: I'm a huge book lover & voracious reader, so the oldest book shop in Portugal was at the top of our list of places to visit while in Porto. The architecture in this beautiful old book store inspired JK Rowling in her descriptions of Hogwarts and is definitely a must see if you're a fan of the franchise. We also really enjoyed our guided city tour of Porto, along with port tastings and a few lunches in Vila Nova de Gaia located on the other side of the Douro river.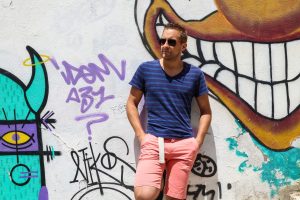 Lisbon: Lisbon was our favourite spot to just walk around and explore + eat without any set plan or direction. We refer to this as romping, and it's our favourite thing to do on vacation. The outdoor markets are lovely and there were tons of beautiful outdoor sunny spaces to park ourselves with a blanket, book and a journal. Along with some aimless romping we also recommend that you visit the Mercado da Riberia (aka Time Out Market) for wine and codfish cakes in the afternoon and set aside a full day for exploring the Lx Factory area. Lx is an industrial area that's been converted into shops, restaurants and cafes. It has a very cool vibe and excellent shopping, and we spent a full day browsing and dining in this hip neighbourhood. The shopping in downtown Lisbon is also fabulous and we found quite a few great (& cheap) clothing stores with unique pieces that we still wear often while fondly thinking of our travels to this trendy city.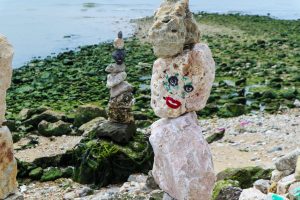 While in Lisbon we must also insist that you visit our friend Estevez for an authentic Portuguese cooking experience. This was a wedding gift from our dear friends Jason and Eli and it was absolutely the highlight of our trip. Estevez is an incredible host and taught us so much about Portuguese culture and history. He showed us how to cook simple yet flavourful traditional dishes like clams with vinho verde, Portuguese bean salad and salt cod with potatoes, and even whipped up a fabulous healthy dessert to top off the meal.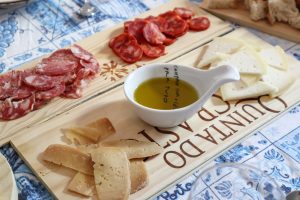 The Algarve: We ended our 2 week stay in Portugal in a town called Lagos, located in the southern area of the country. With it's old architecture, gorgeous cliffs, sea caves and sandy beaches it's easy to see why this is such a popular tourist destination. We spent most of our time here on the beach or wandering along the ocean while stopping in at some amazing cafes and restaurants along the way. Every day was fairly similar: we'd wake up, make breakfast in our hotel, stop in a cafe for espresso (and a tart for Kyle) and lay on the beach until lunch time. In the heat of the afternoon we'd walk around Lagos's shaded cobblestone streets or relax under a tree in the park. Our favourite place to eat here was a tiny restaurant the middle of the city appropriately called "The Garden". The food was wonderful but the ambiance was even better. We'd spend hours in this restaurant drinking sangria and enjoying some lovely vegan meals while watching the city go by.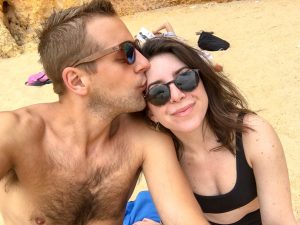 Thanks for tuning in for our first Well-Traveled healthy travel guide & we can't wait to share our upcoming adventure in Bali with you all. Wishing you happy, healthy travels from This Doctor's Kitchen.