Shiitake, Kale + Chicken Soup
September 8, 2020 By Sarah White 2 Comments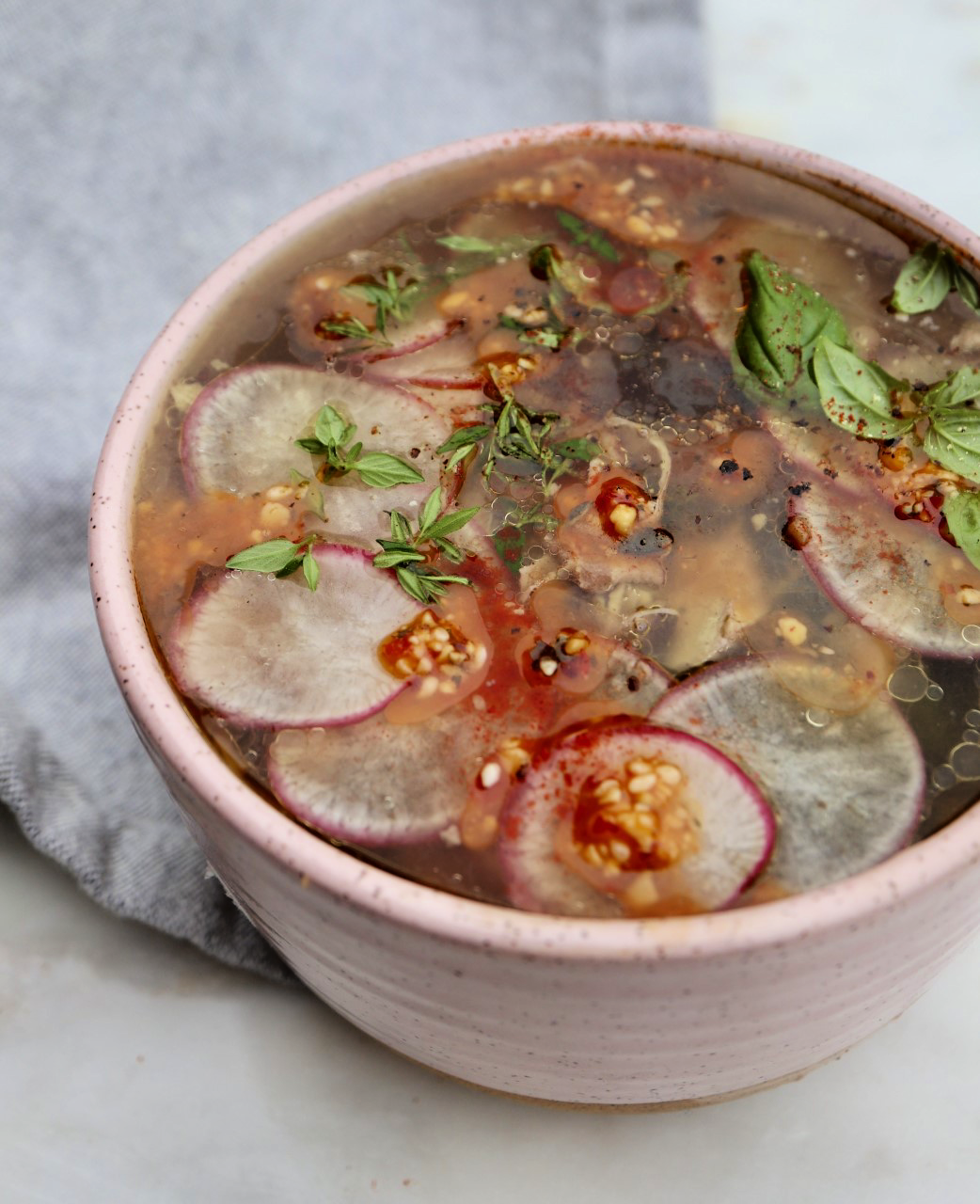 It's soup season!
Honestly, I haven't been feeling particularly inspired to cook / write create this summer (as you can probably tell by the frequency of my recipe posts). We filled the post-quarantine sunny months with weekly trips to the lake, portaging adventures, 4+ hour walks and lots of distance-appropriate / covid-friendly socializing with our bubble. Every moment outside of work felt like it needed to be celebrated and occupied with something fun to make up for the months stuck indoors. While I'm certainly proud of my resilience and ability to make metaphorical lemonade during these difficult times I'm also thoroughly burned out and finally ready to spend more time at home and get back to my 'old normal'.
Thankfully, now that the weather is turning I've found myself brainstorming new recipes and spending more time in my little kitchen. There's something about fall that refuels and refocuses me. It's the time of year for hearty soups & stews, cashmere loungewear (#bougie), scotch and quite nights in the backyard with a book, a blanket and a fire in our new chiminea.
This soup is the first recipe to come out of this doctor's kitchen in a long time. It's perfect for these cozy, cool fall nights when you're craving something hearty and comforting yet still extremely healthy. It also contains a splash of red wine which means you'll have the rest of the bottle to sip while you eat said soup while reading something lovely – you're welcome.
Shitake, Kale + Chicken Soup
This filling soup is perfect for cozy, cool fall nights when you're craving something hearty and comforting yet still extremely healthy. It's paleo, grain-free and absolutely delicious when paired with a glass of red wine fire-side. 
Ingredients
8 organic chicken thighs 
6 - 8 pieces of bacon, chopped 
8 cups chicken bone broth 
1.5 cups shiitake mushrooms, chopped (tough stems removed) 
6 shallots, cut in half 
6 - 8 cloves of garlic, cut in half 
2 tbs olive oil 
1/4 cup red wine 
head of kale, stems removed and chopped 
sliced radish, fresh herbs (I used basil & taragon) + spicy arbol chili oil to finish 
Instructions
Heat a dutch oven on the stove top over medium heat and cook the bacon until slightly browned. Remove cooked bacon and set aside, leaving the remaining bacon grease, and add your chicken thighs to the pot, season with salt and pepper. Cook chicken on both sides until cooked through and slightly browned (8 - 10 minutes), remove cooked chicken and set aside with the bacon. Add olive oil to the pot along with the garlic and shallots and cook on medium high heat stirring frequently until slightly browned. Add red wine to the pot to deglaze then return the chicken and bacon to the pot along with the chicken broth and simmer on low heat for 1 1/2 hours until chicken is tender and falls apart easily. Use two forks to break up the chicken thighs then add mushrooms to the pot, after 10 minutes add the kale and cook for an additional 10 minutes. Serve immediately garnished with your favourite herbs & veg or let sit overnight to allow the flavours to develop (skim the fat before re-heating). Will keep for 1 week in the fridge.